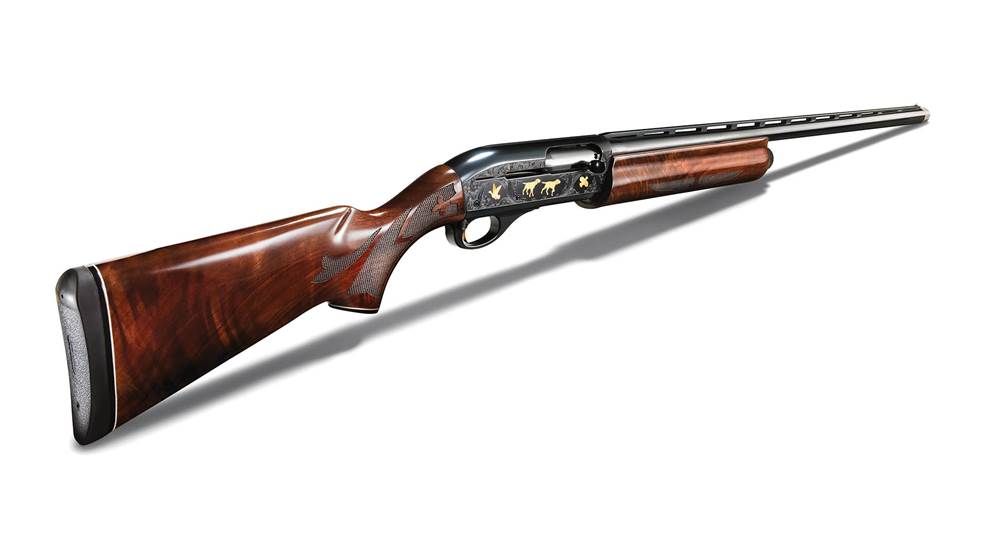 Remington Arms has survived for more than 200 years, through some painful financial times. The company's foundation is built solidly on tradition and a number of iconic designs, a fact that has allowed it to weather each of those storms. There's a good reason the brand is a favorite among enthusiasts.
The firm was rolling out some classics in the '50s and '60s, including the now-iconic 870 pump-action shotgun that appeared in 1950 and went on to claim the "best selling shotgun of all time" title. The Model 700 rifle arrived in 1962, and there are many others. The list wouldn't be complete, however, without including the semi-automatic Model 1100 shotgun.
The first Model 1100s came out of the factory in 1963 and were available in several versions, all of them 12 gauge. The Field Grade had a vent rib and plain barrel—$149.95 at the time, if you're wondering—Magnum Duck guns could chamber 3″ shotshells and a High Grade, with F Premier and D Tournament versions. Models chambering 16- or 20-ga. shotshells hit the market the next year.
The response was a warm one, and sales were good. By 1966, more models were added to the lineup, including one for deer hunting, another for skeet and commemorative versions embellished to celebrate the company's 150th anniversary.
It became available in 28 gauge and .410 Bore in 1969. The gas-operated semi-auto gained such a sterling reputation for performance, reliability and clean operation that by 1972, the millionth Model 1100 had been sold. That number reached 3 million by 1983, in an era when firearm sales pale by comparison to today's numbers.
Then, in 1987, the company introduced the Model 11-87. It was an elegant solution for waterfowl hunters facing non-toxic shot requirements. It quickly gained traction among enthusiasts, and the subsequent drop in Model 1100 sales was likely anticipated by Remington.
Despite that fact, both shotguns were a popular choice well into 2000s. In 2016, the company even made a limited-edition Model 1100 to commemorate its 50th anniversary (seen above). Two years later, the corporation that owned Remington Firearms reorganized and, in late 2020, what remained in the gun business was sold in parts during bankruptcy proceedings.
Thankfully, the gunmaking legend is back at it at the Ilion, N.Y., factory, employing many of the same craftsmen, supervisors and management. The company is concentrating initial efforts on manufacturing Model 870s, but plans including bringing back Model 1100s. Variants slated for production include a Sporting 12, Sporting 20 and Sporting 410, each with a high-gloss finish on semi-fancy American walnut furniture (with checkering), blued receivers and barrels, gold-plated triggers and twin bead target sights. MSRPs—along with when we can expect them at sporting goods dealers—are not currently available.