A full-sized pistol that's optics ready, hammer-fired with a 30 (!) round capacity magazine.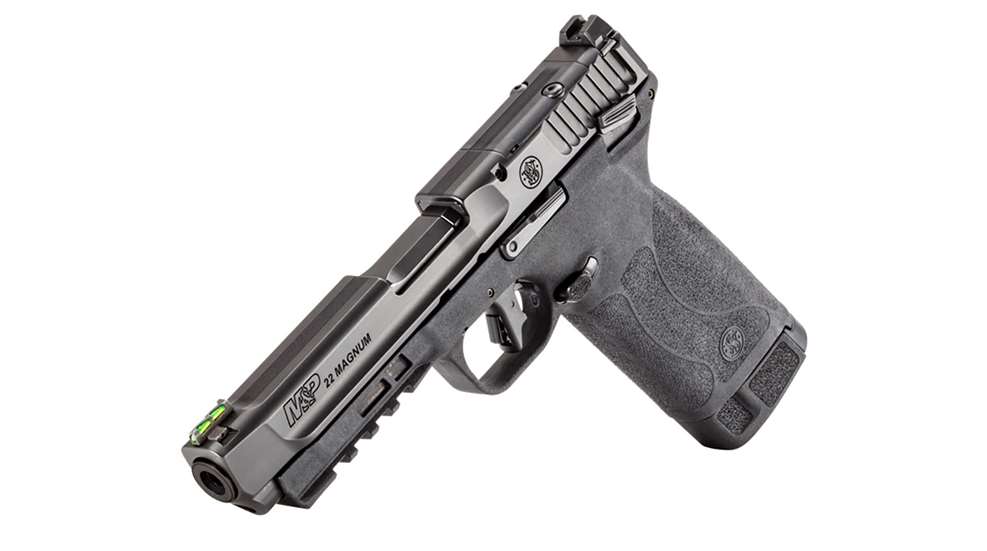 Smith & Wesson has just released the new M&P22 Magnum, a full-sized polymer-framed pistol chambered in .22 Mag.
This latest addition pistol brings more capacity, and more features to the M&P series. The internal hammer-fired design is paired with the Smith & Wesson's unique Tempo gas-operated barrel system that keeps components locked in place until the bullet passes the gas port, increasing accuracy and performance. The rimfire .22 Mag. cartridge has a significantly thinner diameter than most centerfire cartridges, which allows the M&P22 Magnum to have a standard capacity magazine that holds thirty rounds.
The pistol ships with two magazines and comes with a fiber optic front sight and a black notched rear sight. It has a flat-face trigger, and it is also optics-ready, allowing you to direct-mount most of the popular micro red dots available today. It is also fully ambidextrous, with a 4.35-inch stainless steel barrel that has an Armornite finish and has a Picatinny-style rail for mounting accessories.
"The M&P22 Magnum combines the best features of our internal hammer fire control system with the patented TEMPO barrel design, creating a smooth operating experience for the shooter. The .22 WMR is a versatile and field-savvy cartridge that has been a legacy among American shooters, hunters, and trappers for decades. Smith & Wesson is proud to offer a new pistol that further supports the use of this cartridge outdoors or on the range," said John Myles, Senior Manager of New Products.
Smith& Wesson M&P22 Magnum Specifications
Width: 1.1 inches
Length: 8 inches
Height: 5.6 inches
Weight: 22 ounces
Caliber: .22 WMR / .22 Mag.
Capacity: 30 rounds
Action: Internal hammer fired
Barrel Length: 5 inches
Grip: Polymer
Sights: Fiber optic front, blacked out rear
Optics Ready: Yes
Safety: Thumb safety
Threaded Barrel: No
Frame: Polymer
Number of magazines: 2
Barrel Material: Stainless steel
The M&P22 Magnum has an MSRP of $649, and for more information on this pistol as well as other products from Smith & Wesson, please visit smith-wesson.com.
______________________________________________
Little hint, not cheap huh & a little hard to find also at the store. Grumpy