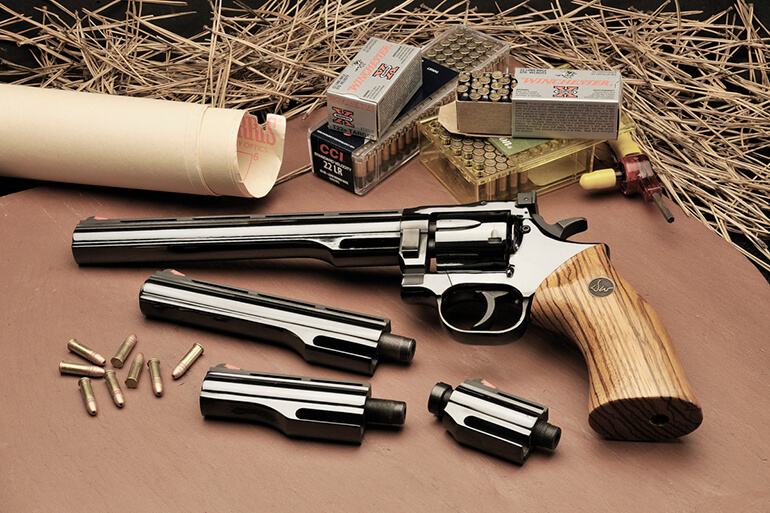 The guy had guts. Born into a family with the name Wesson—of Smith & Wesson fame—he worked for that company for more 30 years until new management took over. Not happy with the new owners, Dan struck out on his own in 1968 with the intention of producing something different in the way of a traditional revolver. In August 1970, he did just that.
Armed with a clean sheet of paper, he wanted a firearm that would exhibit high-quality workmanship and be of a design not seen before, with a wide selection of calibers, interchangeable barrels, sights and grips. While his early effort was deemed ugly because of its bulging barrel nut, his gun eventually became a true work of art.
Dan's company produced guns from the .22 Long Rifle up to exotics like the .375 Supermag and .445 Supermag. I was privileged to talk to Dan a few times and run tests on his many wares, and out of all the models I had privy to, the one gun that really got my fancy was the model known as the V22, chambered for the .22 LR cartridge.
It was heavier than most .22s on the market with its downsized .38 caliber frame, and with the factory-tuned trigger it was a real pleasure to shoot.
One important feature of was the front crane locking system that secured the cylinder to the frame, adding more rigidity. Additionally, at the rear of the cylinder a spring-tensioned ball bearing mates with the extractor for a solid lockup.
But what really put the Wesson guns on the map was that barrel lengths and shrouds were interchangeable on guns of the same caliber. I originally purchased my gun with a six-inch vent-rib barrel, and I eventually amassed 2.5-, four- and eight-inch barrels. The shrouds that slip over the barrel came in Heavy (solid rib, full underlug), Vent Heavy (ventilated heavy, full underlug), and the Vent Light (ventilated top rib, cut back underlug) shown here.
Dan outfitted his gun with a front blade that was available in a variety of colored inserts. One twist of an Allen screw allows the blade to be swapped. Rear sight blades were offered with or without white outline. The grips were available in various configurations, exotic wood and rubber.
All this in a gun with that impeccable Dan Wesson bright blue finish. Almost looking like black chrome, it received more comments and probably sold more guns by just sitting there than anything else.
Daniel Baird Wesson II died in November 1978, and the company was acquired by CZ-USA in 2005. His innovations live on.