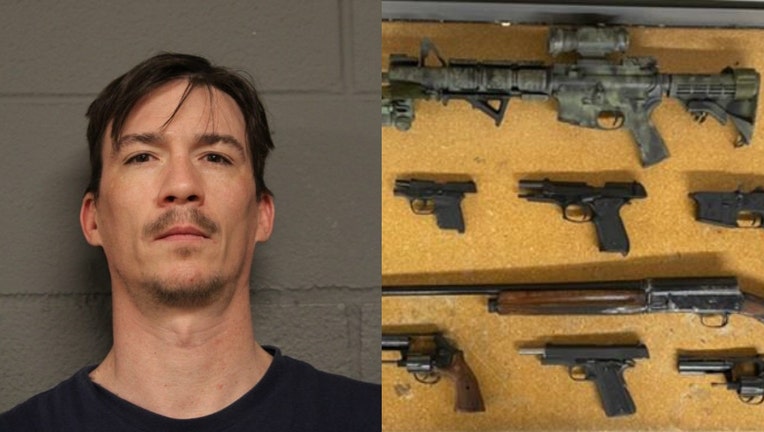 COOK COUNTY, Ill. – A Cook County man faces multiple felony counts after he was allegedly found in possession of eight firearms while his Firearm Owners' Identification (FOID) card was revoked.
Paul Krumrie, 37, of Park Forest, has been charged with eight counts of possession of a firearm with revoked FOID and one count of possession of ammunition without a valid FOID.
On Tuesday, Cook County Sheriff's Police Gun Suppression Team investigators told Krumrie that his FOID card was revoked after he was determined to be a clear and present danger by the Illinois State Police.
The investigators offered to assist him with transferring any firearms he had since he could no longer be in possession of them. Krumrie told investigators that he didn't have any firearms.
On Wednesday, investigators discovered that Krumrie was planning to take firearms to Florida. Investigators went to his residence and saw him loading a rifle bag into a midsize moving truck.
Krumrie nor the driver were wearing seatbelts, so investigators pulled the vehicle over on Interstate 57 near Sauk Trail Road.
Both were asked to step out of the vehicle after investigators smelled cannabis coming from the truck's cabin, the sheriff's office said.
Krumrie was then taken into custody.
Krumrie allegedly told investigators that his firearms were in the vehicle and that he was taking them to Florida.
Investigators recovered eight firearms, including an uncased, loaded 9mm pistol under the passenger seat where Krumrie was sitting during a search of the car.
They also recovered 157 rounds of ammunition, the sheriff's office said.
Krumrie appeared for a bond hearing Friday where bond was set at $20,000.