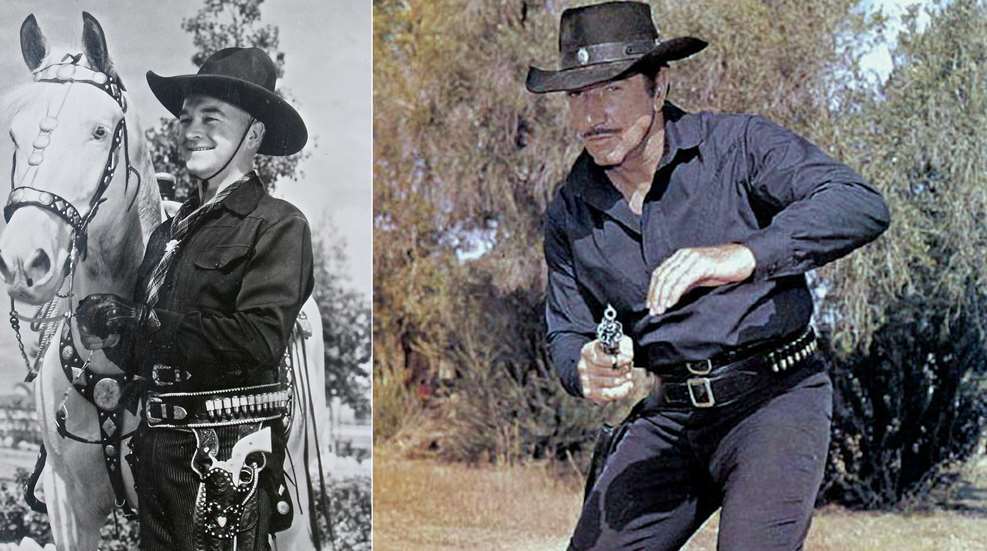 William Boyd (above, l.), as Hopalong Cassidy, carried two 5½"-barreled, nickeled Colts in an elaborate double rig designed by the late Bob Brown. Hoppy's sixguns were actually in mismatched .45 and .44-40 chamberings—but that didn't matter, as only 5-in-1 blanks were fired in them. Richard Boone (above, r.), as Paladin in "Have Gun—Will Travel," carried a Stembridge-rented re-blued SAA with black painted stocks.
For many of us, our first exposure to the Single Action Army wasn't on the shooting range—it was on the silver screen at Saturday matinees, and, later, on television. After all, you can't film a Western movie or TV Western without sixguns. Before the advent of mass-produced replicas, they were all original First and Second Generation Colt single-actions—many of which, in Hollywood's early years, had actually "been there, done that" in the real West but were now eagerly corralled by studios and prop houses such as Stembridge Gun Rentals and Ellis Mercantile.
The first Western movie, "The Great Train Robbery," was filmed in 1903 and featured Colt single-actions used by both good guys and bad, and set the stage, so to speak, for every Western that came after it. Multiple shots without reloading soon became Tinseltown's contribution to the many other attributes of the Model P. In the 1930s and '40s, fancy Colts and gun rigs became the norm for romanticized riders of the silver screen such as Tom Mix, Buck Jones and Bob Steele. Later, in films such as "Shane," "High Noon" and the spaghetti Westerns of Sergio Leone, single-actions often had co-starring roles with the actors. In fact, many of the earliest motion-picture performers, producers and directors were real-life fans of the SAA, so it is not surprising that when the Peacemaker was brought back in 1955, the first two consecutively numbered SAAs were purchased by famed producer-director Cecil B. DeMille.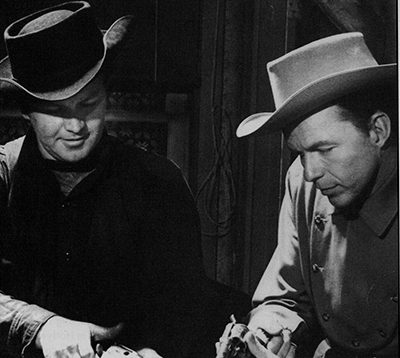 But nothing propelled the Single Action Army into stardom so dramatically as the television Westerns that ran from the 1950s through the '70s. The fancy double rigs of home-screen heroes such as "Hopalong Cassidy" (whose nickel-plated sixguns were actually mismatched .45- and .44-40-chambered guns—a fact of little consequence when only 5-in-1 blanks were being fired) evolved into James Arness, portraying Marshal Matt Dillon, thrusting his 7½"-barreled SAA into a close-up during every opening sequence of "Gunsmoke." Meanwhile, Richard Boone's "Paladin" added mesmerizing drama to the otherwise simple act of holstering his SAA in every prologue to "Have Gun—Will Travel."
Not only was the TV Western responsible for introducing the SAA to a whole new generation of shooters, it turned at least one legend into reality—that of the Buntline Special. Colt archives confirm that approximately 19 Peacemakers with longer-than-standard-length barrels were made between 1876 and 1884—all within the 28801-28830 serial range. They were called "Buggy rifles" by the company. But Stuart N. Lake's 1931 semi-fictionalized book, Wyatt Earp: Frontier Marshal, conjured up five "Buntline Specials" commissioned from Colt by dime novelist Edward Zane Carroll Judson, whose pen name was Ned Buntline. These 12″-barreled SAAs were allegedly presented to five Dodge City lawmen, including Wyatt Earp. Decades of research have concluded this probably never happened, but for Hollywood, it was too good a story to ignore.
Consequently, in the TV series, "The Life and Legend of Wyatt Earp," which ran on ABC from 1955 to 1961, an early episode depicted Marshal Earp (played by Hugh O'Brian) being presented with a 12″ Buntline Special. Worn by O'Brian in a long-holstered double rig along with a standard 4¾" SAA, the Buntline Special was featured throughout the rest of the six-season series and created so much viewer demand that Colt was compelled to bring out a 12″ Buntline Special in 1957. It remained in the line until 1975, outlasting the TV series by decades. Thanks to reruns, DVDs and cable TV, in 1981, Colt again made a short run of Third Generation Buntlines. Although the Buntline is no longer in production, the legend lives on, as does Hollywood's fascination with the Single Action Army.