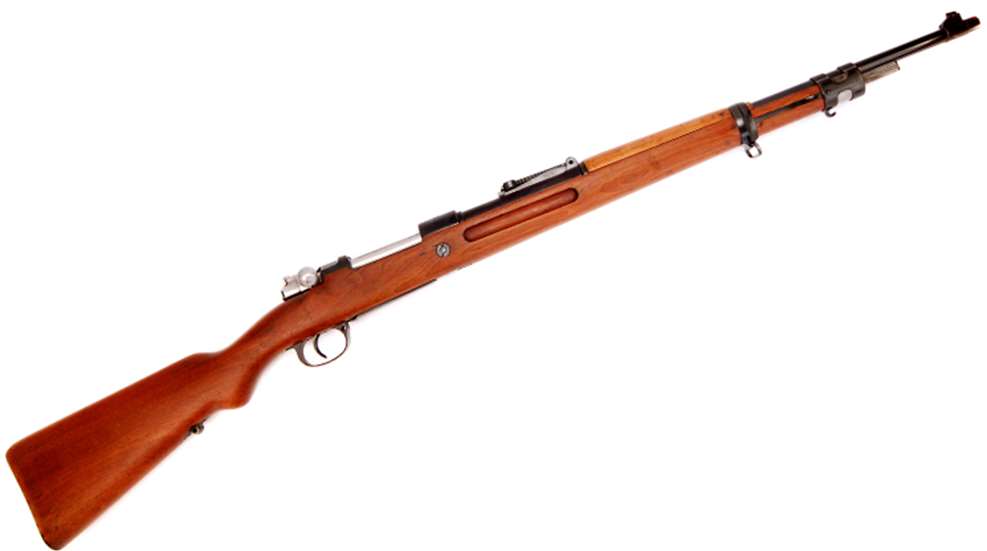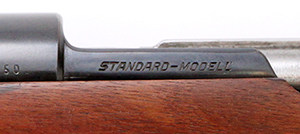 It's one of the most famous trademarks in the firearm world—a rectangular banner with "Mauser" at its center. The company started using the logo in 1909, and it appeared on such famous guns as C96 "Broomhandle" pistols, interwar Oberndorf sporting rifles and on an export rifle called the "Standard Modell," which would become known in collecting circles as the "Mauser Banner."
Mauser's Standard Modell grew out of a post-World War I trend to replace rifle and carbine versions of a country's main battle arm with a universal or "standard" pattern of intermediate length. In the 1920s, with Mauser's production of firearms restricted by the Versailles Treaty, two other manufacturers, Belgian's Fabrique Nationale (FN) and Czechoslovakia's Ceskoslovenská Zbrojovka (CZ) became the world's top producers of Model 98-style bolt-action rifles. In 1924, both FN and CZ introduced "short" '98 rifles with 23.25″ barrels, which they sold around the world.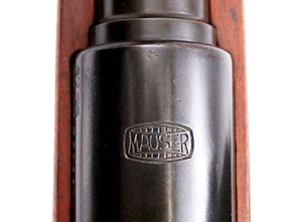 Under the pretense of export sales and arming civil authorities, Mauser began developing its own version of the short rifle, calling the resulting product the Standard Modell. The rifle featured a 23.62″ (600 mm) barrel, but retained the horizontal bolt handle of the World War I Gewehr 98. It was offered for sale in 7.92×57 mm, 7×57 mm and 7.65×53 mm calibers.
Some of these export rifles had the famed Mauser banner on the front receiver ring. On others, the purchasing country's crest occupied that spot, and the banner was moved to the rear receiver ring. The left-side receiver rail was first marked "Standard Modell" and later held the Mauser name and address. China was the largest purchaser of Standard Modell 98s, with other notable contracts going to Bolivia, Ethiopia and Paraguay. China made its own copy of the Standard Modell, with some Chinese-made rifles even featuring a crude facsimile of the Mauser banner on their receivers.
Later-production Standard Modells were modified with a turned-down bolt handle and side-mounted sling mounts. The modified Standard Modell was acquired for the German postal and rail services and was also supplied to the country's rising political paramilitary organizations.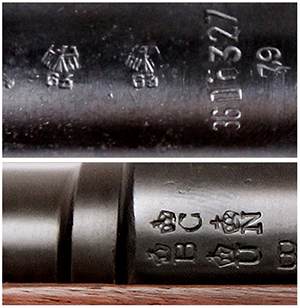 In 1935, the German military adopted its own standardized short rifle, designated as the "Karabiner 98 kurz," or 98k. Standard Modells were still being made in Mauser factories after 98k production started, and they continued to be assembled from remaining parts through the end of World War II. Some were used by the German army and bear Waffenamt acceptance proofs. It is estimated that a quarter million Standard Modells were produced before 1945.
Distributed throughout the world, Standard Modells turn up with interesting histories. They were captured and re-captured, loaned and sold, and often end up bearing the markings of several owners. Most Mauser Banners in this country were imported from China in the 1980s. Many non-import-marked Standard Modell rifles were supplied to Spain during that country's civil war to arm Franco's Nationalist soldiers and the German volunteer Condor Legion. In the 1950s and '60s these rifles, many of which had been arsenal-refurbished after the war, were sold on the surplus market and imported into the U.S. by Interarmco (later Interarms).
The rifle pictured, originally manufactured in 1936, was likely one of those Spanish imports. Its only markings are the Mauser banner, the "Standard Modell" label, the original German commercial proofs and Mauser military acceptance Waffenamts. It has been arsenal-refinished, has a polished, mismatched bolt (originals were blued) and is missing its cleaning rod. Pristine pre-war Standard Modell Mausers can bring $2,000-$3,000, and Chinese imports in good condition are worth $700-$900. The pictured rifle is worth $600.

Gun: Mauser 1898 Standard Modell "Banner" short rifle
Manufacturer: Mauser Werke
Chambering: 7.92×57 mm (8 mm Mauser)
Condition: NRA Good (Antique Gun Standards)