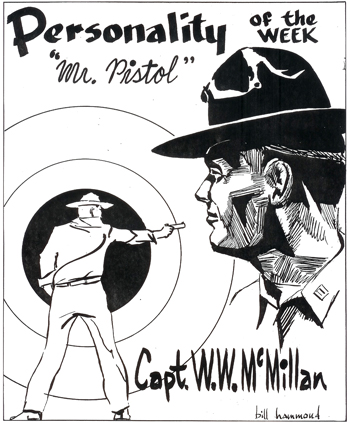 Many times, the person behind a given firearm can easily overshadow it. In the case of the story of the multi-talented William W. McMillan Jr., it is especially difficult to choose a starting point.
Does one consider just his military competitive shooting, or look to only his Olympic shooting years? It's safe to say that Bill McMillan fulfilled a litany of incredible accomplishments over his 71 years in both military and civilian roles.
McMillan was never far from the firing line, representing America in six Olympic Games. While he owned many firearms, one unique Colt pistol that brought him special recognition is on display today in the NRA National Firearms Museum in Fairfax, Virginia.
McMillan was born in Frostburg, Maryland in 1929, and went to high school in Turtle Creek, Pennsylvania. Immediately after graduating in 1948, he joined the United States Marine Corps. His competitive shooting began early with a series of matches in the military in 1949 that led to McMillan, quickly recognized as a "natural," receiving the Distinguished Pistol Shot Badge in 1950.
Possibly part of his personal incentive for doing well with a service pistol was the fact that McMillan had been the only Marine in the barracks not qualified with a pistol at the Brooklyn Navy Yard, and as a result had to walk the only rifle sentry post – a very cold and windy pier.

McMillan (right) as a U.S. Marine Corps first lieutenant, inspecting a rifle with Capt. John Jagoda (left). (Photo courtesy/WWMcmillan.info)
Just nine days after the gold Distinguished Pistol Shot Badge was pinned on McMillan's uniform, the Korean War began. In 1953, McMillan received his commission as a second lieutenant in the infantry, after shooting slightly bigger guns in Korea – 75-millimeter recoilless rifles — as part of the 7th Marines.
One short year later, McMillan earned the Distinguished Marksman Badge. He was now "double distinguished," a competitive shooting level of skill with both rifle and pistol that few ever attained. Honing his skill annually wasn't easy, but he was able to score an unprecedented five Lauchheimer awards for being the combined champion for rifle and pistol shooting for the Marine Corps.
That wasn't at all the end of his Distinguished Badge quest. In May of 1963, McMillan received Distinguished International Shooter Badge #14. This "triple distinguished" recognition came after McMillan's achievements at the 1962 International Shooting Union matches in Cairo, Egypt.
McMillan returned to war in Vietnam, finding himself in the thick of the campaign overseas. As an ordnance officer, he received the Bronze Star and spent a year on Okinawa, responsible for the known-distance ranges for Marine qualifications. He retired from active military service as a lieutenant colonel in 1974 and went into law enforcement training work in California and with the Federal Bureau of Investigation.
McMillan's military service regularly intersected with his extensive international competition. He competed in his first Olympic Games in 1952 and placed seventh in Helsinki, Finland, as one of the six shooters on the American team. In 1956, problems with a jamming gun in the tryouts cost him the chance to rejoin the American team in Melbourne, Australia.
But it was in 1960 in Rome where McMillan really shone. Using a High Standard .22 pistol that is today on exhibit with his Olympic gold medal at the NRA National Sporting Arms Museum in Springfield, Missouri, McMillan posted an eight-point win in a fiercely competitive rapid-fire pistol struggle against Soviet and Finnish rivals. This was one of the two shooting medals the Americans brought home from the Italian Olympics. Notably, McMillan actually took a nap in the middle of the shooting competition while other competitors shot, then calmly went to the firing line and produced the top score against some probably unnerved opponents.
In the 1964 Tokyo Olympics, McMillan's high score, just one point behind his 1960 win, was only good enough to bring him 12th place. In Mexico in 1968, 17th place was McMillan's best result, in an Olympics increasingly dominated by foreign shooters.   In Munich in 1972 and at Montreal in 1976, McMillan's scores, while very respectable compared to his showing in the 1960 Games, left him far from the winner's podium. The 1980 Games would have been McMillan's seventh Olympic appearance, but the U.S. boycott of the Games ended that string.
While McMillan's wins overseas in the later Olympics were denied, he was still going very strong in domestic competition. His Colt National Match .45 was the handgun he used to take the National Trophy for Individual Pistol in 1963. Fitted with a set of gold and silver grips from Mexico, these exotic grips are not what one would normally see on a competition pistol.
However, McMillian used the gun regularly in practice as part of the NRA 2600 Club. He was also recognized as a Lifetime Master in Pistol and Outdoor Pistol. In 1979 and 1980, he received honors as part of the NRA National Training Team.
McMillan's Colt pistol was one of two handguns donated by his son to the NRA, and one that is seen by thousands in the Fairfax galleries annually. Alongside the pistol in the case are his three Distinguished Badges, mounted together as a combined award that celebrates just a fraction of the accomplishments of a most multi-talented shooter, Marine and Olympian, William W. McMillan Jr.
To see McMillan's Colt National Match .45 and thousands of other unique, historic and significant firearms from across the world and throughout history, visit the NRA National Firearms Museum in person or online!