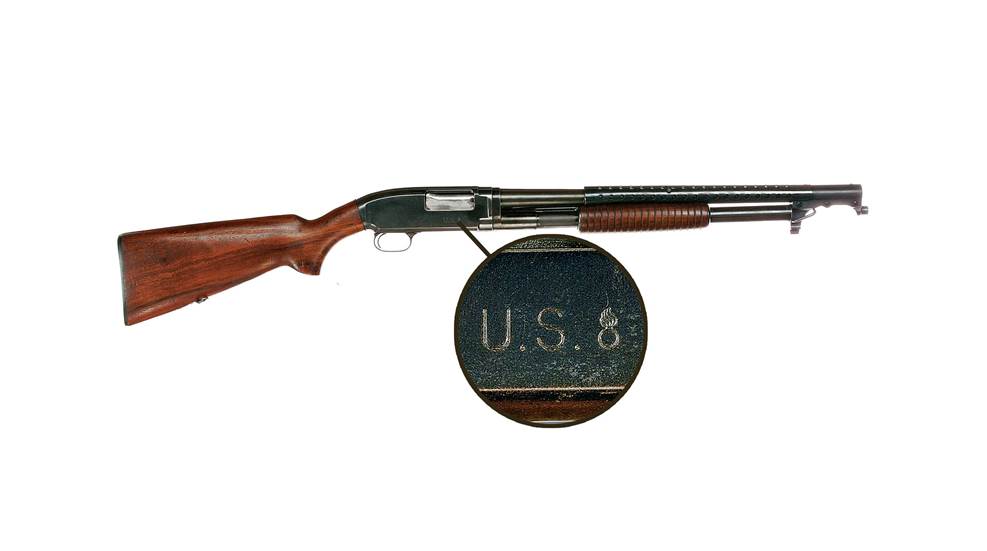 This article appeared originally in the February 2006 issue of American Rifleman. To subscribe to the magazine, visit the NRA membership page and select American Rifleman as your member magazine.
---
How many of you would trade an original, similar condition Winchester 28-ga. Model 12 with factory Cutts compensator "even up" for this World War II Model 12 trench gun? It may surprise you that the trench gun is now worth more money.
Until the mid-1990s, U.S. military long arms, including shotguns, had not been as popular or collectible as U.S. military handguns. Then things changed in a hurry, but what made the difference? A surge of popular public awareness in World War II history, including various 50th anniversaries and the movie "Saving Private Ryan," became the main catalysts for renewed collector interest in military long arms. The U.S. military shotguns finally reached a comparable level of acceptance that military handguns and most rifles and carbines had enjoyed for decades.
This unaltered, blued specimen has a correct 20 7⁄8″  round barrel with ventilated shroud, and its serial number (1014XXX) indicates that it was manufactured during 1943. A Remington "1917" marked bayonet, which may have been an original World War II issue for this Winchester shotgun, with scabbard also adds value.

Approximately 80,000 Model 12 trench guns were manufactured between 1941 and 1944, and later production featured a Parkerized metal finish. Careful inspection will reveal four rows of holes in the handguard for barrel heat venting, changed from six during 1917.
Gun: Winchester Model 12 "Trench" Gun
Condition: 80 percent overall (NRA Modern: Very Good)
Originality is Polar North for U.S. military long-gun collectors, which means it is essential to know exactly which proofmarks should be present and where they are located. Note the "U.S." and the ordnance flaming bomb proofs on the right side of the receiver and crisp stock cartouche with inspector's initials, in addition to the sling swivels. When evaluating U.S. military shotguns, carefully examine the originality of the hardware and choke marking on the barrel (beware of cut barrels), look for possible new or restamped proofmarks and cartouche, and check for metal or wood refinishing that might indicate a non-original finish.