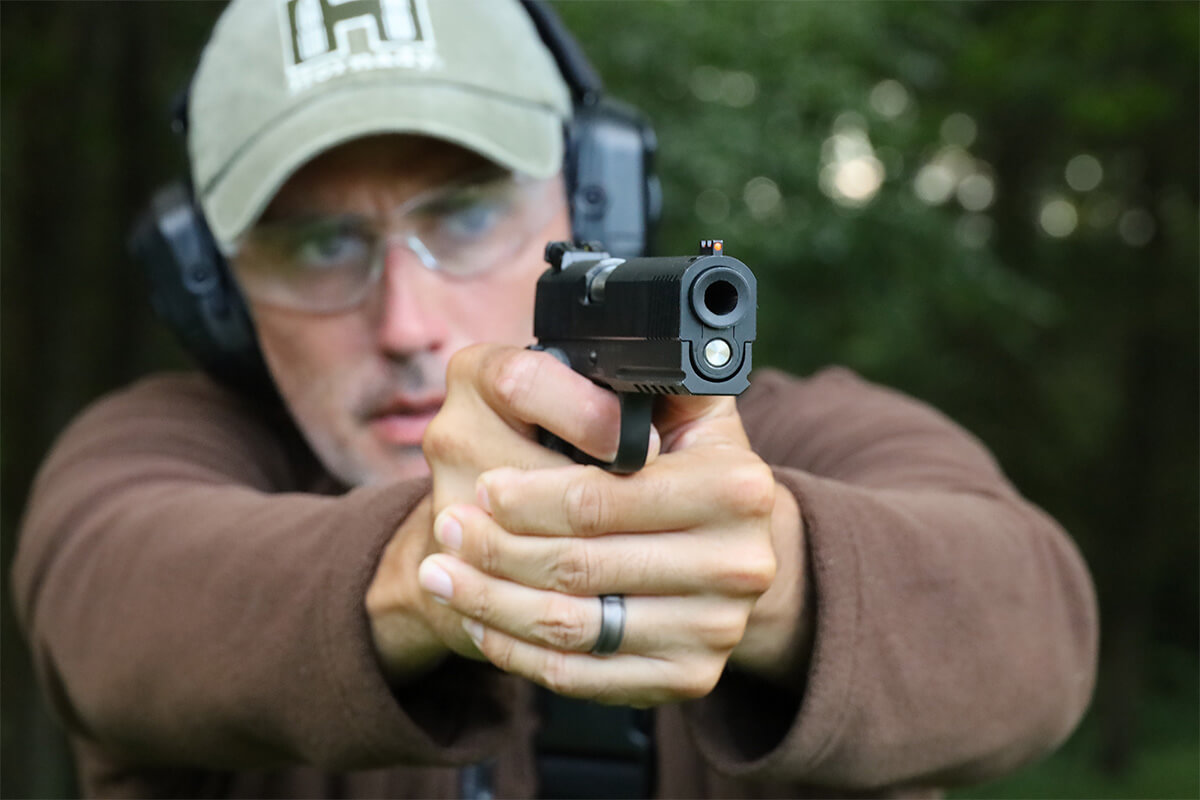 2021 was an extraordinarily bad year for bear attacks. Between 2000 and 2015 there were, on average, 1.6 fatal bear attacks in the United States per year. As of the end of August 2021 there have been six. Bear populations continue to expand and humans increasingly come into contact with these animals more often. Grizzly populations have expanded to over 700 in the Yellowstone ecosystem, and their range has tripled in the last four decades. But black bear numbers are also on the increase, and as more humans venture into their habitat bear/human conflicts, though still rare, and happening more frequently.
Whether you're a hunter, hiker or simply live in bear country it's a good idea to have a firearm that can stop a bruin should the need arise. Large-caliber pistols and revolvers are the obvious choice since they are easy to transport but still offer effective bear-stopping power. Here's a look at eight of the best bear handguns, from least expensive to most expensive.
1. Smith & Wesson M&P M2.0 10mm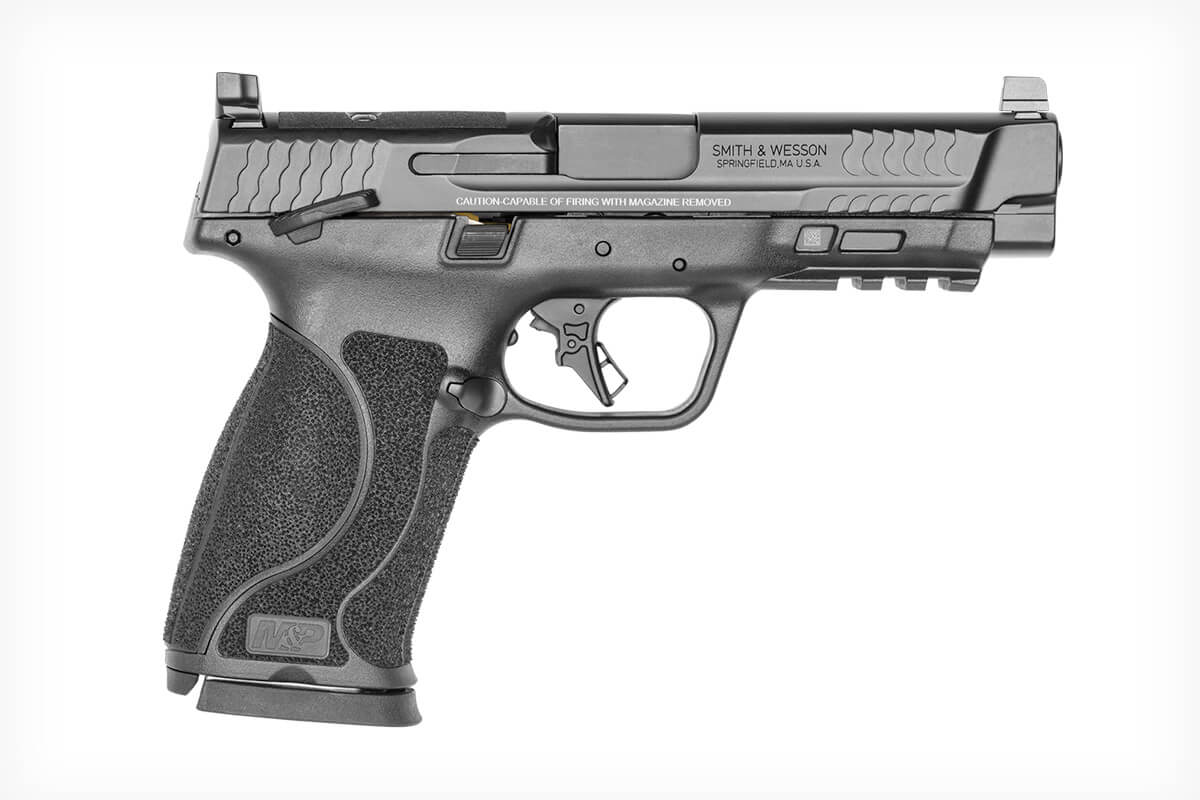 This a striker-fired, polymer-frame pistol that comes with a 15 round magazine and a slide that's cut for optics. If maximum concealment is what you desire there's a 4-inch version, but the 4.6-inch model shown here offers a bit more sight radius yet it weighs just 29 ounces and would be my choice. These guns come with optics plates and four interchangeable backstraps that allow you to find the right fit.
M2.0 texturing on the grip surface does an outstanding job keeping the gun planted while still being comfortable, and the M&P M2.0 10mm is a very manageable gun to shoot quickly and accurately. The rugged design means it'll stand up to anything Mother Nature dishes out, and the gun I tested performed flawlessly with powerful 10mm loads. $654–$665. Smith-Wesson.com
---
2. Rock Island Armory TAC Ultra FS 10mm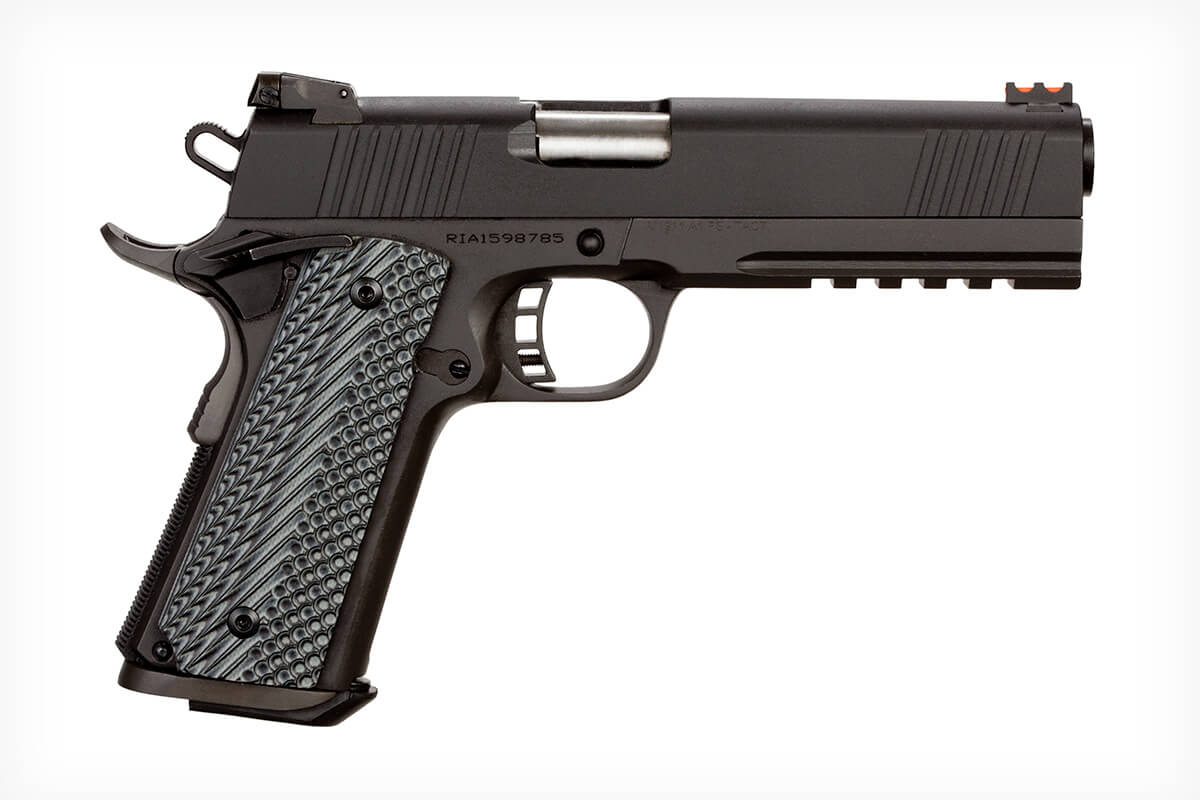 I spent over a week touring around Alaska's backcountry from Kenai to the North Slope, and the Rock Island Armory TAC Ultra FS 10mm was my constant companion. It comes with a Parkerized matte finish on the steel slide and frame, and it is equipped with functional, stylish G10 grips. It features a rail that allows you to mount a light on this pistol, which is always a good option in bear country. Magazine capacity is 8 rounds, the fiber optic front sight is easy to see in low light, and the crisp trigger helps make this gun very accurate.
Perhaps most importantly, reliability is exceptional. I carried the Rock Island Armory 10mm in a GunfightersInc Kenai chest rig that kept it out of the way yet easy to access. I could even sleep with the gun on my chest in my sleeping bag. Having this gun close at hand offered a great deal of comfort when large predators prowled around in the darkness beyond the tent walls. $806. Armscor.com
---
3. Springfield XD-M Elite 3.8" Compact OSP 10mm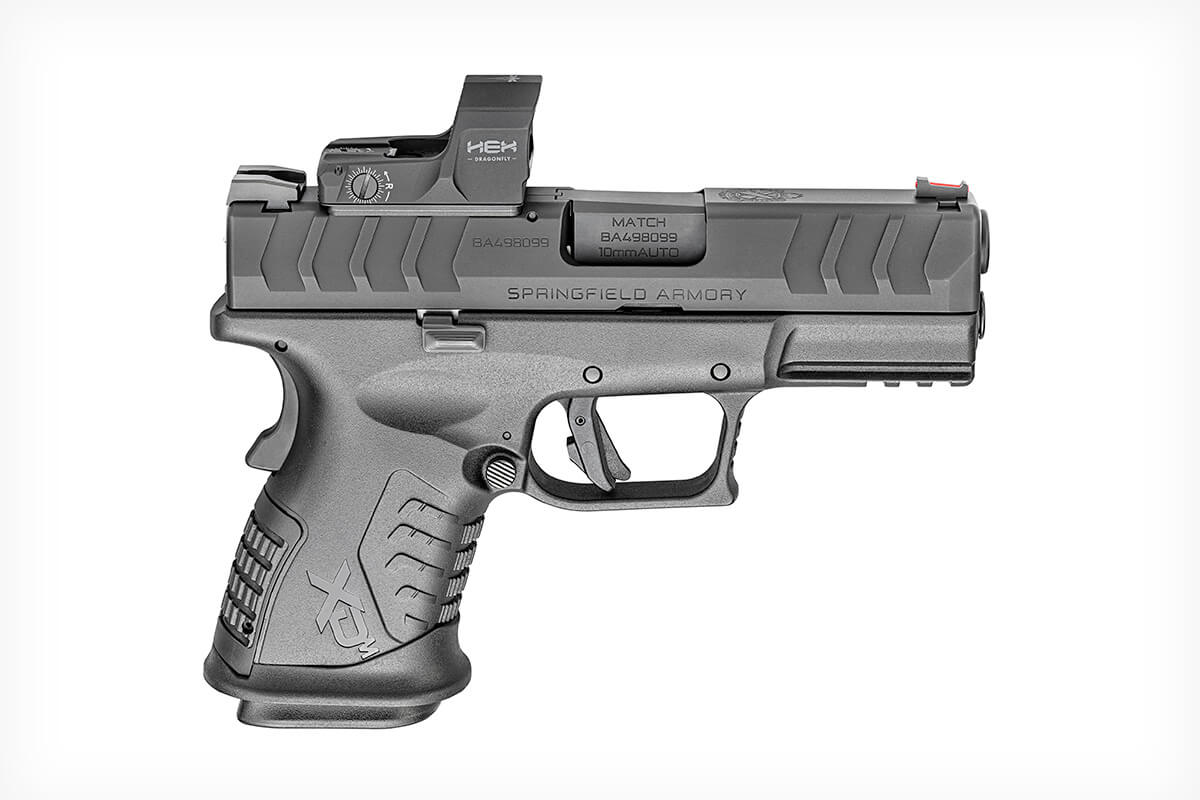 The 10mm has become the bear defense cartridge of choice for many backwoods hunters, offering plenty of stopping power with hot loads and a higher capacity than revolvers. One of the best 10mms on the market is the new XD-M Elite 3.8" Compact OSP from Springfield. With a weight of 27 ounces and an overall length of 6.75 inches, the Springfield could conceivably be carried concealed, but in a chest or hip holster it isn't a burden.
Photo Gallery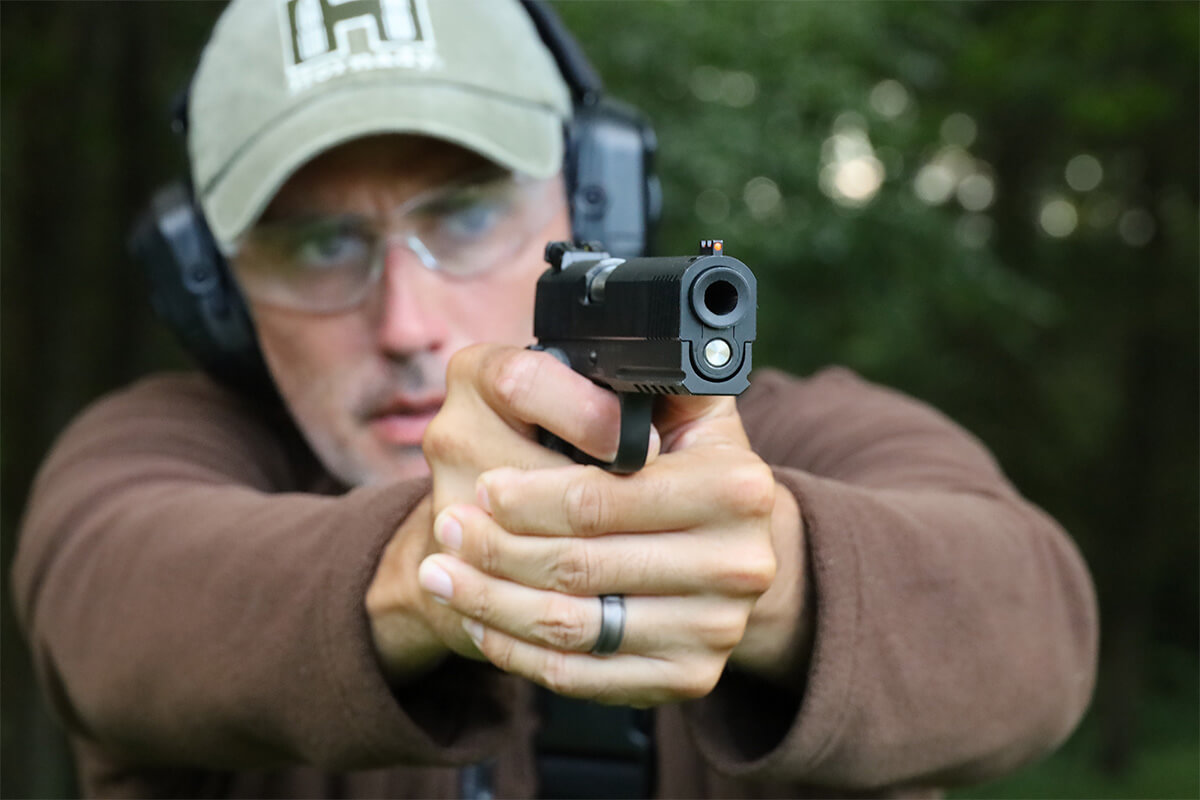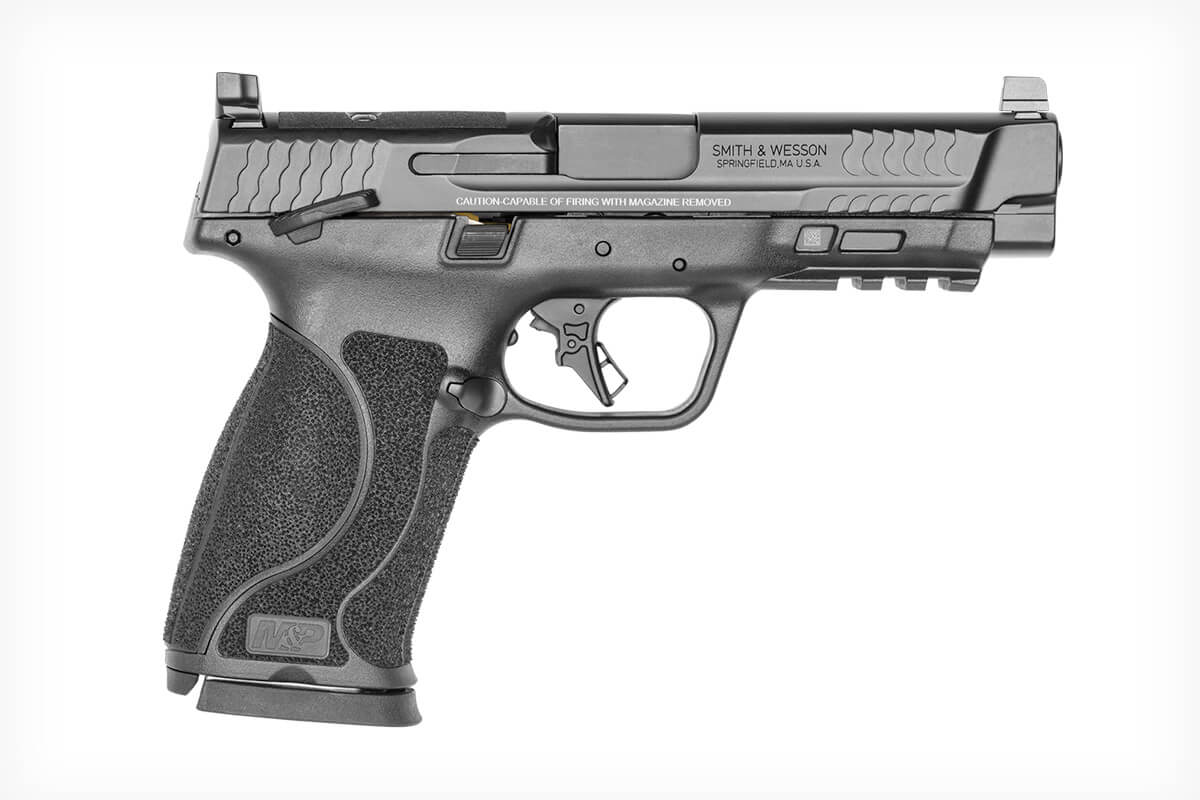 It comes with a Springfield Hex Dragonfly red dot optic installed. Two 11-round mags come standard, and the flared mag well helps manage recoil. There's also an option 15-round magazine as well. The polymer frame and Melonite finish are durable and stand up well to even the harshest environments. $818. Springfield-Armory.com
---
4. Ruger New Model Super Blackhawk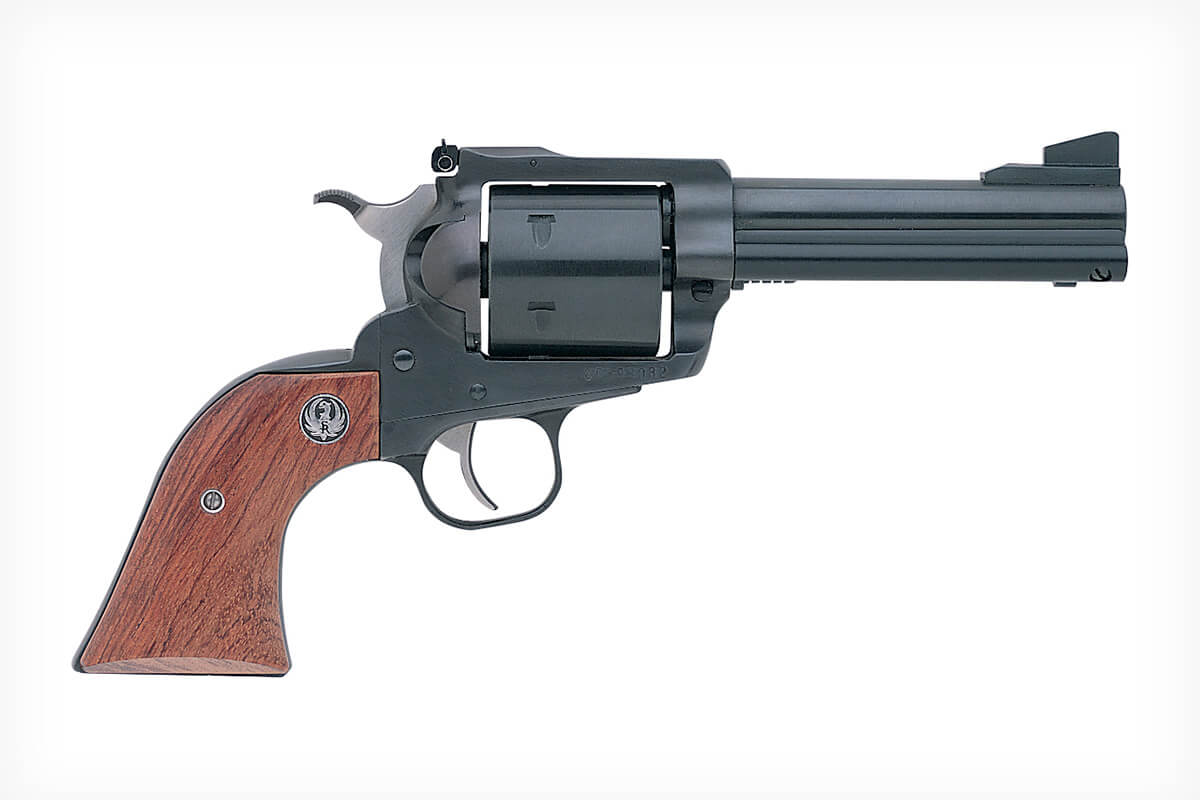 There's still a place for single-action revolvers, and if that's your weapon of choice the New Model Super Blackhawk is a great option. There are multiple configurations, but the 5.5-inch version shown here balances portability and shooting comfort. At 45 ounces this pistol can be worn on the hip, but these guns are capable of outstanding accuracy and, in experienced hands, offer fast follow-up shots.
---
---
The beefy steel frame and coil springs are robust and will survive hard use and this gun comes standard with a transfer bar for added security. It will hold six rounds of .44 Rem. Mag. for bear defense, but you can also load it with milder .44 Special ammo for target shooting and training. The blued finish and contrasting wood grips look good and feel good in the hand. The New Model Super Blackhawk is as sensible a choice bear defense, and that's why it has been so popular with backcountry hunter for so many years. $989. Ruger.com
---
5. Smith & Wesson Model 29/629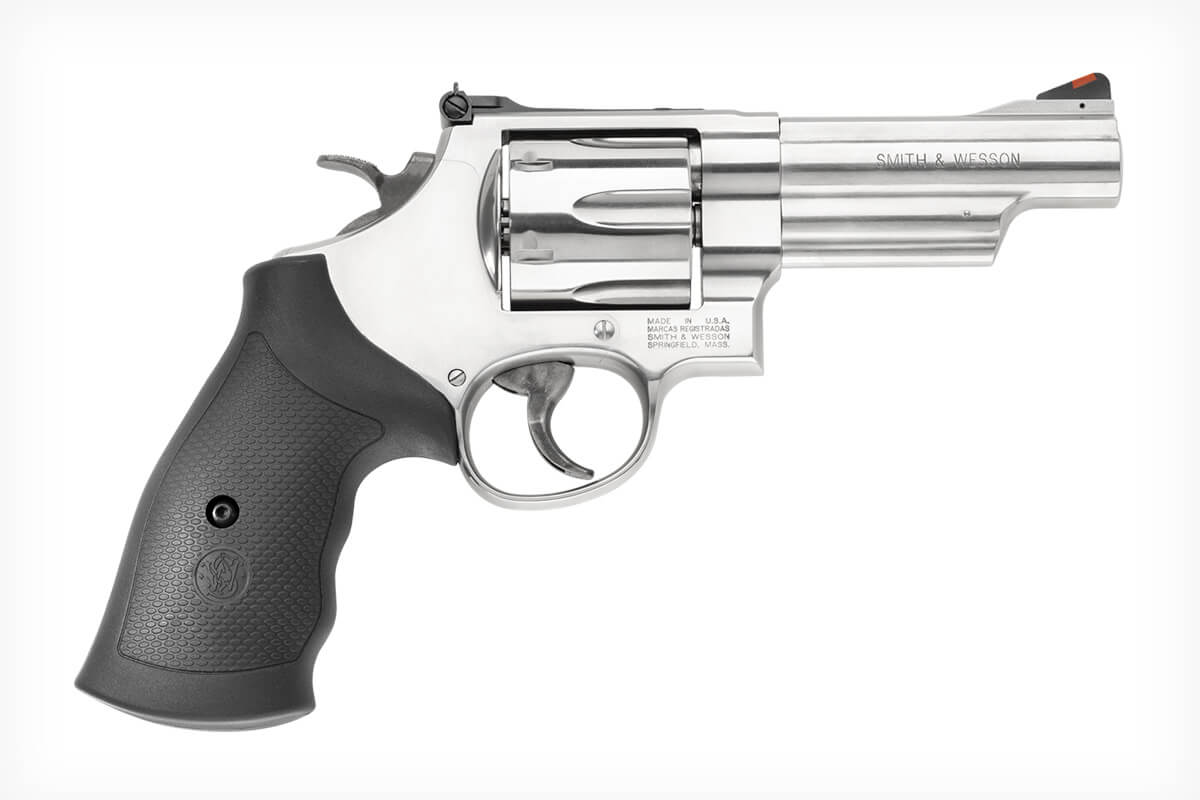 Big-bore revolvers are the classic backup gun in bear country, and one of the most popular options is Smith & Wesson's six-shot .44 Magnums. The Model 29 and Model 629 are built on S&W's vaunted N-frame and pack enough punch that, with the right bullets, they'll stop even the largest bear. There are a number of good .44 Magnum bear defense loads and the 29/629 revolvers handle this round's recoil effectively.
There are a variety of 29 and 629 models currently available, but the model shown here with a .4125-inch barrel is compact enough to carry yet has enough gun weight to tame powerful .44 Mag. loads. Of course, the 629 also fires .44 Special ammo for low recoil training. $989. Smith-Wesson.com
---
6. Springfield Range Officer Elite Operator 10mm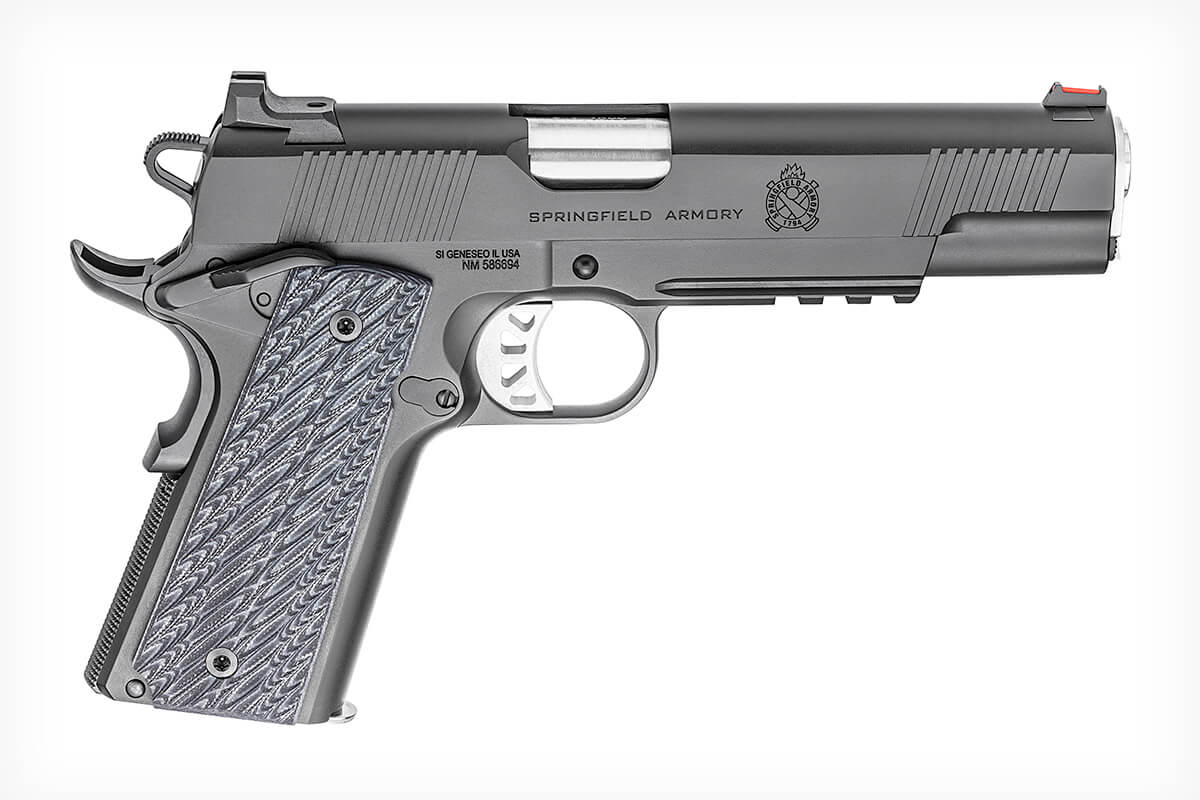 The Springfield is a 10mm 1911 with 5-inch barrel and comes standard with premium features like a durable Cerakote finish on the carbon steel slide and frame and Thin-Line G10 grips are both attractive and functional. The sights are robust and easy to see and the rear slight has a tactical ledge that allows you to operate the slide one-handed under the worst conditions (like a bear attack).
Other key features include accessory rail, a crisp, skeletonized trigger, 18.5-pound GI-style recoil system, and front and rear slide serrations. The 41-ounce weight helps recover from recoil more quickly and deliver faster shots on target.
Two 8-round mags come standard with the robust RO Officer Elite Operator. This gun is fun to shoot and is a solid option for the back country hunter. $1,145. Springfield-Armory.com
---
7. Kimber Camp Guard 10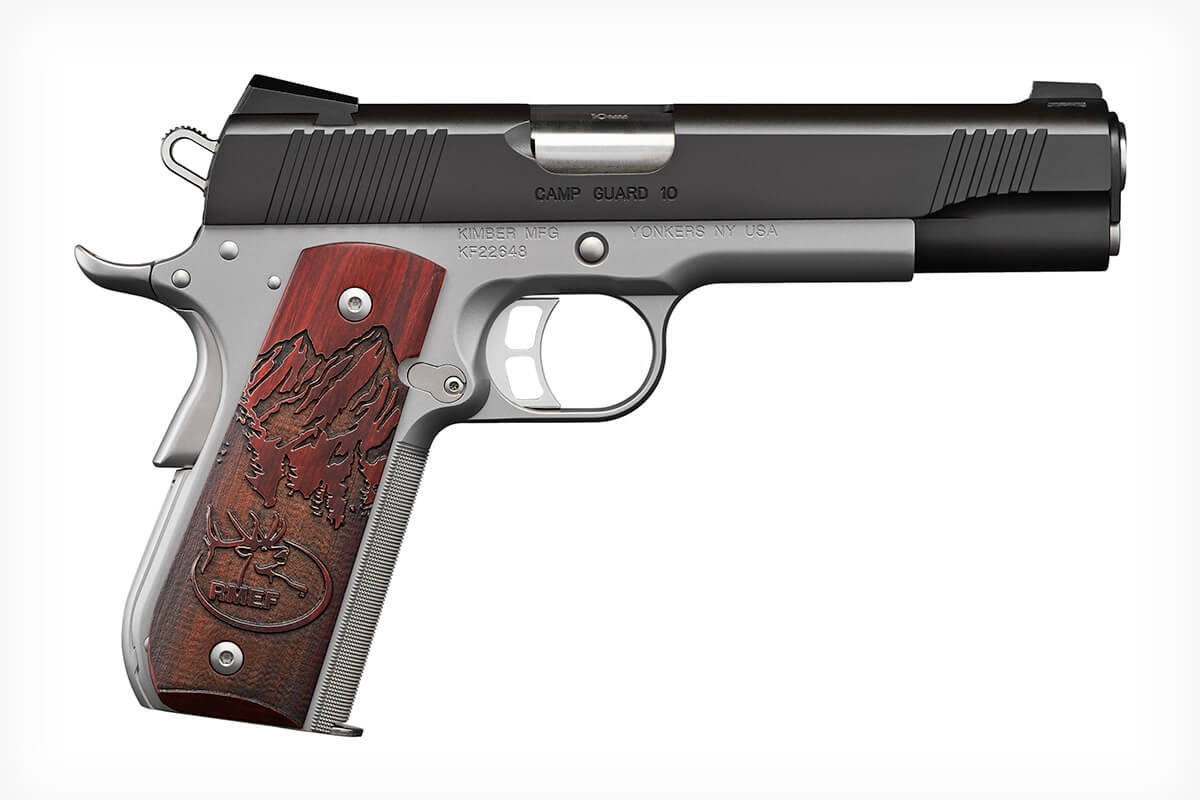 Designed in conjunction with the Rocky Mountain Elk Foundation, the Camp Guard 10 is a striking 10mm 1911 that comes equipped with stylish rosewood grips, a satin silver stainless steel frame with round heel and a KimPro matte black slide. But this gun is about more than just a pretty face. Front and rear serrations make the slide easy to manipulate, tactical wedge night sights come standard, and the trigger breaks between 4 and 5 pounds. The magazine holds eight rounds, which is more than you'll get from most revolvers, and at just 38 ounces unloaded it won't weigh you down in the backcountry. $1,339. KimberAmerica.com
---
8. Ruger Super Redhawk Alaskan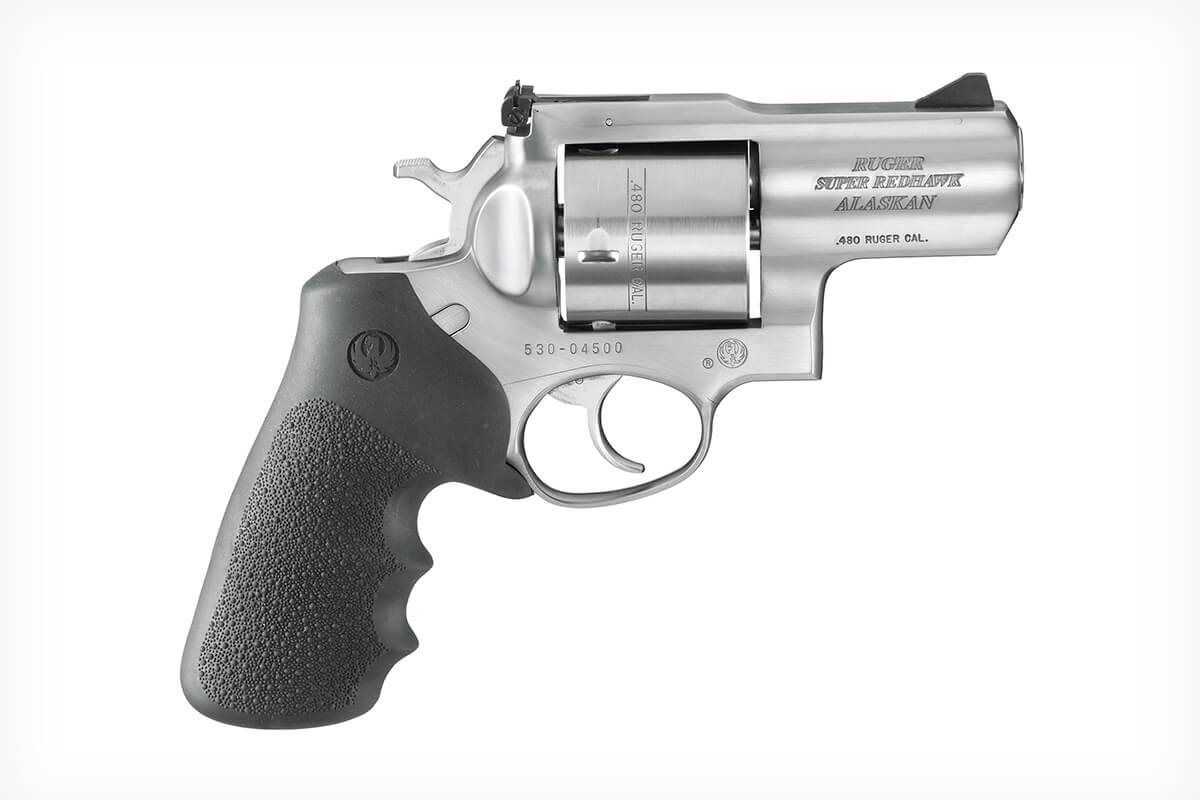 The Super Redhawk Alaskan offers rock-solid build quality and the reliability of a double-action wheelgun. With its 2.5-inch barrel this gun is far more portable than larger Super Redhawks, but with a weight of 44 to 45 ounces the Redhawk Super Alaskan still handles recoil effectively. The oversize Hogue Tamer Monogrip is comfortable and offers complete control over the gun, and the triple locking cylinder design allows this durable wheelgun to handle hot, high-power bear loads without breaking down.
Chambering options include .44 Rem. Mag., .454 Casull, and .480 Ruger, all of which offer substantial bear-stopping power. The Ruger certainly qualifies as a hand cannon, but it's exceptionally rugged and manageable to shoot, making it a solid option for bear defense. $1,419. Ruger.com