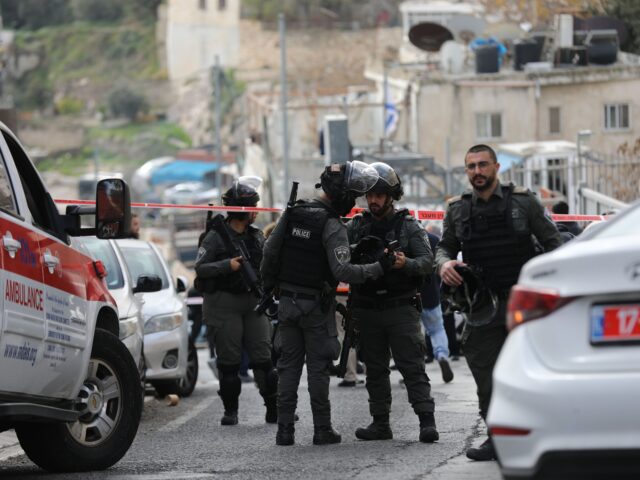 Israel's security cabinet approved measures to curb terrorism following deadly attacks in Jerusalem, including making it easier for Israeli civilians to carry guns and revoking residency and citizenship of terrorists.
"We will exact a price from those who carry out terrorist attacks and from their supporters," Prime Minister Benjamin Netanyahu said at the start of the weekly cabinet meeting after two terror attacks rocked the capital.
The security cabinet passed a measure to make it easier for law-abiding Israeli citizens to procure licenses for carrying firearms, which in Israel is notoriously difficult.
"When civilians have guns, they can defend themselves," National Security Minister, Itamar Ben-Gvir, told reporters on Saturday night.
Netanyahu also said Israel would "strengthen [Jewish] settlements" in the West Bank "in order to make it clear to the terrorists who seek to uproot us from our land that we are here to stay."
In perhaps the most controversial measure, Netanyahu said the cabinet would discuss "revoking Israeli identity cards and residency of the terror-supporting families of terrorists."
The Prime Minister's Office said that Israel's acting interior minister as well as its attorney-general would submit draft legislation on "revoking residency and citizenship of terrorists and removing them to the territory of the Palestinian Authority."
Seven people were murdered, including a minor, in a terrorist shooting attack on Friday evening in Jerusalem's Neve Ya'akov neighborhood while they were leaving a synagogue after Shabbat services. The attack occurred on International Holocaust Remembrance Day.
The terrorist, identified as Alqam Khayri, a 21-year-old resident of eastern Jerusalem, was shot dead by police while attempting to flee.
A second attack took place the morning after when a 13-year-old terrorist opened fire on a group of Israelis outside the Old City of Jerusalem, severely wounding two people, a father and son. The younger victim, an off-duty soldier, managed to shoot the terrorist, as did another member of the group, wounding him.
Both terrorists were from neighborhoods eastern Jerusalem, and as such have Israeli residency permits which grant them access to Israeli social security benefits including healthcare, welfare and unemployment payments and a range of other services.
A number of terrorists who carried out the attacks over the past year, which have left more than 30 Israelis dead, are Arab-Israelis with full Israeli citizenship. Such a move would see Israel stripping them of their rights.
Netanyahu called for arming more emergency response workers, who are often among the first people on the scene of a terror attack.
"Imagine if they … were armed," he said, noting that history has shown "time and time again that heroic, armed, and trained civilians save lives."