Hey there, wait a minute Mister Postman. Is there value in that factory letter?
The debate over the value of a "factory letter" is one that seems to pop up from time to time in gun forums. So what is the answer?
What Is a Factory Letter?
Model, condition, finish, grips, engraving, where it was shipped, to whom it was shipped, and serial number range are all considered in determining an old gun's value. A letter can help answer some of those questions.
In Rock Island Auction Company's recently completed Premier Auction, factory letters from a number of gun manufacturers like Colt, Ruger, Smith & Wesson, and Browning were provided. Buffalo Bill Center of the West has records for a number of long gun makers like Winchester, Marlin, and Ithaca, and many of those factory letters were also provided at auction. Private authenticators like John Kopec also lend their expertise with documentation.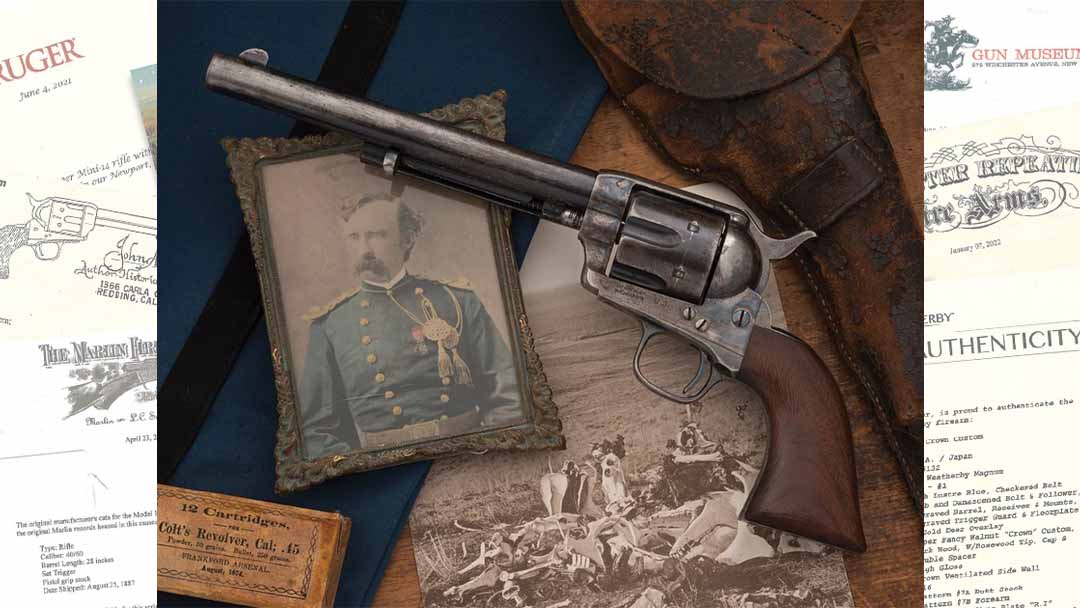 With a letter describing this Lot Five Colt Single Action Army revolver as a "very significant 'Custer-Era' revolver, and believe that it may be the finest representation of a 'Lot-Five' revolver we have ever had the privilege to examine," it realized $763,750 in Rock Island Auction Company's May 2022 Premier Auction.
What Information Is in a Factory Letter?
Those who don't see the value likely aren't concerned about the collectability of a gun or don't want to get bad news. Those who do get letters see the value of an antique gun as a piece of history and want to know its heritage. How did it leave the factory and where did it go?
The cost of a letter — ranging from $10 to $350 — is often seen as adding value to an already valuable gun.
At the very least, a factory letter or an authentication letter from a respected researcher can provide basic shipping information on where it went, when it left the factory, a basic description of the gun, and any special features like grips and finish. A factory-lettered firearm likely will have the document displayed with it at a gun show.
Why Get a Factory Letter?
Not only does it help the owner in setting a price, but it can also lend confidence to a buyer by offering authenticating documents as to what they are buying.
In 2021, Rock Island Auction Company sold a Colt Single Action Army owned by gunslinger and sportswriter Bat Masterson. Documentation accompanying the revolver included a letter from Colt Manufacturing confirming it was shipped to Masterson with a higher front sight as requested. However, the gunfighter asked for nickel plating and the letter incorrectly states it was shipped with a blued finish. Follow-up documentation confirms the incorrect finish listed on the factory letter. The gun sold for $488,750.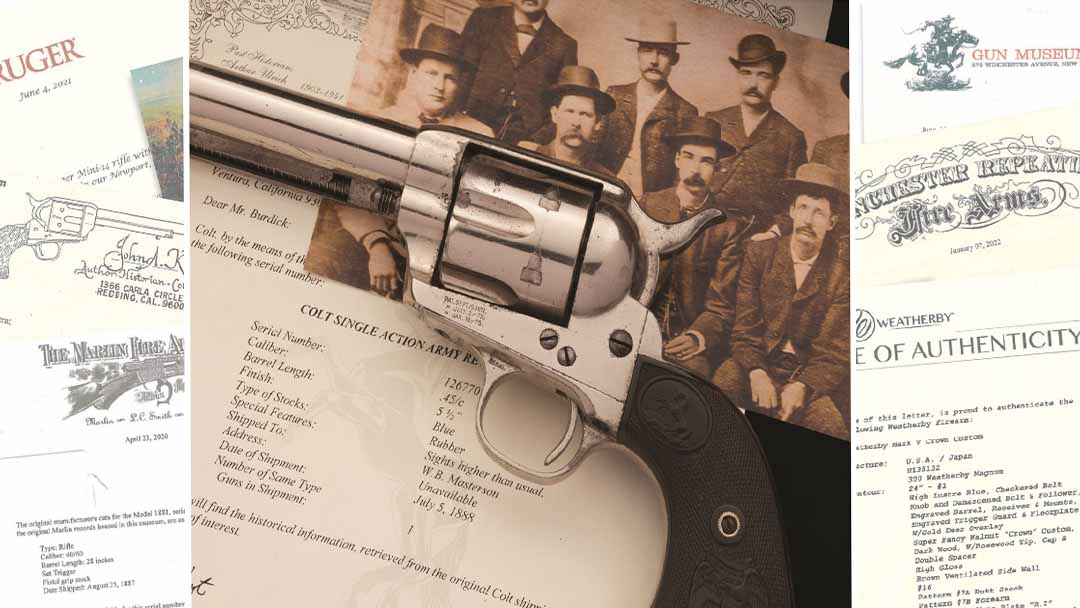 This Colt Single Action Army included a factory letter stating it was sent to Wild West gunslinger Bat Masterson but listed the finish as blued. Followup documents showed that to be incorrect. The revolver realized $488,750 in Rock Island Auction Company's May 2021 Premier Auction.
This May, RIAC offered a Colt Single Action Army that was reportedly recovered from the Little Bighorn battlefield. A letter from highly-respected Colt researcher John Kopec showed it was one digit away from the serial number of a Colt SAA recovered from the Little Bighorn battlefield in 1992. It also described the gun as a significant "Custer-Era" "Lot-Five" revolver while also noting the blemishes on the 150-year-old wheel gun. The revolver sold for $763,750.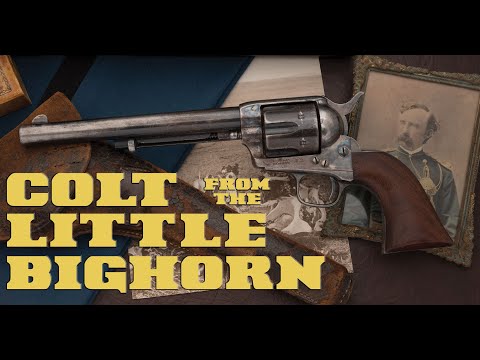 Rock Island Auction sees a number of factory letters each year, especially with Colt Single Action Army revolvers. Not all of them are sent to Bat Masterson, but some collectors are interested in where guns were shipped, especially to the west, before territories like New Mexico, Arizona, and Alaska achieved statehood.
A commenter on the Colt forum wrote that anyone who owns a Single Action Army that was made before World War II should get a factory letter for it. First generation Single Action Army revolvers were made until 1941.
The first step for someone wanting to assess the true gun value is to check the "Blue Book of Gun Values," which will provide an amount without consideration of its history.
Experts say that documentation can be helpful in assessing gun prices, but that sometimes there is no tangible evidence tying a gun to a historic person, place, or event.
Guns with a military or law enforcement pedigree may be attractive to some buyers, so a factory letter can often provide information on whether it was shipped for military or police use. Experts recommend always confirming a factory letter, saying "Paper is generally easier to forge than steel."
The NRA Museum website reports that documentation — and especially the type of documentation — can make a difference in valuing a weapon. Masterson's revolver is an example of that. The finish was recorded incorrectly in the factory letter, but follow-up documents confirm what Masterson requested.
Remember, the letter provides information on where and to whom it was shipped, and what features it had when it went out the door. Those things are of interest to collectors and can contribute to the value of a prized family heirloom or inherited gun.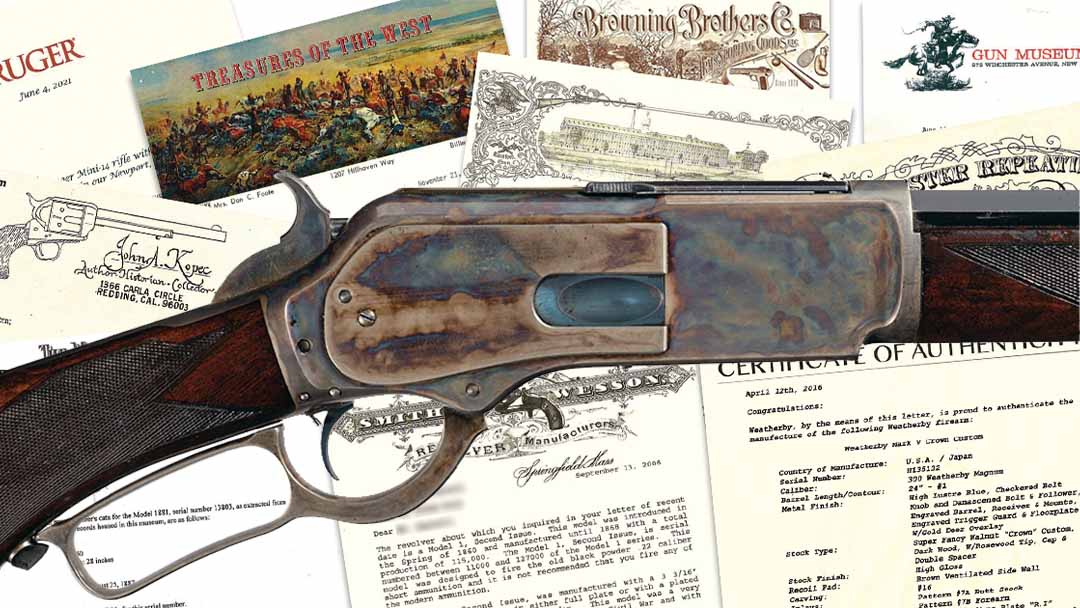 This special order Winchester Deluxe Model 1876 lever action rifle was accompanied by a factory letter listing it as being 50-90 Express caliber with an octogon barrel and casehardened finish. It realized $88,125, more than $20,000 more than its estimated high value.
What ISN'T in a Factory Letter?
The history of a gun and who owned it can weigh heavily on its value. Historical significance and the credibility of the information are the biggest factors in historic attribution. Here is an example: A factory letter might show that a revolver was shipped to a certain western outlaw. It doesn't confirm the current owner's affidavit that years ago a deputy marshal gave the outlaw's gun to the owner's great great grandfather.
Skepticism must rule with historical attribution, but a factory letter can help bring ownership or chain of ownership into focus. On the other hand, it can also protect the potential buyer from ending up with a forgery.
Experts recommend being very detailed in a record request for a factory letter. The more information on what is being sought in a request, the more likely researchers can find something interesting ̶ if it's there to be found.
Commenters on various forums acknowledge that a factory letter is at least a good starting point for research into a gun's history.
Self-education is the best thing a collector can do to avoid getting hung with something that might not be what is professed. A serious gun seller might also consider a free gun assessment with Rock Island Auction Company if they are considering gun consignment. Talk to other collectors and learn about the gun type that interests you most.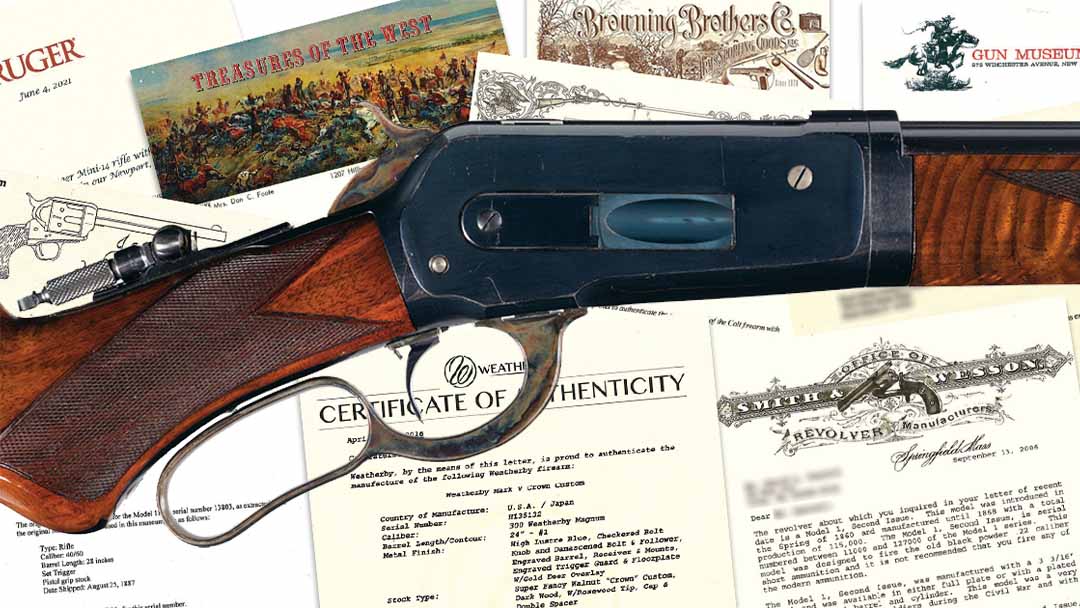 This special order Winchester Deluxe 1886 takedown lever action rifle comes with a number of special features, but the accompanying factory letter lists the trigger incorrectly. The rifle realized $152,750, well above its high estimated value of $65,000.
The recently-completed premier auction had more than 100 lots that included descriptions specifically stating that some type of authenticating letter or research was included. These are guns without the flash of Ulysses S. Grant's revolvers (that came with plenty of authenticating documents, too), but just nice, collectible Colts, Winchesters, Marlins, and Smith & Wessons.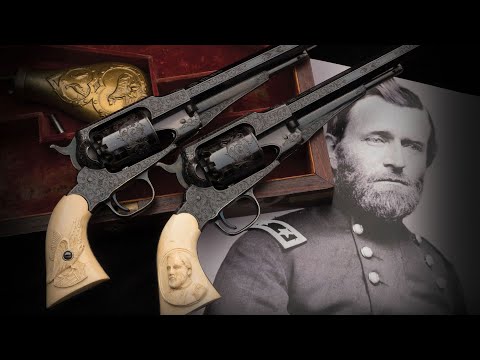 A factory letter or an authentication letter may not be necessary for the collector keeping a gun for themselves, but if you are curious about a weapon's history or are planning on selling your gun, most commenters in the various forums recommend a factory letter. When a collectible firearm changes hands, documentation can provide value, but also offer peace of mind.