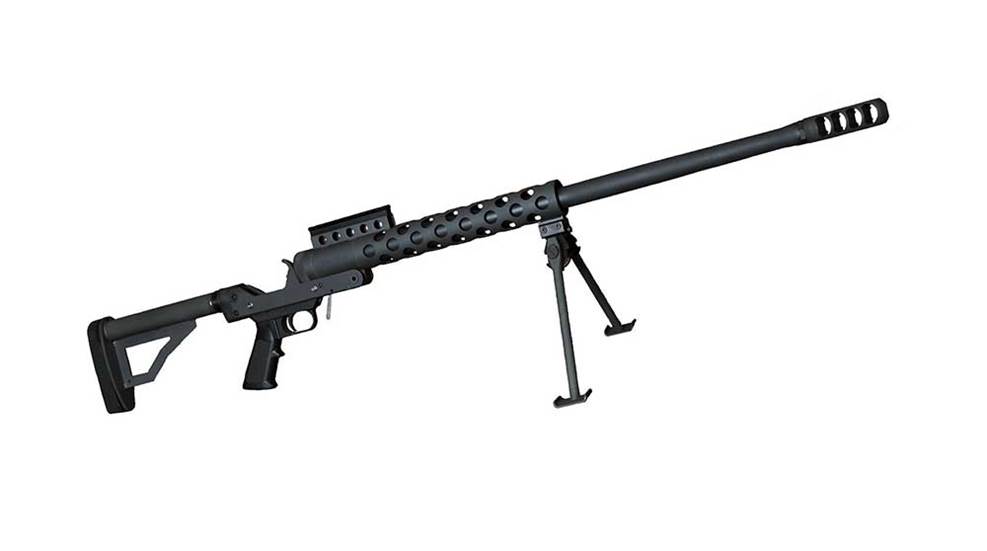 All right, we'll address the most-obvious issue right off the bat here: "budget" and ".50 BMG" are two words that probably don't belong in the same sentence. Any gun that burns a minimum of $3 with each pull of the trigger definitely isn't what we'd call a "common man's" rifle, but as with so many things in life, it's all relative, isn't it?
When most people think of .50 BMG behemoths, their mind automatically goes to Barrett, particularly the M107 in current use by the U.S. military. Of course, consumers can buy these semi-automatic monsters for the princely sum of $11,914, and those on a budget can get the poor man's M107 – the M82 – for a measly $8,846. Sounds reasonable, right? Well, we can't all drive Ferrari Californias or eat gold-flecked caviar, but at least in the case of the .50 BMG, getting a big-bore fix is more attainable than most American shooters think.
Unlike our previous budget-priced roundups, .50 BMG rifles aren't exactly stacked side-by-side in the storehouse of every firearm retailer from here to Harare. Indeed, many of the guns are sold directly by the manufacturer, which means there isn't much room for a middleman, so the prices here reflect the suggested retail price set in place by the maker. Here are five of the lowest-priced .50 BMG rifles on the market today, descending by price: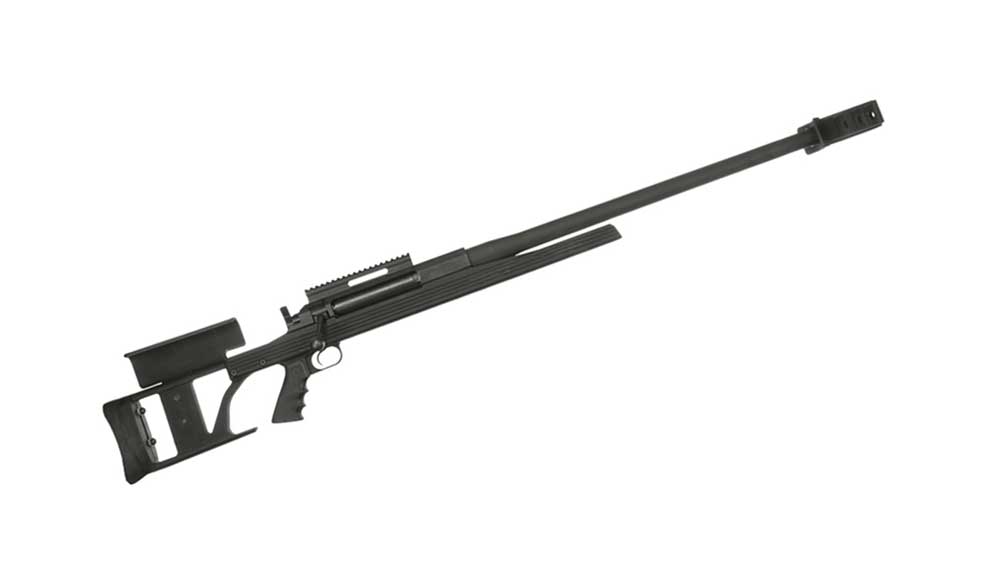 Starting off our list is a company that many probably associate more with the AR-15 than with the .50 BMG. Indeed, the "AR" in AR-15 does stand for "Armalite," contrary to so many self-ascribed gun experts on the market. However, Armalite didn't stop at the modern sporting rifle. The company also has a line of bolt-action precision rifles chambered in many of today's popular long-range calibers, and the AR-50 anchors the top end of the line.
The rifle is a single-shot, bolt-action design equipped with a strong triple front-locking lug complete with a spring-loaded plunger that pops an empty case out of the receiver, readying the gun for the insertion of a fresh round. So, even though it doesn't feed from a magazine, consumers can still send plenty of rounds at a pace limited only by their wallet. The gun is equipped with a 30-inch chrome-moly heavy barrel, and the whole package weighs in at 34.1 pounds. While the AR-50 is well-built and certainly priced low on the general .50-BMG rifle market, an MSRP of more than $3,000 doesn't exactly scream "budget-friendly," so let's continue on.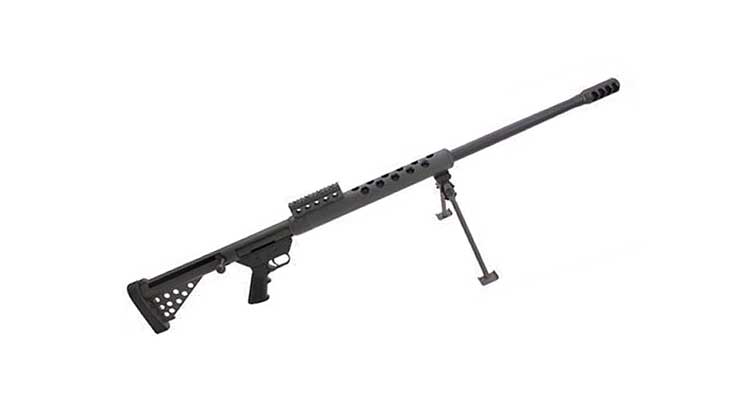 Built since 1999, the Serbu BFG-50 was the first firearm designed by company founder Mark Serbu. Though Serbu has since come out with a host of other unique designs, like its Super Shorty shotgun, the company still cranks out its tried-and-true, first-ever firearm, providing big-bore fans with a fifty they can afford.
Each single-shot Serbu BFG-50 can be had with a number of different barrel lengths, ranging from a 22-inch "Carbine" configuration to a long, heavy, 36-inch-barreled model. The standard rifle ships with a 29.5-inch barrel, though, and each barrel is machined from match-grade alloy steel with a 1:15-inch twist rate. The muzzle end is topped with the company's Shark Brake, which helps to mitigate the brutal recoil of the .50 BMG, made even more aggressive by the gun's, relatively speaking, "lightweight" construction, weighing in at 18.75 pounds.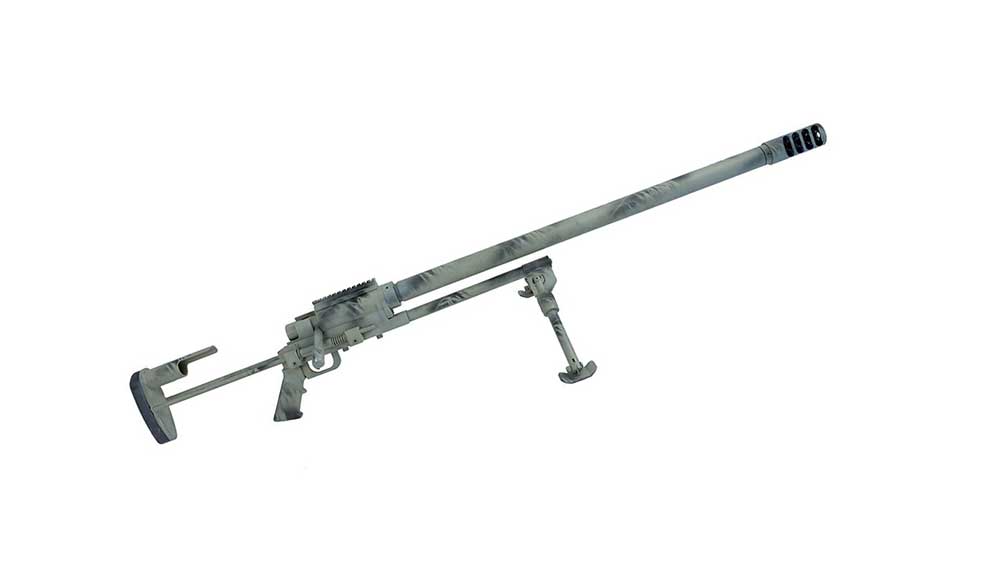 Standing for "Ultra Long Range," the Noreen Firearms ULR is a simple, basic .50 BMG that has all the features a shooter needs and none they don't. A single-shot design, the rifle is constructed with a "shell-holder-style" bolt, which requires a shooter to remove the bolt completely from the rifle, slide in a live cartridge, and then return the cartridge-laden bolt to the receiver, locking it into place with a final turn. The rifle doesn't have any traditional mechanical safeties, so it can't be carried safely while loaded, certainly a major disappointment for the one person out there who really wants to tote around a loaded .50 BMG rifle. You keep doing you, man.
To enhance accuracy on this precision-oriented long-range rifle, the Noreen team added an adjustable trigger from Timney Triggers, which provides the opportunity for users to fine-tune the pull weight from 2 to 4 pounds, as well as sear engagement and trigger overtravel. To mitigate recoil, the rifle is equipped with a muzzle brake of the company's own design, as well as a spring-loaded butt stock that absorbs some of the shock of a fired shot. The final recoil-mitigation factor found in the gun is the weight of the rifle itself, clocking in at a weighty 32 pounds.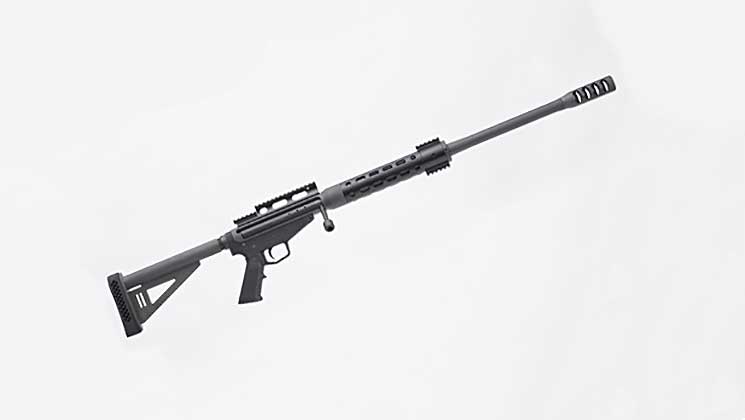 Safety Harbor SHTF-50 Single Shot ($1,850)
Safety Harbor Firearms is probably best-known in the gun world for its AR-compatible .50 BMG upper receiver that pins onto any mil-spec AR-15 lower receiver, but the company also offers complete .50 BMG rifle packages for those in the market for a standalone big-bore rifle. With this package, consumers get the standard SHTF-50 Single Shot upper receiver along with a specially designed lower receiver machined from 4130 chrome-moly steel.
On the upper receiver, consumers will find a 4140 chrome-moly steel barrel available in barrel lengths of 18, 22 and 29 inches long, all with a 1:15-inch twist rate. Mated to the barrel is a two-lug bolt head machined from 4340 chrome-moly steel, along with a bolt body machined from 4130 chrome-moly tubing. The receiver is topped with a Picatinny optics rail, allowing users to pair the high-power rifle with a high-power optic to match. Also, for AR owners with an itch for a mag-fed .50 BMG, the company offers an AR-compatible upper receiver complete with a 5-round detachable magazine for the same price as the complete single-shot rifle.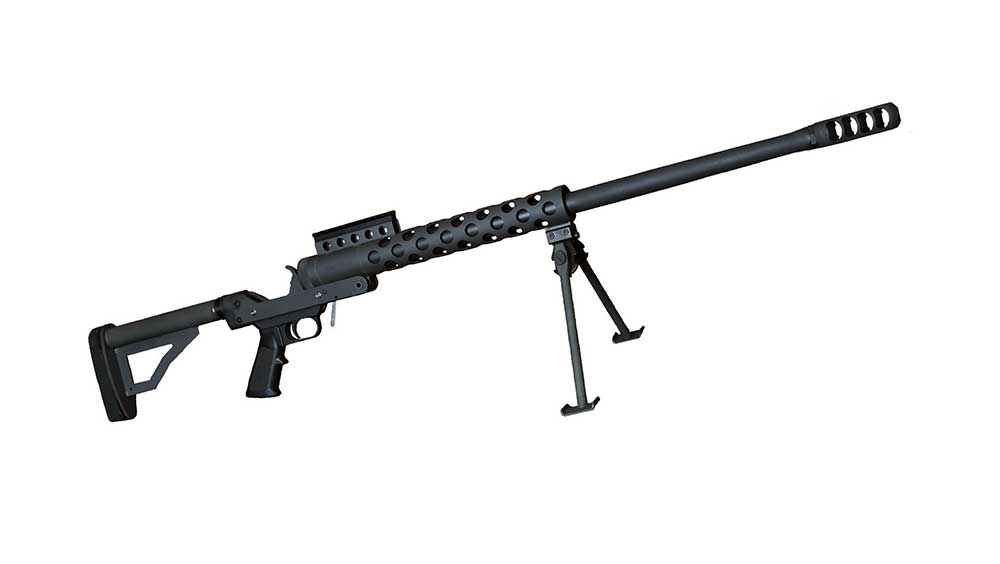 Serbu makes a comeback appearance on our list of budget fifties with one of the company's latest products released in 2018: the RN-50. Inspired by a social-media campaign, this unique, big-bore rifle offers an extraordinarily accurate .50 BMG precision rifle at prices that most consumers can easily afford.
Unlike many of the other guns on this list, the RN-50 doesn't use a traditional bolt to lock a round into place on the receiver. Instead, the rifle uses a break-action design paired with a screw-on breech cap. Though this loading method certainly doesn't provide fast follow-up shots, the simplified design is easy and inexpensive to manufacture and actually provides even greater accuracy than many other .50-caliber guns, because the cap offers symmetrical support to the cartridge.
The standard Serbu RN-50 ships with either a 22-inch or 29.5-inch barrel machined from alloy steel and weighing in at 15 pounds max with the latter barrel attached. For an added cost, consumers can choose either an 18-inch "Shorty" barrel or a 36-inch "Heavy" barrel. At such a low price, the rifle doesn't ship with a bipod or stock included, but those can be bought for an additional $175 each. Consumers can also add their own, since the receiver plate is compatible with AR-style buffer tubes.
Whatever your choice, it's clear that the long-range precision game involving .50 BMG is no longer for the fabulously wealthy. There are a number of options for those bit by the big-bore bug that aren't wildly out of the price range of many of today's traditional rifles. All that's needed now is a source of affordable ammo…