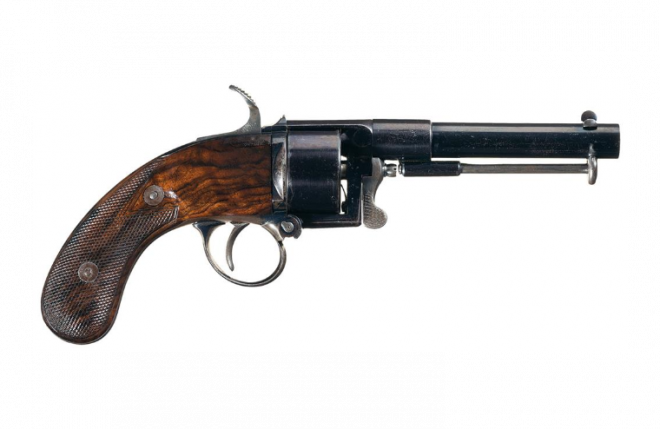 Welcome to today's Photo of the Day! Here we have an example of an earlier adopter of the centerfire cartridge. This is a French Devisme 11mm cartridge revolver. These revolvers made their way into the world around 1858 and is a centerfire self-contained cartridge revolver, this makes it one of the first adopters of centerfire long before it was cool!
The Devisme name was long associated with high-end products such as firearms, swords, and daggers. They had a fairly avid clientele that weirdly featured many higher-ups in the American Confederacy. People such as Robert E. Lee and Jefferson Davis. This fact is not so weird at a closer look since many European nations were in support of the Confederacy during the American Civil War.
The Model 1858 11mm cartridge revolver was especially unique in that it was a break-action revolver like a Smith and Wesson Schofield but instead of being "top-break" it was "bottom-break".
"The top of the barrel is signed "Devisme a Paris." Devisme of Paris was known to have supplied weapons to a number of top Confederates, including President Jefferson Davis. This revolver has a barrel that locks to the frame with a swiveling key, which is fitted with a gear arrangement to automatically position the ejector rod when the breech is unlocked. Fitted with checkered bag shaped grips with a pair of screw escutcheons on each side."
Lot 1392: Devisme Fp Revolver 11 mm. (n.d.). Rock Island Auction Company. photograph. Retrieved February 23, 2022, from https://www.rockislandauction.com/detail/67/1392/devisme-fp-revolver-11-mm.