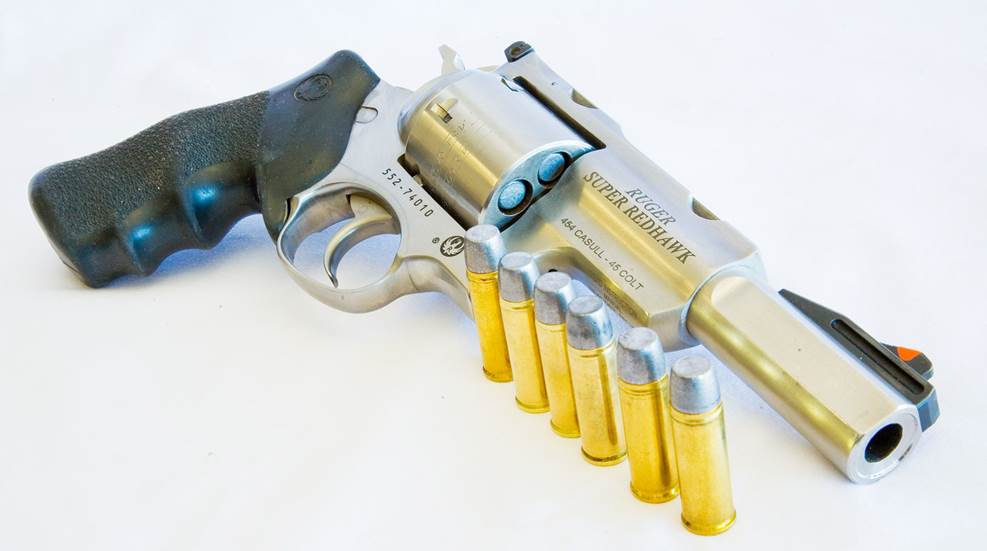 In November 1959 an article appeared announcing a new and very powerful wildcat handgun round called the .454 Casull that set the handgun world on fire. The cartridge came about as a collaborative endeavor between Jack Fulmer, Duane Marsh and led by a young gunsmith, Dick Casull. Years later Casull told me that developing the cartridge and the revolver capable of safely handling it took three years. On the surface, it doesn't seem too complex from today's perspective, but remember this was some 63 years ago.
A lot of today's common metallurgical, machining and manufacturing technology had yet been developed. Casull showed me the first .454 Casull revolver he made one day at his home in Freedom, WY. Originally it was a first-generation (black powder) Colt Single Action Army. Externally it wasn't all that unique looking, other than the cylinder lacked fluting. Internally, however, Casull had to re-engineer the lockwork to work with a five-shot cylinder that he machined from stock. The first-generation Colt frame was relatively low in carbon content.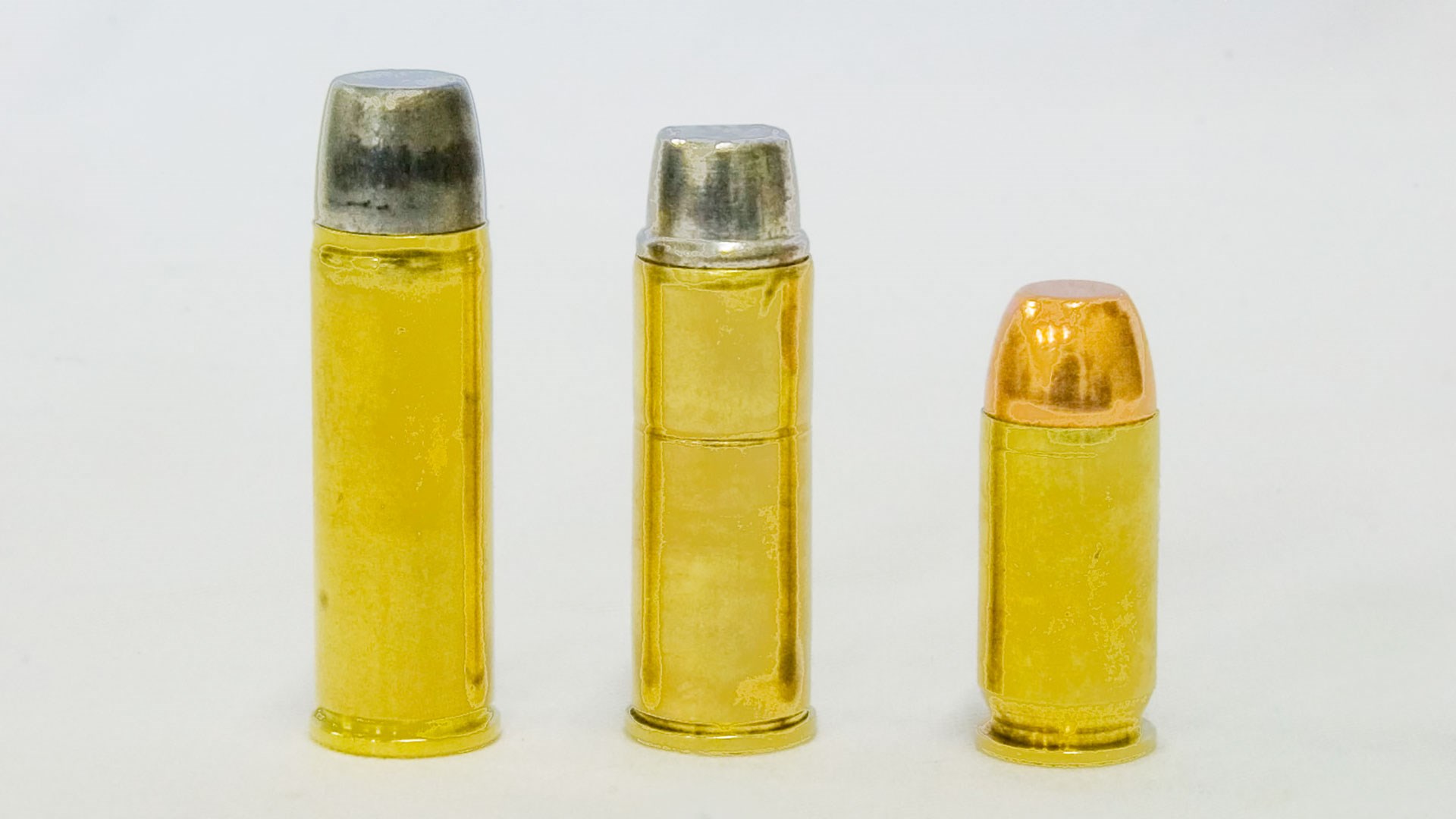 The .454 Casull (left), compared with .357 Mag. (center) and .45 ACP (right).
Carbon is a major component in giving steel its greater tensile strength. Casull told me—and later actually taught me—how he added the necessary strength to the old Colt by repeated case hardening treatments until the entire frame essentially became case hardened, thoroughly infused with carbon and immensely stronger. I asked him how many old Colt frames he blew up developing the .454 Casull. He smiled wryly and said he didn't recall. Casull was like an encyclopedia of gun knowledge. P.O. Ackley, who Casull once worked for, was quoted saying that Dick Casull was the finest gunsmith and gun designer since John Browning.
The .454 Casull was spawned from the .45 Colt case, lengthened about 0.10″ and made thicker in the web. Casull's cartridge spits out a 250-gr. bullet at more than twice the velocity of its parent—1,900-plus f.p.s. compared to 900 f.p.s. I once stopped by Casull's place while he was applying an annular crimp to the small rifle primers he used in the .454 Casull. His goal was to break the 2,000 f.p.s. barrier in a 7 1/2″ barreled revolver with the 250-gr. bullet, but the primers kept backing out.
He did it, but the pressures were well beyond anything anyone—including Casull—wanted to put out to the public. Throughout the bullet weight range the .454 Casull maintains a 25-percent to 33-percent velocity advantage over the .44 Remington Magnum. Pressures are in the magnum centerfire rifle range, 65,000 CUP compared to 36,000 for the .44 Rem. Mag. and 14,000 for the .45 Colt. Recoil, as one might imagine, is also starkly different. The .454 Casull with a 260-gr. bullet at 1800 f.p.s. in a 3-lb. revolver churns up 39 ft.-lbs. of energy with 28 f.p.s. in recoil velocity.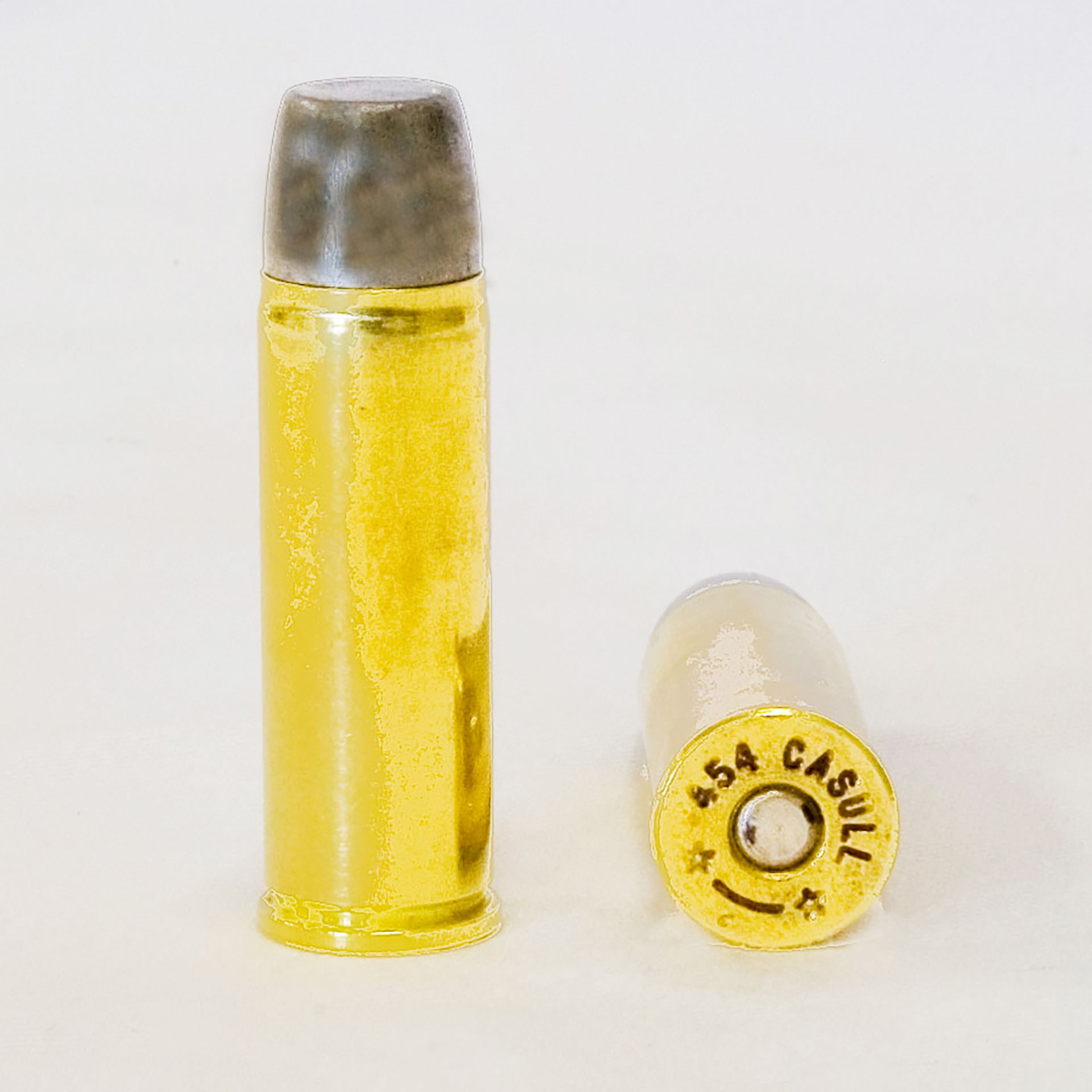 A view of a .454 Casull cartridge and head stamp.
In a .44 Rem. Mag. with a 240-gr. bullet at 1,450 f.p.s., the figures are 22.5 ft.-lbs. and 21.9 f.p.s., respectively. That famous .45 Colt man stopper compares at 10.4 ft.-lbs. and 15.6 fps driving a 250-grain bullet at 900 fps. When I met Dick Casull in 1980 he was working with Freedom Arms to bring his brainchild to market. Like a lot of inventors, Casull had some great ideas but lacked the capital to bring them to market. It seems to be the universal conundrum of inventors. Casull was the consummate perfectionist, and he insisted that each revolver bearing his name be the absolute best that can come from human hands.
Eventually Freedom Arms did build his revolver, bringing it to market in 1983. The Freedom Arms Model 83 is widely considered to be the finest single-action revolver ever produced. I've shot several of them in a variety of chamberings, and I would not try to challenge that statement. Freedom Arms revolvers are—for all practical purposes—semi-custom guns, and because of that production volume is slow. It took a powerhouse manufacturer like Ruger to make the .454 Casull available to the masses.
Ruger began chambering its Super Redhawk double-action revolver for it in 1997. A year later, Taurus chambered its Raging Bull in .454 Casull, and in 2010 added its Raging Bull Magnum that chambers .454 Casull, .45 Colt and .410 bore shotshells. For a time its sister company, Rossi, chambered its M92 lever-action carbine in .454 Casull. Big Horn Armory began chambering its superbly made Model 90A lever-action rifle in .454 Casull in 2014. With this many guns available, it didn't take long for ammunition manufacturers to jump into the game.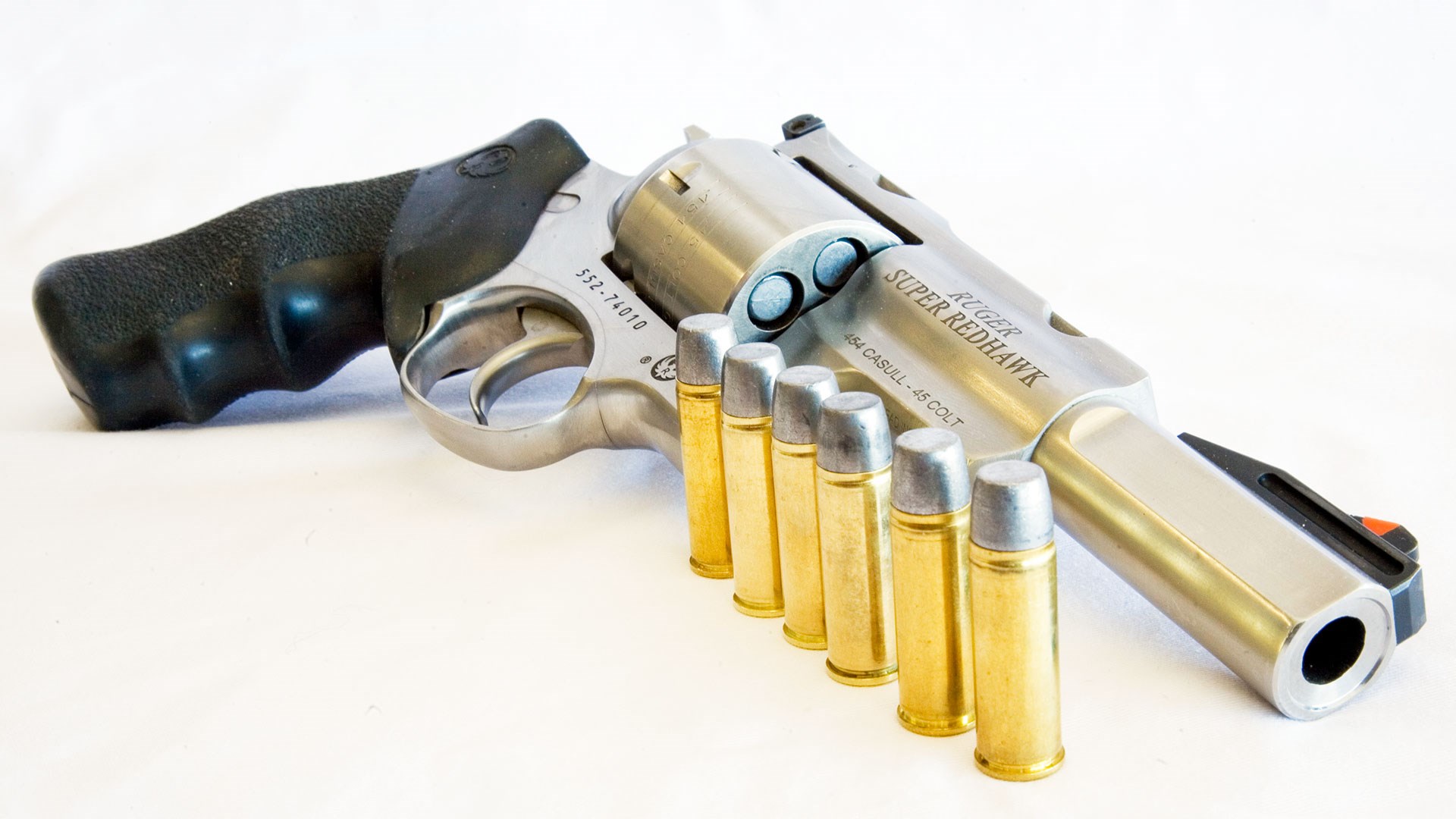 The Author's Ruger Super Blackhawk loaded with .454 Casull cartridges.
Currently Barnes, Buffalo Bore, Doubletap, Federal, Hornady, Magtech and Winchester are loading ammo in the big .45. Now take a breath. A 20-round box will lighten your wallet $75 now, if you can find it. That's $3.75 per round. Handloading will ease the financial burden a bit, but again components are almost as difficult to find as loaded ammo now. Be aware that the .454 Casull need small rifle—often small rifle magnum—primers.
Early on Casull determined that with the pressures he was generating and handgun technology what it is, the smaller surface area of a small primer helps lessen the chances of them backing out during firing. Many apply the aforementioned crimp as further insurance. Jacketed bullets designed for .45 Colt often are too fragile and soft for the .454 Casull in full-house loads. Hardened cast bullets are often used by those seeking maximum penetration.
It's hard to imagine anyone needing—much less wanting—more power in a handgun than the .454 Casull offers, but power hungriness is just as applicable to pistoleros as it is to politicians. Dick Casull's .454 magnum cartridge has been eclipsed by Smith & Wesson's .460 and .500 Mag. cartridges, as well as the still semi-custom Linebaugh line of handgun cartridges. But if power is your game, the .454 Casull is a good place to start.