Longtime SC distributor of guns, other outdoor goods is bankrupt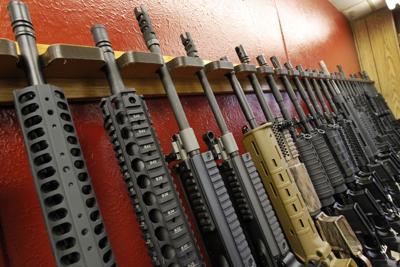 A South Carolina distributor of guns and other outdoors supplies that was launched during the Great Depression filed for bankruptcy Monday, a few weeks after a financier alleged that the majority shareholder took about $189 million in loans out of the business.
SportsCo Holdings Inc., which owns Chapin-based Ellett Brothers and several other subsidiaries, said it plans to liquidate its holdings, citing excessive debt and inventory.
CEO Bradley Johnson said in a court filing that the company's prediction that the Democrats would hold onto the White House in 2016 backfired after a projected jump in firearms sales didn't materialize.
He also blamed SportCo's downfall on "significant" disruptions within the outdoors retail industry in recent years, including the acquisition of Cabela's by Bass Pro Shops, Gander Mountain's bankruptcy and hurricanes that struck the Southeast U.S.
The Midlands company traces its roots to the 1933 founding of Ellett Brothers. SportCo, which is the holding company, has five distribution centers, including one each in Chapin and Newberry, and it employs about 320 workers, according to a bankruptcy filing.
The majority owner is Wellspring Capital Management, a New York private equity firm that's bought the business in 2008 and is now facing a lawsuit over its handling of tens of millions of dollars in borrowed funds.
Prospect Capital Corp. is alleging that the $160 million in financing to provided Ellett Brothers in 2012 and 2013 was never invested in the business, according to the complaint it filed May 23 in Lexington County.
Sponsored
The 3 Most Important Attributes to Look for in a Lawyer
Finding and hiring a lawyer can be intimidating, especially if you've recently gone through a stressful experience, such as an injury.
Instead, Wellspring distributed $134 million and another $54.8 million, with most of the money going to the controlling shareholder. The payouts also included credit from other lenders, Prospect said.
The transfers "provided no value" to Ellett Brothers and its affilates while helping to contribute to "a complete financial collapse," according to the lawsuit
"Since making the distributions … and despite a historic industrywide increase in sales, Ellett and its many subsidiaries have lost a substantial amount of their assets and business value," Prospect Capital said.
Wellspring also collected $6 million in management fees from its South Carolina investment between 2009 and 2017, according to the lawsuit. The private equity firm could not be reached for immediate comment Monday.
SportsCo and its affilates sought protection from its creditors in Delaware, listing debts of between $100 million and $500 million and assets of less than $50 million. The companies plan to keep operating during the liquidation process.
The first hearing in the bankruptcy case is scheduled for Tuesday.
Contact John McDermott at 843-937-5572 or follow him on Twitter at @byjohnmcdermott
____________________________________ Also remember that the Gun Industry has literally flooded the Market with Black Guns. Which did not help things. Since no matter what you sell. The Market can only buy so much of one product.
On the other hand there is a steady market for well built Bolt Actions and Old School Pistols like the Python. But that is just my opinion! Anyone out there want to comment on this? Grumpy