Back when I was in Mr. Reagan's Army. I was able to sneak a peek at our Regimental Colours. I was in the HHT 1/18th US Cavalry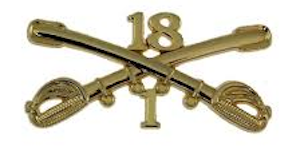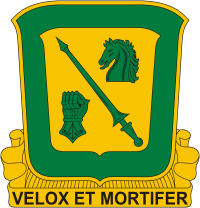 By the way. A Flag goes up & down the pole. A Colour does not according to my Squadron Sgt. Major. A person even our Colonel was slightly afraid of.
Anyways, I was very impressed by them. So I am going to show a few things about them.
United States

The United States Army established campaign streamers in 1920, the United States Marine Corps in 1939, the United States Air Force in 1956.
The United States Coast Guard adopted battle streamers in 1968, with the United States Navy following suit in 1971.[1][2]
Many of the practices relative to streamers and their display are similar among the services.
There are, however, differences, particularly regarding the number of streamers and use of embroidered devices.
The Army carries a separate streamer for each important action in all wars in which that service has participated, each embroidered with the name of the action commemorated.
Currently, the Army allows 187[3] streamers, and the Air Force, employing the Army system, carries more than 60.
Unlike the Army-Air Force practice, the Marines and Navy use one ribbon for each war, campaign, or theater of operations.
Specific actions or battles are highlighted by bronze and silver stars embroidered on the ribbon.
The Marine Corps shows more than 40 streamers, the Navy 32, and the Coast Guard uses 43, unadorned by either stars or lettering. Stars on the Marines and Navy streamers follow the practice initiated during the World War II period for ribbons and medals—that is, a bronze service star for each action, and a silver star in lieu of five bronze stars.
The Navy applies stars to appropriate ribbons throughout its history, whereas the Marine Corps uses stars to commemorate service starting from 1900.
The Navy's Presidential Unit Citation, Navy Unit Commendation, and Meritorious Unit Commendation streamers each carry a red number rather than stars, representing the number of times that the respective award has been conferred upon Navy units.
Generally, streamers are 3 feet (0.91 m) long and 2.75 inches (7.0 cm) wide. Where a medal has been awarded for a particular war or service, the coloring and design of the streamer are the same as the ribbon from which the medal is suspended.
Conflicts and operations for which no medal was issued have ribbons specially designed for use as streamers.
Images
Campaigns
Additionally, units that have been awarded citation or decoration may carry the associated streamer. Foreign awards are last in precedence.
Current US Army policy allows the display of fourrageres and lanyards during ceremonial occasions on the flagstaff of those units authorized.[4]
A foreign unit award medal may also be pinned to the applicable foreign award streamer during ceremonial occasions.[5]