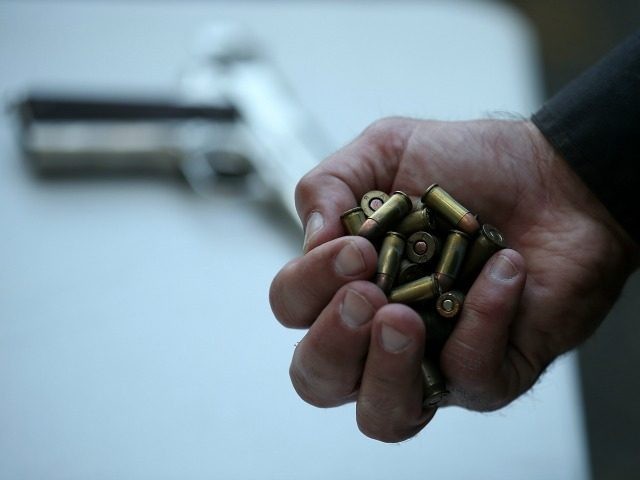 It is January 1, 2018, which means law-abiding Californians can no longer buy ammunition out-of-state or possess an unregistered AR-15 with a bullet button accessory.
On December 13, 2017, Breitbart News reported that California's war on guns was about to expand to a war on ammunition, and January 1 marks the day that the war on ammunition begins.
Currently, law-abiding Californians must buy their ammunition from a licensed in-state ammunition dealer. This means that Californians who buy ammunition online must have that ammo shipped to a licensed in-state dealer and pay that dealer a fee when picking up the ammo.
These controls immediately lessen the supply of ammunition, thereby driving up the price for those who demand it. Also, these controls set the stage for phase two of ammunition control, which will consist of requiring a point-of-sale background check for ammunition purchases starting January 1, 2019. The point-of-sale background check will also carry a processing fee, which will drive the price of ammunition even higher.
These controls are in addition to the requirement that law-abiding Californians obtain a firearm safety certificate from the state before buying a firearm, endure a ten-day waiting period for gun purchases, pass a universal background check, register all firearms with the state, and live under the shadow of gun confiscation laws. There is an "assault weapons" ban, a ban on campus carry, and a new law against K-12 teachers being armed to shoot back if under attack at school.
California also has a "good cause" requirement for concealed carry, which allows bureaucrats within the issuing system to strictly control the number of permits given to law-abiding citizens. This single gun control has resulted in limiting the 
number of permits issued
 in Los Angeles County to 197; Los Angles County has a population of 10.2 million, yet only 197 concealed carry permits have been issued to the law-abiding citizens residing there.
The "good cause" requirement affords onlookers a great opportunity to see how gun control empowers criminals by keeping law-abiding citizens disarmed.
AWR Hawkins is an award-winning Second Amendment columnist for Breitbart News, the host of the Breitbart podcast Bullets, and the writer/curator of Down Range with AWR Hawkins, a weekly newsletter focused on all things Second Amendment, also for Breitbart News. He is the political analyst for Armed American Radio. Follow him on Twitter: @AWRHawkins. Reach him directly at awrhawkins@breitbart.com. Sign up to get Down Range at breitbart.com/downrange.
TRENDING TODAY
Siemens Bluetooth Hearing Aids Will Change Your Life
Chiropractors: This Simple Solution Ends Unbearable Back Pain (Watch Now)
Hillary's Entire "Hit List" Just Went Public. You'll Never Guess Who's #1
20 Black Celebs Who Successfully Pass for White
Little Known Stock Poised To Earn 300% Gains As Startups Boom
This is the Car Meghan Markle Got for Christmas
The 15 Hottest Mistresses Tiger Woods Paid For
Most Laughable Halloween Costume Fails
Perfectly Timed Photos – You Won't Believe What They Caught on Camera!
This Stock Is The Priceline of Pot and a Game Changer for the Marijuana Industry
Millions of People Are Canceling Their Cable Because of This New Site
Top 15 Celebrities Who Have Converted to Islam
You'll Never Shop Amazon Again After Seeing This New Site
Bitcoin Expert Reveals 3-Step Secret To A Retirement Fortune
23 Celebrities Forced to Work Regular Jobs
30 Celebrities Who Are Mega Trump Supporters – #12 Is Unbelievable!
Remember Her? Take A Deep Breath Before You See What She Looks Like Now
16 Celebs Who Destroyed Themselves with Plastic Surgery
P.S. DO YOU WANT MORE ARTICLES
LIKE THIS ONE DELIVERED RIGHT TO YOUR INBOX?
SIGN UP FOR THE DAILY BREITBART NEWSLETTER.