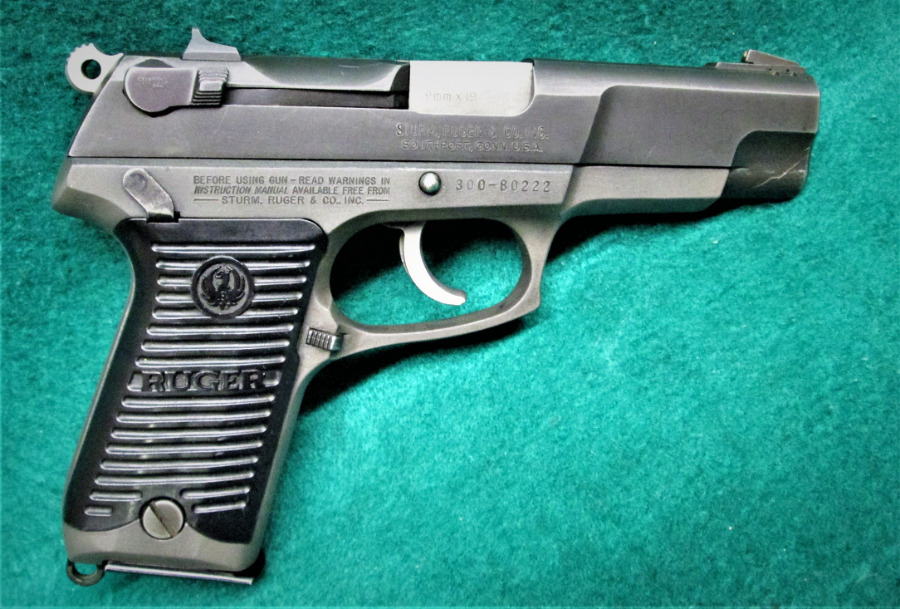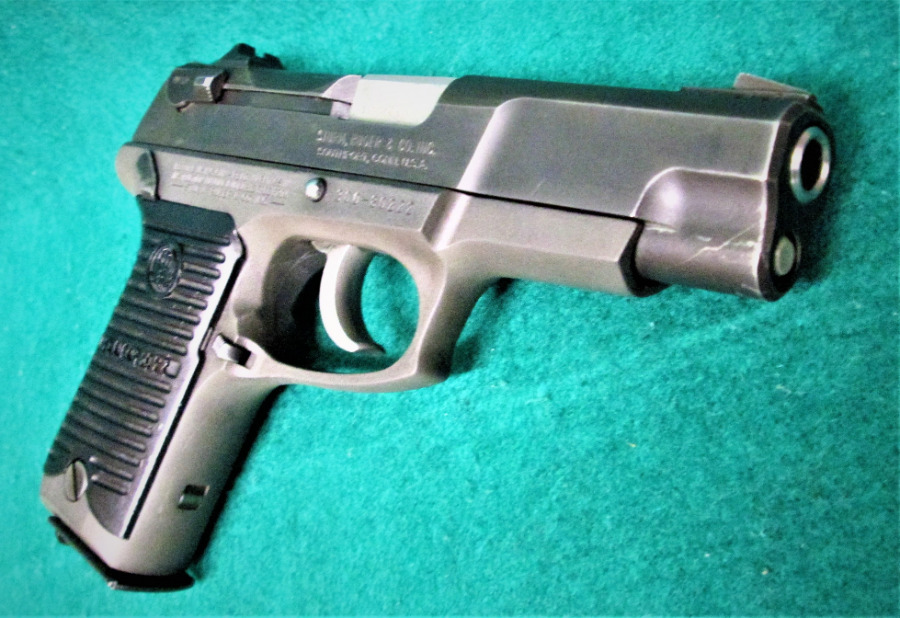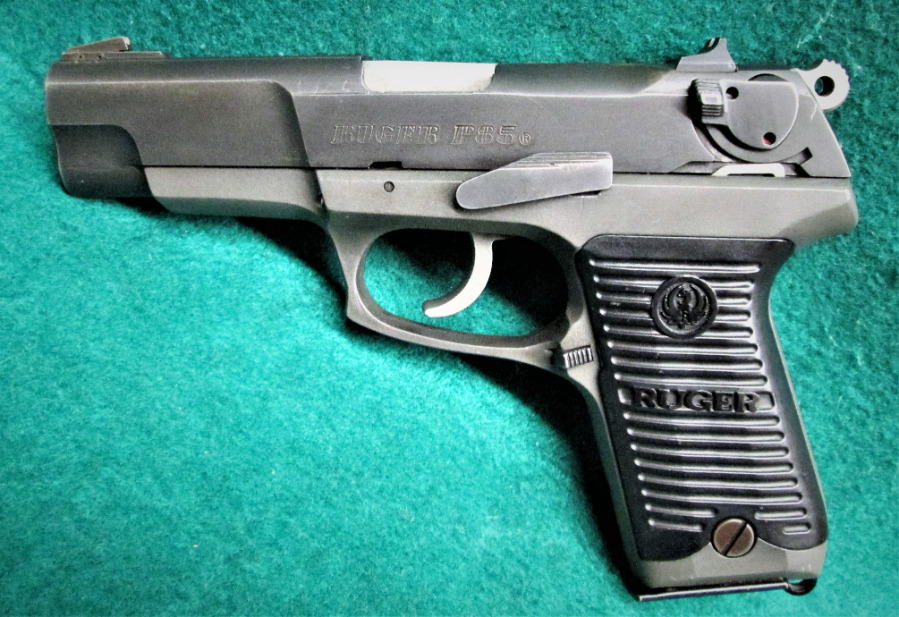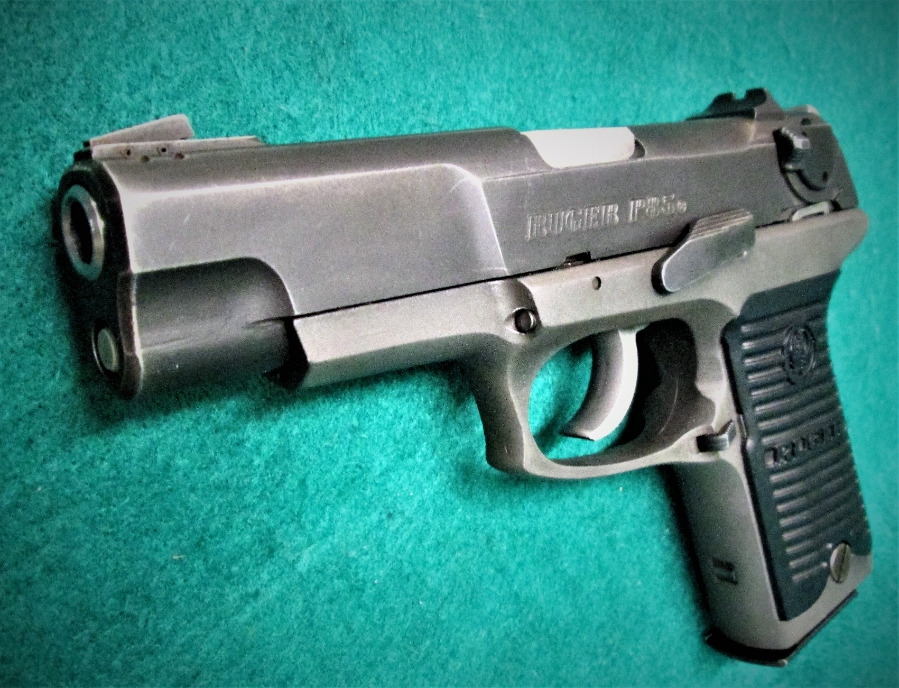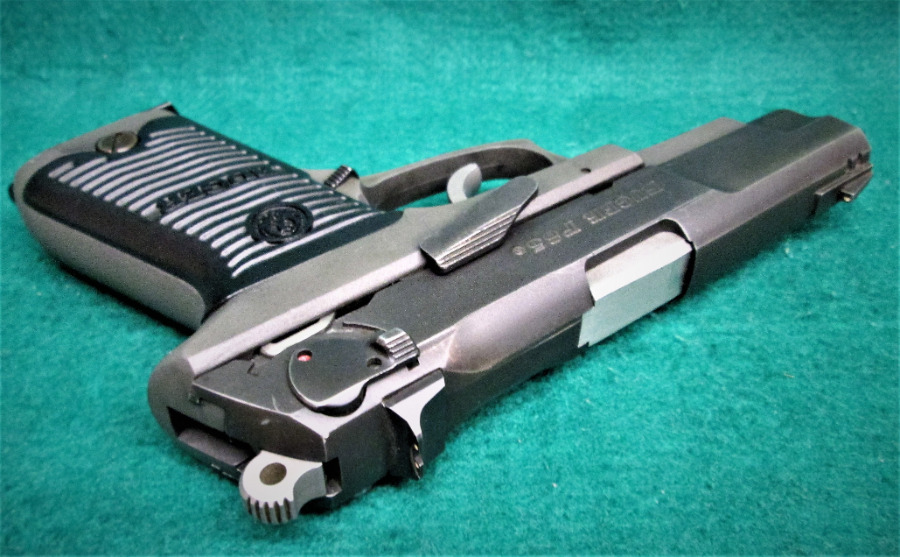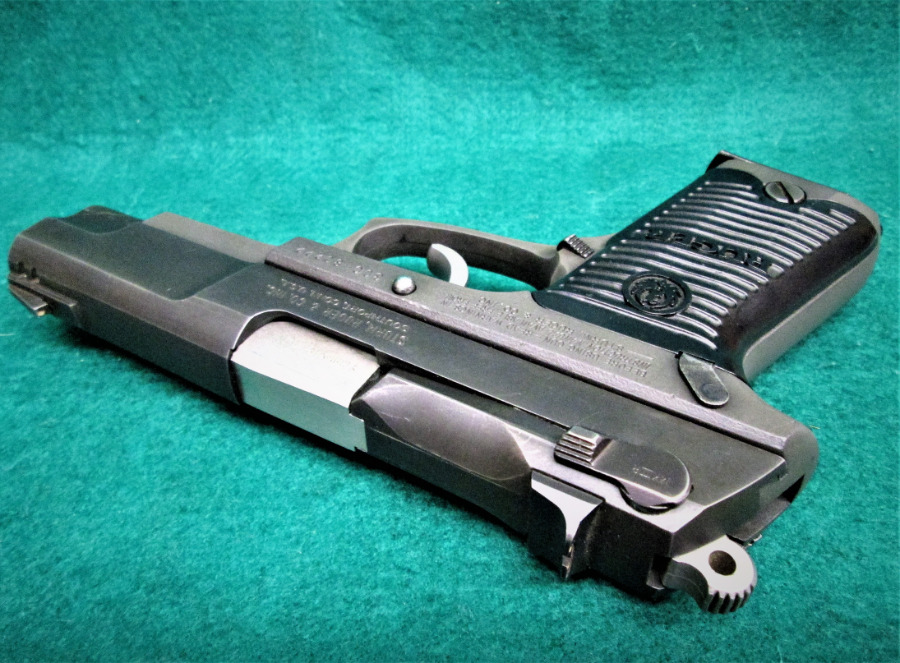 The Ruger P-Series is a line of centerfire semi-automatic pistolsmade by Sturm, Ruger & Company produced from 1985 to 2013. The P-Series pistols were designed for military, police, civilian and recreational use.
The designs are largely based on the Browning action found in the M1911 pistol.
But with minor variations, generally related to the safety mechanism and the barrel-camblock interface.
Reviews have considered them rugged, reliable, and strong, though this strength comes at the price of bulk and a blocky appearance.[2]
Design details
[
edit
]
The P-Series are short recoil–operated, locked breech semi-automatic pistols. They use a SIG P220 type locking system, and an M1911-style tilting barrel. The P-Series were made with a traditional double-action/single-action (DA/SA), or double-action-only (DAO) trigger mechanism.
The standard models have an ambidextrous manual safety/decocker located on the slide.
when the safety lever is lowered to the safe position, the firing pin is cammed into the slide away from the hammer, the trigger is disconnected from the sear, and the hammer is decocked.
The decocker models have no manual safety; instead, when the lever is lowered, it only cams the firing pin into the slide and drops the hammer.
When the lever is released, the firing pin springs back to the normal position. The DAO models have no manual safety or decocker.
All models feature an automatic firing pin safety that blocks the firing pin unless the trigger is pulled fully rearward.[3][4]
The pistols make extensive use of investment-cast parts and proprietary Ruger alloys.
Nearly all internal parts, including the barrel, are stainless steel, while the slide and ejector are carbon steel. The P85 through P944 use an investment-cast aluminum frame, while the P95 and later models use a fiberglass-reinforced polyurethane frame.
The 9mm and .40 S&W versions use double-column box magazines; the 9mm has a 15-round capacity, and the .40 has a 10-round capacity. The .45 ACP versions use single-column magazines holding seven or eight rounds (depending on the model).
All P-Series pistols of the same caliber use a similar magazine design, but slight modifications have been made to at least the 9mm guns so that not all P-Series magazines will function in all P-Series frames. Ruger did not keep track of the magazine models so an older magazine may not secure in a newer frame.
The Ruger Police Carbine also uses P-Series magazines. The P-Series pistols have an ambidextrous magazine release located behind the trigger guard; it can be pushed forward from either side to eject the magazine.
The early-model P95s have fixed, three-dot sights; newer P95s, P97s, and P345s have three-dot sights adjustable for windage.
The P85 was originally developed as a replacement alternative for the M1911A1. It was not adopted, and the contract was awarded to the Beretta M9.
Nonetheless, its rugged design and military qualities did see it adopted by the San Diego Police Department and the Wisconsin State Patrol.[5] The P-85 was also adopted by the Turkish National Police.
Individual model information
[
edit
]
Most models were available with blued steel or stainless steel slides, a manual safety or decocker, and DA/SA or DAO triggers. Some DAO versions were discontinued in 2004, and by 2013, only the manual-safety P95PR and KP95PR remained in production.[6]
P85/P85 MKII
[
edit
]
The P85 was developed in 1985, but was not available until 1987.[2] It was only available with a DA/SA trigger, decocker, and a manual safety.
Early P85 pistols were recalled for a safety issue that resulted in one accidental discharge. If the firing pin broke in front of the firing pin block, applying the safety, which dropped the hammer, could transfer enough energy to the broken firing pin to cause a discharge.
The P85 was recalled, and a new safety was installed that prevents contact between firing pin and hammer during a decocking operation.
This modification was done free of charge. The P85 MKII was released with the safety fix, larger safety levers, improved accuracy, and the option of a stainless-steel slide.[2][4]
P85 production stopped in 1990, and the P85 MKII was discontinued in 1992.[6]
The P89 is an upgraded P85 MKII that introduced a number of new features, including a DAO model.
In 1992, Ruger produced a limited-run P89X convertible model, which came with a second barrel and recoil spring assembly that allowed conversion between 9mm and .30 Luger calibers. Ruger only made 5750 with both barrels.
The P89 was discontinued in late 2007.[6]
P90/P90 DC/P90 Special Edition
[
edit
]
The P90 is a scaled-up version of the P89 chambered in .45 ACP with an aluminum frame.
It was introduced in 1991 as the company's first attempt at a .45 ACP, and was in direct competition with Sig Sauer's P220, Smith and Wesson's 4500 series, and to a lesser extent Glock's G21 that came out the same year.
The P90 is considered to have above average accuracy for its price.[2] The P90 came in multiple configurations including the P90 DC, a decocker only version with no external safety. The P90 was discontinued in 2010.[6]
The Special Edition P90 was produced for Davidson Firearms by Ruger.
The Davidson Special Edition P89/P90 gun featured a carbon-steel slide, a matte gray receiver (i.e., the OEM one normally provided to the stainless-steel guns), and stainless-steel accents (trigger, safety levers), and, if it was a "TH" variant, the Hogue fingergroove rubber grips with the Ruger logo.
The guns came in a Special Edition colored and labeled polymer box. While similarly priced to the stock P90, they only included one magazine.
The P91 is a version of the P89 chambered in .40 S&W. It was discontinued in 2004.[6]
P93, P94 and P944
[
edit
]
The P93 is a compact 9mm model, with a shortened 4-inch (100 mm) barrel and a streamlined slide and frame. The P94 is a mid-sized 9mm, with a 4.2-inch (110 mm) barrel and the P93's streamlined styling. The P94 was also produced in .40S&W, presumably as a special order for law enforcement. The P944 is similar externally to the P94 but chambered in .40 S&W. The P944 also introduced a camblock incorporated into the recoil spring guide rather than the M1911-style swinging link of previous version. This camblock was used on all P-series pistols designed afterward. The P93 was discontinued in 1994, and the P94 was discontinued in 2004. The P944 continued being produced until 2011.[6]
Introduced in 1996, the P95 incorporated a number of changes from earlier P-Series pistols, including a shorter 3.9-in barrel and a new frame made of fiberglass-reinforced polyurethane, based on Dow Chemical's "Isoplast".[3] This reduced the weight of the pistol by 4 ounces (110 g) and reduced manufacturing costs. Chambered in 9mm Luger, unlike other polymer-framed handguns on the market at the time of design, the P95 had no metal inserts in the frame. The high-strength polymer allowed the slide to ride directly on the polymer frame rails which simplified manufacturing and further reduced production costs.
The P95PR introduced in 2005 incorporates a Picatinny rail into the frame and adds a new nonslip texturing in the polymer frame. This model replaced the original P95 in production.
In December 2004, Ruger was awarded a contract for 5,000 KP95D pistols by the U.S. Army Tank-Automotive and Armaments Command, Rock Island Arsenal, Illinois.[7]
The P95 was slowly phased out in recent years in favor of the newer SR series. Eventually, the P95 was quietly discontinued in October 2013 and removed from Ruger's website catalog.
The P97 is based on the P95, but chambered in .45 ACP. It was only available in decocker and DAO versions. It featured an adjustable rear sight. The front sight is pinned in, and the rear is held in by a set screw. The P97 is used by a number of police departments in the United States and elsewhere. The P97 was discontinued in 2004.[6]
The P345, released in 2004, incorporates an integrated keyed lock that locks the safety in the safe position, a loaded chamber indicator, and a magazine disconnect that blocks the firing pin when the magazine is removed. It also has many ergonomic improvements, such as a new polymer frame design (narrower than the double column derived P90 and P97) and low-profile safety levers. It does not feature an ambidextrous slide release or magazine release. Both controls are designed for a right-handed shooter. The model P345PR adds a Picatinny rail to the frame, for mounting lights and other accessories. It was designed to be legal for sale in states that require elaborate safety measures.
The P345 was also offered in a Distributor Exclusive edition by TALO Distributors, Inc. Only 500 units were produced between October and December 2007. This model featured a unique serial number (1-500), 24k-gold embellishments, and a polished, blued-steel slide.
The P345 was discontinued in 2013 and replaced by the new SR45.[6]
Options and model numbers
[
edit
]
A K prefix in the model number indicates stainless-steel parts. The suffixes D indicates a decocker model, and (DAO) indicates a double-action-only model. For example, a P89 with a stainless-steel slide that only has a decocker would be a KP89D.
This chart lists the various options that are or were available. It only lists standard catalog items; special two-tone "T" and "TH" models were and are available through special distributor deals; these models are generally sold at a slightly reduced price, include only one magazine, a different case, and have a blued slide on the lighter-colored aluminum frame normally used for stainless models.
Table codes:
Blued: blued steel slide
SS: stainless steel slide
Al: Aluminum alloy frame; dark gray on blued models and light gray on stainless, except two tone models which use light gray with blued slides.
Poly: glass reinforced polymer frame
PR: Picatinny rail on dust cover
CA: Listed on California approved handgun list
MA: Listed on Massachusetts approved handgun list
Manual: Decocking safety that also disconnects the trigger; must be disengaged to fire
MD: Magazine disconnector
IL: Integrated locking mechanism
CI: Loaded chamber indicator
DA: Double Action with safety / decocker switch; automatically returns to ready-to-fire state
DC: Single Action/Double Action with decocker switch; automatically returns to ready-to-fire state
DAO: Double Action Only, without manual safeties
Listed magazine capacities are for full-capacity factory magazines; magazine capacities may be limited to 10 rounds in some locations, and extended aftermarket magazines may hold more than the listed quantity.
Catalog ID
Safety
Slide/Frame
Caliber
Capacity
Mass
Options
Approved
oz
g
P85
Manual
Blued/Al
9mm
15
32
910
P89
Manual
Blued/Al
9mm
15
32
910
KP89
Manual
SS/Al
9mm
15
32
910
P90
Manual
Blued/Al
.45 ACP
7, 8
34
960
KP90
Manual
SS/Al
.45 ACP
7, 8
34
960
KP94
Manual
SS/Al
9mm
15
33
940
KP944
Manual
SS/Al
.40 S&W
11
33
940
P95
Manual
Blued/Poly
9mm
15
27
770
KP95
Manual
SS/Poly
9mm
15
27
770
P95PR
Manual
Blued/Poly
9mm
15
27
770
PR
KP95PR
Manual
SS/Poly
9mm
15
27
770
PR
KP97
Manual
SS/Poly
.45 ACP
8
27
770
KP345
Manual
SS/Poly
.45 ACP
8
29
820
CI, MD, IL
CA, MA
P345PR
Manual
Blued/Poly
.45 ACP
8
29
820
CI, MD, IL, PR
CA, MA
KP345PR
Manual
SS/Poly
.45 ACP
8
29
820
CI, MD, IL, PR
CA, MA
KP345DPR
Decocker
SS/Poly
.45 ACP
8
29
820
CI, MD, IL, PR
CA, MA
P89D
Decocker
Blued/Al
9mm
15
32
910
KP89D
Decocker
SS/Al
9mm
15
32
910
KP90D
Decocker
SS/Al
.45 ACP
8
34
960
KP91D
Decocker
SS/Al
.40 S&W
11
35
990
KP93D
Decocker
SS/Al
9mm
15
31
880
KP944D
Decocker
SS/Al
.40 S&W
11
33
940
P95D
Decocker
Blued/Poly
9mm
15
27
770
KP95D
Decocker
SS/Al
9mm
15
27
770
P95DPR
Decocker
Blued/Poly
9mm
15
27
770
PR
KP95DPR
Decocker
SS/Al
9mm
15
27
770
PR
KP89DAO
DAO
SS/Al
9mm
15
32
910
KP93DAO
DAO
SS/Al
9mm
15
33
940
KP94DAO
DAO
SS/Al
9mm
15
34
960
KP944DAO
DAO
SS/Al
.40 S&W
11
33
940
Gallery
[
edit
]
Ruger P90 in original box with extra magazine and 

speed loader

.