Now I am willing to bet anybody. A real nice chunk of my change. That except for some of the ever diminishing number of Korean War veterans.
 Or some of the really serious students, of the Forgotten war of Korea. (That we fought in the early 1950's.) That almost nobody knows of this guy. 
  But he is one of my personal Heroes in the real meaning of the word. Unlike the debased term that is used for some folks today.
  This man was in my humble opinion. Is what a real fighting General is like. The key reason on why I admire him. Is that he is the real reason why we did not lose the War in Korea.
  That and he literally turned The Eighth Army around. Then he made it one of the finest Armies that America has put in the field against an Enemy. He was also able to postpone our involvement into the Vietnam War for almost a decade.*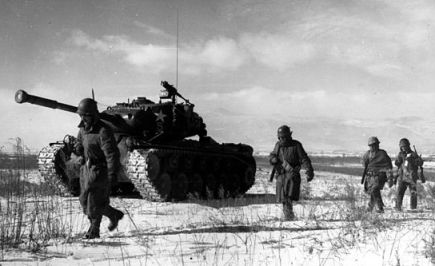 My Dad who served under him during the Korean war. Who had nothing but good things to say about him.  As you can guess he had a low opinion of Douglas MacArthur except for the Inchon Landing.
  Not bad huh?
* When the French screwed up royally at Dien Bien Phu. Ike was seriously thinking of going in and save their worthless ass. But Ridgway was able to talk him out of it.
Here is some more information about him.
Matthew Ridgway
Matthew Ridgway

Birth name
Matthew Bunker Ridgway
Nickname(s)
"Matt"
Born
March 3, 1895
Fort Monroe, Virginia, U.S.
Died
July 26, 1993 (aged 98)
Fox Chapel, Pennsylvania, U.S.
Buried
Arlington National Cemetery, Virginia, United States
Section 7, Grave 8196-1 (

38.87702°N 77.07047°W

)
Allegiance
 United States
Service/branch
 United States Army
Infantry
Years of service
1917–1955
Rank
General
Commands held
15th Infantry Regiment
82nd Infantry Division
82nd Airborne Division
XVIII Airborne Corps
Eighth Army
Supreme U.N. and U.S. Commander in Korea
Chief of Staff of the United States Army
Battles/wars
Mexican Border Service
World War I
Banana Wars
Awards
Distinguished Service Cross (2)
Army Distinguished Service Medal(4)
Silver Star (2)
Legion of Merit (2)
Bronze Star w/ Valor Device
Purple Heart
Presidential Medal of Freedom
Congressional Gold Medal
GeneralMatthew Bunker Ridgway (March 3, 1895 – July 26, 1993) was the 19thChief of Staff of the United States Army. He served with great distinction during World War II, where he was the Commanding General (CG) of the 82nd Airborne Division, leading it in action in Sicily, Italy and Normandy, before taking command of the newly formed XVIII Airborne Corps in August 1944, holding this post until the end of the war, commanding it in the Battle of the Bulge, Operation Varsity and the Western Allied invasion of Germany.
He held several major commands after the war and was most famous for resurrecting the United Nations (UN) war effort during the Korean War. Several historians have credited Ridgway for turning the war around in favor of the UN side. His long and prestigious military career was recognized by the award of the Presidential Medal of Freedom on May 12, 1986 by PresidentRonald Reagan, who stated that "Heroes come when they're needed; great men step forward when courage seems in short supply."[1]
Early life and education
[
edit
]
Ridgway was born March 3, 1895 in Fort Monroe, Virginia, to Colonel Thomas Ridgway, an artillery officer, and Ruth Ridgway. He lived in various military bases all throughout his childhood. He later remarked that his "earliest memories are of guns and Marching men, of rising to the sound of the reveille gun and lying down to sleep at night while the sweet, sad notes of 'Taps' brought the day officially to an end."
He graduated in 1912 from English High School in Boston[2] and applied to West Point because he thought that would please his father (who was a West Point graduate).[3]
Ridgway failed the entrance exam the first time due to his inexperience with mathematics, but after intensive self-study he succeeded the second time.[3] At West Point he served as a manager of the football team. In 1917, he was commissioned a second lieutenant in the U.S. Army. The same year he married Julia Caroline Blount. They had two daughters, Constance and Shirley, and divorced in 1930.[4]
Shortly after his divorce, Ridgway married Margaret ("Peggy") Wilson Dabney, the widow of a West Point graduate (Henry Harold Dabney, class of 1915), and in 1936 he adopted Peggy's daughter Virginia Ann Dabney. Ridgway and Peggy divorced in June, 1947. Later that year he married Mary Princess Anthony Long (1918-1997), who was nicknamed "Penny".[5] They remained married until his death.[6] They were the parents of a son, Matthew, Jr., who died in a 1971 accident shortly after graduating from Bucknell University and receiving his commission as a second lieutenant through the Reserve Officers' Training Corps.[7][8]
Beginning his career during World War I, Ridgway was assigned to duty on the border with Mexico as a member of the 3rd Infantry Regiment, and then to the West Point faculty as an instructor in Spanish. He was disappointed that he was not assigned to combat duty during the war, feeling that "the soldier who had had no share in this last great victory of good over evil would be ruined."[9]
During 1924 and 1925 Ridgway attended the company officers' course at the U.S. Army Infantry School in Fort Benning, Georgia, after which he was a company commander in the 15th Infantry Regiment in Tientsin, China.[10] This was followed by a posting to Nicaragua, where he helped supervise free elections in 1927.[2]
In 1930, he became an advisor to the Governor-General of the Philippines. He graduated from the U.S. Army Command and General Staff School at Fort Leavenworth, Kansas, in 1935 and from the U.S. Army War College at Carlisle Barracks, Pennsylvania, in 1937. During the 1930s he served as Assistant Chief of Staff of VI Corps, Deputy Chief of Staff of the Second Army, and Assistant Chief of Staff of the Fourth Army. GeneralGeorge Marshall, the U.S. Army Chief of Staff, assigned Ridgway to the War Plans Division shortly after the outbreak of World War II in Europe in September 1939. He served in the War Plans Division until January 1942, and was promoted to the one-stargeneral officer rank of brigadier general that month.
World War II
[
edit
]
By the time of the Japaneseattack on Pearl Harbor, in December 1941, and the subsequent American entry into World War II, Ridgway was, in February 1942, promoted to the job of Assistant Division Commander (ADC) of the 82nd Infantry Division, which was then in the process of formation. The division was under the command of Major GeneralOmar Bradley, a fellow infantryman who Ridgway highly respected. The two men trained the thousands of men joining the division over the next few months. In August, two months after Bradley's reassignment to command of the 28th Infantry Division, Ridgway was promoted to the two-star rank of major general and was given command of the 82nd Division. The 82nd, having finished all of its basic training and already established an excellent combat record in World War I, had earlier been chosen to become one of the army's five new airborne divisions. The conversion of an entire infantry division to airborne status was an unprecedented step for the U.S. Army, and required much training, testing, and experimentation. Thus the division was, on August 15, 1942, redesignated as the 82nd Airborne Division.
Initially composed of the 325th, 326th and 327th Infantry Regiments, all of which were due to be converted into glider infantry, the 327th was soon transferred out of the 82nd to help form the 101st Airborne Division, commanded by Major General William C. Lee. Unlike his men, Ridgway did not first go through airborne jump school before joining the division. However, he successfully converted the 82nd into a combat-ready airborne division; he remained in command and eventually earned his paratrooper wings. To replace the 327th, Ridgway received the 504th Parachute Infantry Regiment (PIR), commanded by ColonelTheodore Dunn, later replaced by Lieutenant ColonelReuben Tucker. In February 1943 the 326th was also transferred out and replaced by the 505th PIR, under Colonel James M. Gavin.[11] In April the 82nd, which in Ridgway's mind had received only a third the training time given to most divisions, was sent to North Africa to prepare for the invasion of Sicily.[12]
Ridgway helped plan the airborne element of the invasion of Sicily. The invasion, which took place in July 1943, was spearheaded by Colonel Gavin's 505th PIR (reinforced into the 505th Parachute Regimental Combat Team by the 3rd Battalion of Tucker's 504th). Despite some successes, Sicily nearly saw an end to the airborne division. Due mainly to circumstances beyond Ridgway's control the 82nd suffered heavy casualties in Sicily, including the division's ADC, Brigadier General Charles L. Keerans.[13] During the 504th's drop on the night of July 11, which was widely scattered due to friendly fire, Ridgway had to report to Lieutenant GeneralGeorge S. Patton, commander of the U.S. Seventh Army(under whose command the 82nd fell), that, out of the more than 5,300 paratroopers of the 82nd Airborne Division who had jumped into Sicily, he had fewer than 400 under his control.[14]
During the planning for the invasion of the Italian mainland, the 82nd was tasked with taking Rome by coup de main in Operation Giant II. Ridgway strongly objected to this unrealistic plan, which would have dropped the 82nd on the outskirts of the Italian capital of Rome in the midst of two German heavy divisions. The operation was canceled only hours before launch. The 82nd did, however, play a significant role in the Allied invasion of Italy at Salerno in September which, but for a drop by Ridgway's two parachute regiments, may well have seen the Allies pushed back into the sea. The 82nd Airborne Division subsequently saw brief service in the early stages of the Italian Campaign, helping the Allies to break through the Volturno Line in October. The division then returned to occupation duties in the recently liberated Italian city of Naples and saw little further action thereafter and in November departed Italy for Northern Ireland. However, Lieutenant GeneralMark Clark, commander of the U.S. Fifth Army, a fellow graduate of the West Point class of 1917, referring to Ridgway as an "outstanding battle soldier, brilliant, fearless and loyal", who had "trained and produced one of the finest Fifth Army outfits", was unwilling to give up either Ridgway or the 82nd.[15] As a compromise, Colonel Tucker's 504th PIR, along with supporting units, was retained in Italy, to be sent to rejoin the rest of the 82nd Airborne Division as soon as possible.
In late 1943, after the 82nd Airborne Division was sent to Northern Ireland, and in the early months of 1944, Ridgway helped plan the airborne operations of Operation Overlord, codename for the Alliedinvasion of Normandy, where he argued, successfully, for the two American airborne divisions taking part in the invasion, the 82nd and the inexperienced 101st, still commanded by Major General Lee (later replaced by Brigadier General Maxwell D. Taylor, who had formerly been commander of the 82nd Airborne Division Artillery), to be increased in strength from two parachute regiments and a single glider regiment (although with only two battalions) to three parachute regiments, and for the glider regiment to have a strength of three battalions. In the Battle of Normandy, he jumped with his troops, who fought for 33 days in advancing to Saint-Sauveur-le-Vicomtenear Cherbourg (St Sauveur was liberated on June 14, 1944). Relieved from front-line duty in early July, the 82nd Airborne Division had, during the severe fighting in the Normandy bocage, suffered 46% casualties.[16]
In August 1944, Ridgway was given the command of XVIII Airborne Corps. Command of the 82nd Airborne Division subsequently passed to Brigadier General James M. Gavin, who had previously served as Ridgway's ADC. The XVIII Airborne Corps helped stop and later push back German troops during the Battle of the Bulge in December. In March 1945, with the British 6th Airborne Division and U.S. 17th Airborne Division under command, he led the corps into Germany during Operation Varsity, the airborne component of Operation Plunder, and was wounded in the shoulder by German grenade fragments on March 24, 1945. He subsequently led the corps in the Western Allied invasion of Germany. In June 1945 he was promoted to lieutenant general. At war's end, Ridgway was on a plane headed for a new assignment in the Pacific theater of war, under General of the ArmyDouglas MacArthur, with whom he had served while a captain at the USMA at West Point.
Post-World War II
[
edit
]
Ridgway was a commander at Luzon for some time in 1945 before being given command of the U.S. forces in the Mediterranean Theater, with the title Deputy Supreme Allied Commander, Mediterranean. From 1946 to 1948, he served as the U.S. Army representative on the military staff committee of the United Nations. He was placed in charge of the Caribbean Command in 1948, controlling U.S. forces in the Caribbean, and in 1949 was assigned to the position of Deputy Chief of Staff for Administration under then U.S. Army Chief of Staff General J. Lawton Collins.
In December 1947 Ridgway married Mary Princess "Penny" Anthony Long, his third wife.[4] They remained married until his death 46 years later. In April 1949, their only child, Matthew Bunker Ridgway, Jr., was born. Ridgway's son was killed in an accident in 1971. His wife died in 1997.
Korean War
[
edit
]
Ridgway's most important command assignment occurred in 1950 after the death of Lieutenant General Walton Walker on December 23. Ridgway was assigned as Walker's replacement in command of the 8th U.S. Army, which had been deployed in South Korea in response to the invasion by North Korea in June of that year. At the time of his reassignment, Ridgway was serving on the Army staff in the Pentagon as Deputy Chief of Staff for Operations and Administration.
When Ridgway took command of the 8th Army, the Army was still in a tactical retreat, after its strong foray into North Korea had been met with an unexpected and overwhelming Communist Chinese advance. Ridgway was successful in turning around the morale of the 8th Army.
Ridgway was unfazed by the Olympian demeanor of General of the Army Douglas MacArthur, then overall commander of UN forces in Korea. MacArthur gave Ridgway a latitude in operations he had not given his predecessor. After Ridgway landed in Tokyo on Christmas Day 1950 to discuss the operational situation with MacArthur, the latter assured his new commander that the actions of Eighth Army were his to conduct as he saw fit. Ridgway was encouraged to retire to successive defensive positions, as was currently under way, and hold Seoul as long as he could, but not if doing so meant that Eighth Army would be isolated in an enclave around the capital city. Ridgway asked specifically that if he found the combat situation "to my liking" whether MacArthur would have any objection to "my attacking". MacArthur answered, "Eighth Army is yours, Matt. Do what you think best."[17]
Upon taking control of the battered Eighth Army, one of Ridgway's first acts was to restore soldiers' confidence in themselves. To accomplish this, he reorganized the command structure. During one of his first briefings in Korea at I Corps, Ridgway sat through an extensive discussion of various defensive plans and contingencies. At the end, he asked the staff about the status of their attack plans; the corps G–3 (operations officer) responded that he had no such plans. Within days, I Corps had a new G-3. He also replaced officers who did not send out patrols to fix enemy locations, and removed "enemy positions" from commanders' planning maps if local units had not been in recent contact to verify that the enemy was still there. Ridgway established a plan to rotate out those division commanders who had been in action for six months and replace them with fresh leaders. He sent out guidance to commanders at all levels that they were to spend more time at the front lines and less in their command posts in the rear. These steps had an immediate impact on morale.
With the entry of China, the complexion of the Korean War had changed. Political leaders, in an attempt to prevent expansion of the war, did not allow UN forces to bomb the supply bases in China, nor the bridges across the Yalu River on the border between China and North Korea. The American Army moved from an aggressive stance to fighting protective, delaying actions. Ridgway's second big tactical change was to make copious use of artillery.
China's casualties began to rise, and became very high as they pressed waves of attacks into the coordinated artillery fire. Under Ridgway's leadership, the Chinese offensive was slowed and finally brought to a halt at the battles of Chipyong-niand Wonju. He then led his troops in a counter-offensive in the spring of 1951.
When General Douglas MacArthur was relieved of command by President Harry Truman in April, Ridgway was promoted to full general, assuming command of all United Nations forces in Korea. As commanding general in Korea, Ridgway gained the nickname "Tin Tits" for his habit of wearing hand grenades attached to his load-bearing equipment at chest level.[18] Photographs however show he only wore one grenade on one side of his chest; the so-called "grenade" on the other side was in fact a first-aid packet.
General Ridgway urged the high commissioners to pardon all German officers convicted of war crimes on the Eastern Front of World War II. He himself, he noted, had recently given orders in Korea "of the kind for which the German generals are sitting in prison." His "honor as a soldier" forced him to insist upon the release of these officers before he could "issue a single command to a German soldier of the European army."[19]
In 1951 Ridgway was elected an honorary member of the Virginia Society of the Cincinnati.
Ridgway also assumed from MacArthur the role of military governor of Japan, the Supreme Commander for the Allied Powers. During his tenure, Ridgway oversaw the restoration of Japan's independence and sovereignty on April 28, 1952.[20]
Supreme Allied Commander, Europe
[
edit
]
In May 1952, Ridgway replaced General Dwight D. Eisenhower as the Supreme Allied Commander, Europe (SACEUR) for the fledgling North Atlantic Treaty Organization (NATO). While in that position Ridgway made progress in developing a coordinated command structure, oversaw an expansion of forces and facilities, and improved training and standardization. He upset other European military leaders by surrounding himself with American staff. His tendency to tell the truth was not always politically wise.[21] In a 1952 review, General Omar Bradley, Chairman of the Joint Chiefs of Staff, reported to President Harry Truman that "Ridgway had brought NATO to 'its realistic phase' and a 'generally encouraging picture of how the heterogeneous defense force is being gradually shaped.'"[22]
Chief of Staff of the United States Army
[
edit
]
On August 17, 1953, Ridgway replaced General J. Lawton Collins as the Chief of Staff of the United States Army. After Eisenhower was elected president, he asked Ridgway for his assessment of U.S. military involvement in Vietnam in conjunction with the French. Ridgway prepared a comprehensive outline of the massive commitment that would be necessary for success, which dissuaded the President from intervening. A source of tension was Ridgway's belief that air power and nuclear bombs did not reduce the need for powerful, mobile ground forces to seize land and control populations.[23] Ridgway was concerned that Eisenhower's proposal to significantly reduce the size of the army would leave it unable to counter the growing Soviet military threat,[24] as noted by the 1954 Alfhem affair in Guatemala. These concerns would lead to recurring disagreements during his term as chief of staff.
President Eisenhower approved a waiver to the military's policy of mandatory retirement at age 60 so Ridgway could complete his two-year term as chief of staff.[25] However, disagreements with the administration mainly regarding the administration's downgrading of the Army in favor of the Navy and the Air Force, prevented him from being appointed to a second term.[26] Ridgway retired from the army on June 30, 1955 and was succeeded by his one-time 82nd Airborne Division chief of staff, General Maxwell D. Taylor. Even after he retired, Ridgway was a constant critic of President Eisenhower.[27]
Personal life
[
edit
]
Ridgway remained very active in retirement both in leadership capacities and as a speaker and author. He relocated to the Pittsburgh suburb of Fox Chapel, Pennsylvania in 1955 after accepting the chairmanship of the board of trustees of the Mellon Institute as well as a position on the board of directors of Gulf Oil Corporation among others. The year after his retirement, he published his autobiography, Soldier: The Memoirs of Matthew B. Ridgway. In 1967, he wrote The Korean War.
In 1960, he retired from his position at the Mellon Institute but continued to serve on multiple corporate boards of directors, Pittsburgh civic groups and Pentagon strategic study committees.[28]
Ridgway continued to advocate for a strong military to be used judiciously. He gave many speeches, wrote, and participated in various panels, discussions, and groups. In early 1968, he was invited to a White House luncheon to discuss Indochina. After the luncheon, Ridgway met privately for two hours with President Lyndon Johnson and Vice-President Hubert Humphrey. When asked his opinion, Ridgway advised against deeper involvement in Vietnam and against using force to resolve the Pueblo Incident.[29] In an article in Foreign Affairs, Ridgway stated that political goals should be based on vital national interests and that military goals should be consistent with and support the political goals, but that neither situation was true in the Vietnam War.[30]
Ridgway advocated maintaining a chemical, biological, and radiological weapons capability, arguing that they could accomplish national goals better than the weapons currently in use.[31] In 1976, Ridgway was a founding board member of the Committee on the Present Danger, which urged greater military preparedness to counter a perceived increasing Soviet threat.[32]
On May 5, 1985 Ridgway was a participant in the Ronald Reagan visit to Kolmeshöhe Cemetery near Bitburg, when former Luftwaffe ace fighter pilot Johannes Steinhoff (1913–1994) in an unscheduled act firmly shook his hand in an act of reconciliation between the former foes.[33][34]
Ridgway died at his suburban Pittsburgh home at age 98 in July 1993 of cardiac arrest, holding permanent rank of general in the United States Army. He is buried at Arlington National Cemetery, Section 7, Grave 8196-1[35](38.87702°N 77.07047°W).
…