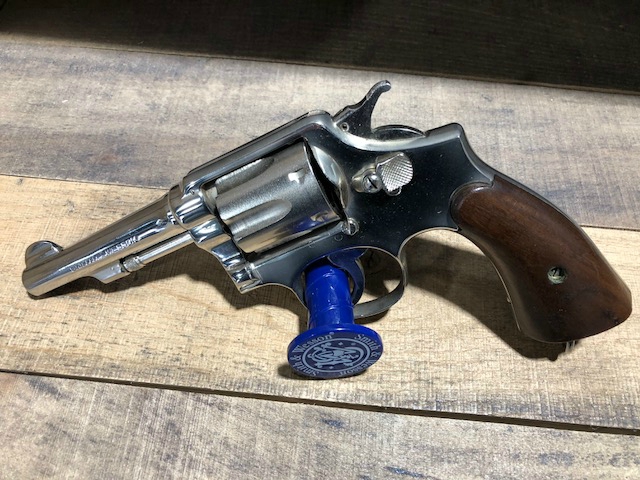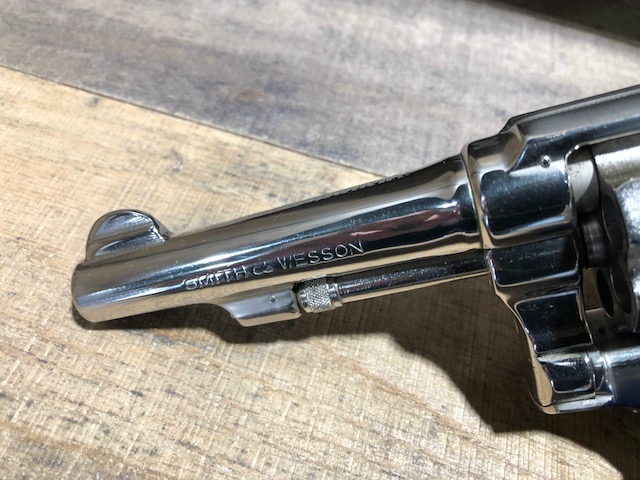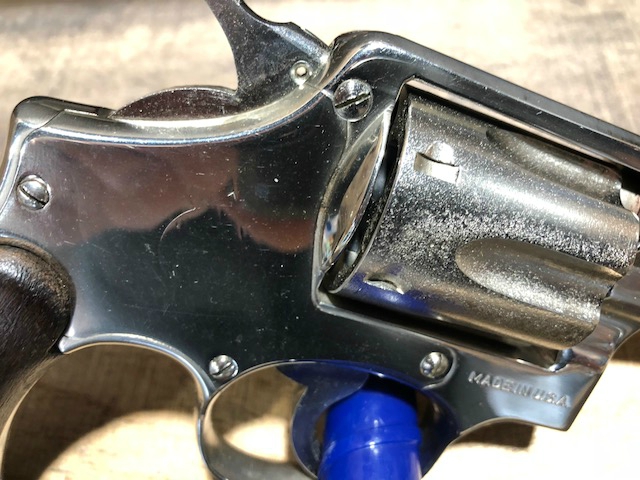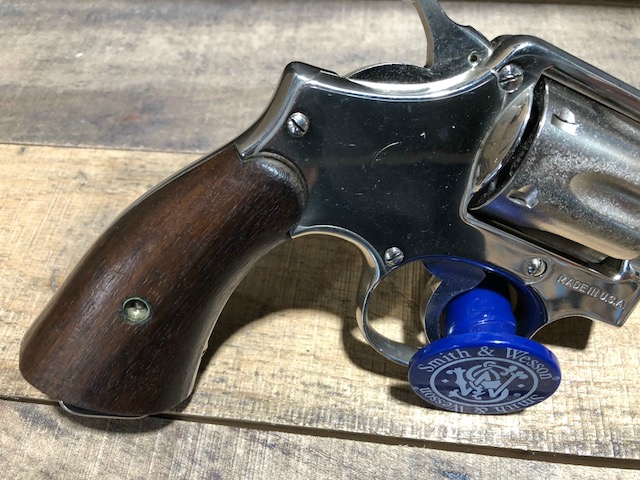 I have seen a lot of these over the years and fired a few rounds thru them over the years. So I can say that that they are a fun if not super accurate revolver.
But they are a good solid pistol for both home defense & a starter pistol for the Rookie. That will not break the bank either.
Smith & Wesson Model 10
The Smith & Wesson Model 10, previously known as the Smith & Wesson .38 Hand Ejector Model of 1899, the Smith & Wesson Military & Police or the Smith & Wesson Victory Model, is a revolver of worldwide popularity. It was the successor to the Smith & Wesson .32 Hand Ejector Model of 1896 and was the first Smith & Wesson revolver to feature a cylinder release latch on the left side of the frame like the Colt M1889. In production since 1899, it is a six-shot double-action revolver with fixed sights. Over its long production run it has been available with barrel lengths of 2 in (51 mm), 3 in (76 mm), 4 in (100 mm), 5 in (130 mm), and 6 in (150 mm). Barrels of 2.5 inches (64 mm) are also known to have been made for special contracts.[1] Some 6,000,000 of the type have been produced over the years, making it the most popular centerfire revolver of the 20th century.[2]
History
[
edit
]
In 1899, the United States Army and Navy placed orders with Smith & Wesson for two to three thousand Model 1899 Hand Ejector revolvers chambered for the M1892 .38 Long Colt U.S. Service Cartridge. With this order, the Hand Ejector Model became known as the .38 Military and Police model.[3] That same year, in response to reports from military sources serving in the Philippines on the relative ineffectiveness of the new cartridge, Smith & Wesson began offering the Military & Police in a new chambering, .38 S&W Special (a.k.a. .38 Special), a slightly elongated version of the .38 Long Colt cartridge with greater bullet weight (158 grains) and powder charge increased from 18 to 21 grains of gunpowder.[3]
In 1902 the .38 Military & Police (2nd Model) was introduced, featuring substantial changes.[1] These included major modification and simplification of the internal lockwork and the addition of a locking underlug on the barrel to engage the previously free-standing ejector rod. Barrel lengths were 4, 5, 6, and 6.5 inches with a rounded butt. Serial numbers for the Military & Police ranged from number 1 in the series to 20,975. Most of the early M&P revolvers chambered in .38 Special appear to have been sold to the civilian market.[3] By 1904, S&W was offering the .38 M&P with a rounded or square butt, and 4-, 5-, and 6.5-inch barrels.
The .38 S&W Military & Police Model of 1905 4th Change, introduced 1915, incorporated a passive hammer block and enlarged service sights that quickly became a standard across the service revolver segment of the industry. Heat treating of cylinders began in 1919.[4]
Victory Model
[
edit
]
The S&W Model 10 military revolvers produced from 1942 to 1944 had serial numbers with a "V" prefix, and were known as the Smith & Wesson Victory Model. It is noteworthy that early Victory Models did not always have the V prefix. During World War II over 570,000 of these pistols were supplied to the United Kingdom, Canada, Australia, New Zealand, and South Africa under the Lend-Lease program, chambered in the British .38/200caliber already in use in the Enfield No 2 Mk I Revolverand the Webley Mk IV Revolver. Most Victory Models sent to Britain were fitted with 4-inch or 5-inch barrels, although a few early versions had 6-inch barrels.[5][6]
The Victory Model was used by United States forces during World War II, being chambered in the well-known and popular .38 Special cartridge. The Victory Model was a standard-issue sidearm for United States Navy and Marine Corps aircrews, and was also used by security guards at factories and defense installations throughout the United States during the war.[7]
Some of these revolvers remained in service well into the 1990s with units of the United States Armed Forces, including the Coast Guard. Until the introduction of the Beretta M9 9mm pistol in 1990, U.S. Army helicopter crew members and female military police officers were equipped with .38 caliber Victory Model revolvers. Criminal Investigation Division agents were issued .38 caliber revolvers with two inch barrels. The Victory Model remained in use with Air National Guard tanker and transport crews as late as Operation Desert Storm in 1991.[8]
Some Lend-Lease Victory Model revolvers originally chambered for the British .38/200 were returned to the United States and rechambered to fire the more popular and more powerful .38 Special ammunition, and such revolvers are usually so marked on their barrels. Rechambering of .38-200 cylinders to .38 Special results in oversized chambers, which may cause problems. Lee Harvey Oswald was carrying a re-chambered Victory Model when he was apprehended on November 22, 1963.[9]
The finish on Victory Models was typically a sandblasted and parkerized finish, which is noticeably different from the higher-quality blue or nickel/chrome finishes usually found on commercial M&P/Model 10 revolvers. Other distinguishing features of the Victory Model revolver are the lanyard loop at the bottom of the grip frame, and the use of smooth (rather than checkered) walnut grip panels. However some early models did use a checkered grip, most notably the pre-1942 manufacture.[10]
Post-World War II models
[
edit
]
After World War II, Smith & Wesson returned to manufacturing the M&P series. Along with cosmetic changes and replacement of the frame fitting grip with the Magna stocks, the spring-loaded hammer block safety gave way to a cam-actuated hammer block that rode in a channel in the side plate (Smith 1968). In 1957, Smith & Wesson adopted the convention of using numeric designations to distinguish their various models of handguns, and the M&P was renamed the Model 10.[8]
The M&P/Model 10 has been available in both blued steel finish and nickel finish for most of its production run. The model has also been offered throughout the years with both the round butt and square butt, i.e., grip patterns. Beginning with the Model 10-5 series in the late 1960s, the tapered barrel and its trademark 'half moon' front sight (as shown in the illustrations on this page) were replaced by a straight bull barrel and a sloped milled ramp front sight. Late model Model 10s are capable of handling any .38 Special cartridge produced today up to and including +P+ rounds.[8]
As of 2012 the Model 10 was available only in a 4-inch barrel model, as was its stainless steel (Inox) counterpart, the Smith & Wesson Model 64.[11]
Model 10 Engineering and Production Changes Timeline
[
edit
]
As the Model 10 evolved, the following Engineering and Production Changes were made:
10 (1957): begin stamping model number.
10-1 (1959): introduction of heavy barrel (the frame is slightly different for the heavy barrel, and changes to the standard-barrel variant were generally carried over to the heavy-barrel variant, thus the engineering changes happen in pairs)
10-2 (1961): change extractor rod thread for standard barrel
10-3 (1961): change extractor rod thread for heavy barrel, change front sight width from 1/10″ to 1/8″
10-4 (1962): eliminate trigger-guard screw on standard barrel frame
10-5 (1962): change sight width from 1/10 in to 1/8 in for standard barrel
10-6 (1962): eliminate trigger-guard screw on heavy-barrel frame
10-7 (1977): change gas ring from yoke to cylinder for standard barrel
10-8 (1977): change gas ring from yoke to cylinder for heavy barrel
10-9 (1988): new yoke retention system, radius stud package, floating hand hammer nose bushing for standard barrel
10-10 (1988): new yoke retention system, radius stud package, floating hand hammer nose bushing for heavy barrel
10-11 (1997): MIM hammer/trigger + floating firing pin for standard barrel
10-12 (1997): MIM hammer/trigger + floating firing pin for heavy barrel
10-13 (2002): limited production 1899 commemorative edition
10-14 (2002): internal lock
.357 Magnum variations
[
edit
]
After a small prototype run of Model 10-6 revolvers in .357 Magnum caliber, Smith & Wesson introduced the Model 13 heavy barrel in carbon steel and then the Model 65 in stainless steel. Both revolvers featured varying barrel weights and lengths—generally three and four inches with and without underlugs (shrouds). Production dates begin in 1974 for the Model 13 and end upon discontinuation in 1999. The Model 65 was in production from 1972-1999.[1] Both the blued and stainless models were popular with police and FBI, and a variation of the Model 65 was marketed in the Lady Smith line from 1992 to 1999.
Many of the S & W Military & Police revolvers were captured and used by some of the police forces, such as the Austrian Police, during the occupation after World War II. It is incorrect to refer to them as "the Model 10" as model numbers were not introduced by Smith & Wesson until 1957. Note that, during First World War, copies (slightly undersized) of the Military & Police were produced in Eibar and Guernica (Spain), in 8mm 1892 caliber for the French armies; the Milice man on the right holds such a copy.
The weapon is currently  used by French cash couriers and banks, Disciplined Services of Hong Kong, Myanmar Police Force officers and other Burmese paramilitary units, Peruvian National Police and other police units.
A few copies of Smith & Wesson Model 10 were produced in Israel by Israel Military Industries (IMI) as the Revolver IMI 9mm. The weapon was chambered in the 9mm Luger caliber, instead of .38 Special, the original caliber.[12][13] Also, Norinco of China has manufactured the NP50, which is a copy of the Smith & Wesson Model 64, since 2000.
Replacement
[
edit
]
The S&W Model 10 revolver was a popular weapon before the semi-automatic pistolreplaced the revolver in many police departments, as well as police units and armies.