Horrific moment policemen shove woman to the ground and pepper spray her face as she lay hurt on the road – as protest over lockdown erupted into violence on the streets of Melbourne
Woman knocked to ground and subdued with pepper spray in frightening scene
Incident occurred during ugly clashed with protesters and police in Melbourne 
Shocking footage and images of incident sparked divided reaction from viewers
Do you know more? Email [email protected] 
An elderly woman was shoved to the ground and doused with pepper spray by two policemen during the Melbourne anti-lockdown riot.
The woman was bowled over by the two cops before they fired the spray directly on her face as she lay defenceless on the road trying to shield her eyes.
Disturbing photos and video of the scene divided the public who were outraged at heavy-handed police tactics, while others felt she deserved it for breaking public health orders.
Hundreds of anti-lockdown demonstrators took to the streets in Melbourne on Saturday, sparking violent confrontations with police that resulted in 235 arrests and 10 injured officers.
A woman, reported to be in her 70s was knocked to the ground during the violent clashes between protesters and police in Melbourne
Demonstrators were slammed by most Victorians for breaking the city's sixth lockdown, and Victorian Police commander Mark Galliott said the protest was just 'angry, aggressive young males there to fight the police'.
But there was also anger towards police accused of using excessive force.
The footage shows the woman wearing a wig with an Australian flag draped around her being knocked to the ground by officers.
The woman, reportedly in her 70s, lay injured on the ground and shielded her face while being doused with pepper spray by two officers standing over her.
She is seen wincing and writhing in pain as officers eventually help her to her feet.
While viewers agreed the actions of some protestors in Saturday weren't necessary, they believe police used excessive force.
'This country is turning to s**t very quickly…and it's not because of the virus,' host of The Primodcast posted.
'It's because of incompetent state governments and big pharmaceutical companies taking advantage of the situation to make a s*** tonne of money.'
The woman shields her face while being doused with pepper spray by police
The woman was bowled over by the two cops before they fired pepper spray directly on to her face as she lay defenceless on the road grabbing her eyes
Others called for the officers involved to be charged.
'Sue every bloody one of these little animals who call themselves police. How would they like it, if it was their grandmother, mum, aunty, sister, niece or cousin,' one wrote.
But not everyone was on the protester's side.
'If you feel danger, then stay home simple as that. Our freedom of choice is too important to let anyone talk us out of it,' one wrote.
You are putting your own freedom at risk by blindly doing what other people tell you to do.'
One woman added:  'You say she is not a danger, well actually she is a danger by just breathing on someone. Haven't you noticed that we are in a global pandemic. Selfish people.'
Others called for footage leading up to the incident to be shared.
Daily Mail Australia has contacted Victoria Police for comment,
The injured protester is seen writhing in pain as she's helped to her feet by police
The latest incident comes after footage emerged of a Melbourne protester surrendering to police before being tackled to ground and surrounded by up to a dozen officers on Saturday.
The 30 second clip begins with the man running away from dozens of police officers in hot pursuit as shocked passers-by watch on.
He eventually surrendered by putting his hands in the air as two officers caught up to him in a laneway.
He was quickly surrounded by officers who tackle him to the ground and detain him.
The head of Victoria's Police Association has sensationally demanded his officers not be questioned for their tactics the riot.
Wayne Gatt implied protesters seen being roughly tackled, bashed with batons, and pepper sprayed while on the ground deserved it just for showing up.
He lashed out that those who wanted to have 'needless debates' about whether police actions in those cases were 'proportionate'.
Mr Gatt even pushed to shut down discussion of 'issues of what's right and what's wrong' arising from the protests.
'We need to stop nancy-pansying around these people, and we need to stop this needless debate about the proportionality, issues of what's right and what's wrong,' he told reporters on Sunday.
'They came into that demonstration with the intent to hurt our members, and they succeeded against 10 of them,' he said.
'I'm not coping looking at the 0.01 per cent of actions and looking at our members who were confronted with such overwhelming violence.'
Mr Gatt implied non-violent protesters caught in the crossfire between the angry mob and police deserved to be injured because they broke lockdown to participate.
'Those actions wouldn't have occurred if those people didn't attend an unlawful protest, no one had to be there,' he said.
Police tackle the man to the ground and surround him following the wild chase in Richmond
Police made 235 arrests on Saturday, most for breaching health directions while some were charged with assault, riotous behaviour and weapons and drug offences.
Those arrested will be fined $5,452 each, with 193 infringements handed out so far.
Police officers suffered injuries including a broken elbow and broken nose, a broken finger and torn muscles. Six officers were taken to hospital.
'Police were subject to violent, hostile and aggressive behaviour,' a Victoria Police statement read.
'Numerous officers were assaulted while others had projectiles including glass bottles hurled in their direction.
'It was extremely disappointing to see another example of a small minority of the community showing a complete disregard for the health and safety of not only police, but each and every other Victorian.'
Police investigations into Saturday's protests are continuing.
While many viewers called for the officers who doused the woman with pepper spray to be punished, others said demonstrators should have stayed at home
———————————————————————————–
Just remember that at Best that the Cops are not your friend. Especially if they have to choose between their Job & you! Grumpy
Also this from Germany —-
German officials fear anti-mask radicalization after killing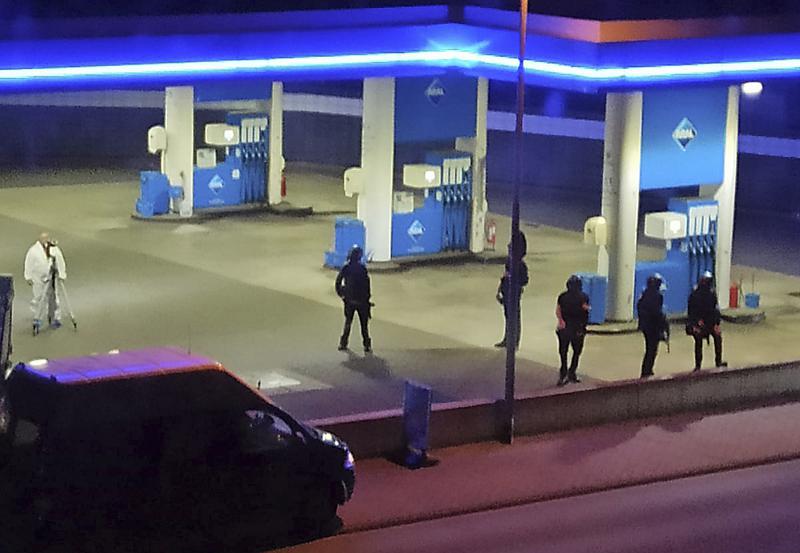 BERLIN (AP) — Senior officials in Germany expressed shock Tuesday over the killing of a young gas station clerk who was shot dead at the weekend by a man opposed to the country's pandemic restrictions.
A 49-year-old German was arrested in the fatal shooting of the clerk Saturday in the western town of Idar-Oberstein. The suspect is being held on suspicion of murder.
Authorities said the man told officers he acted "out of anger" after being refused service by the clerk for not wearing a mask while trying to buy beer at the gas station.
"He further stated during interrogation that he rejected the measures against the coronavirus," the Trier police department said in a statement.
A requirement to wear masks in stores is among the measures in place in Germany to stop the spread of the virus.
"I'm deeply shocked," said Malu Dreyer, the governor of Rhineland-Palatinate state. "My thoughts are with the family and friends of the victim."
Dreyer called for the killing to be thoroughly investigated and the perpetrator punished.
According to police, the suspect left the gas station after the dispute but then returned a half-hour later wearing a mask and fatally shot the 20-year-old clerk in the head.
The suspect, a German citizen named in local media as Mario N., initially fled the scene. After a large-scale manhunt was called he turned himself in to police on Sunday morning.
The three candidates to succeed Angela Merkel as chancellor in next Sunday's German election also voiced dismay at the killing.
"I'm shaken by this terrible murder of a young man who merely asked that existing rules be followed," Annalena Baerbock of the center-left Green party said in a tweet.
She warned of the growing radicalization of Germany's Querdenken movement, which includes people who oppose masks and vaccines, conspiracy theorists and some far-right extremists.
Authorities didn't immediately say whether the suspect was associated with that movement, which has come under increasing scrutiny from Germany's security services following a series of large antigovernment protests, some of which turned violent.
But a Twitter account linked to the suspect followed several prominent German far-right politicians and publicists, including senior members of the Alternative for Germany party.
Posts from the account, which was last used in October 2019, reflect a dislike for immigrants, climate activists and the government
Prosecutors told Germany's dpa news agency that the suspect wasn't previously known to police and that he wasn't legally entitled to possess the firearm found at his house.
Paul Ziemiak, the general secretary of Merkel's center-right Christian Democratic Union party, called the clerk's slaying "incomprehensible."
"A young man was virtually executed because he pointed out the mask requirement," Ziemiak said on Twitter. "An inconceivable level of radicalization!"
The Christian Democrats have come under criticism for a campaign video showing their candidate, Armin Laschet, giving a Querdenken activist the microphone during a campaign event.
The head of the domestic intelligence agency in the eastern state of Thuringia, Stephan Kramer, told Germany's RND media group that the killing was "no surprise to me in view of the steady escalation in recent weeks."
Kramer said his office had warned of the growing potential for violence from extremists.
"It's regrettable that someone always has to die before the risk is taken seriously," he was quoted as saying.
Facebook last week removed almost 150 accounts and pages linked to the Querdenken movement under a new policy focused on groups that spread misinformation or incite violence but which didn't fit into the platform's existing categories of bad actors.