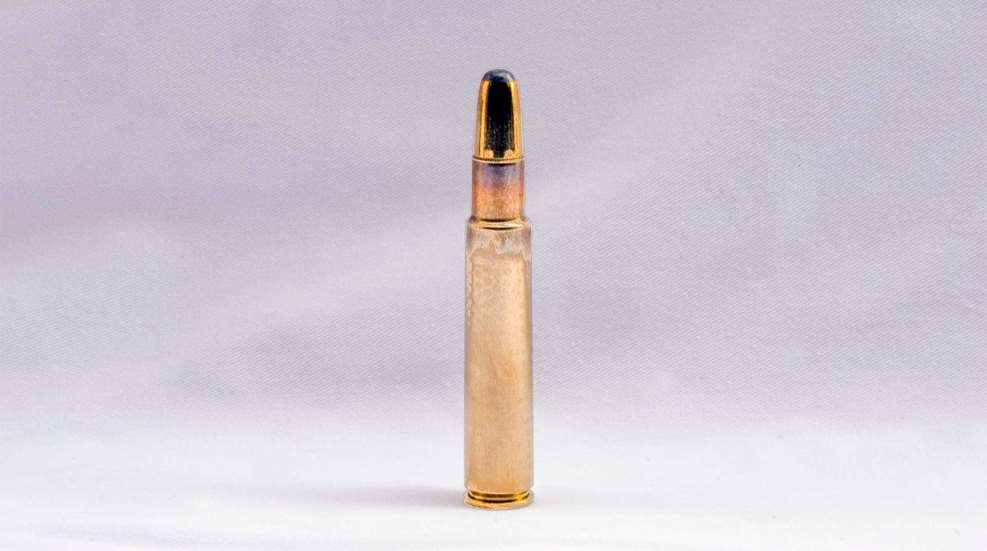 The British firm of John Rigby & Co. is older than the United States. Founded in 1775 by John Rigby, the Dublin, Ireland, gunmaker manufactured elegant flintlock rifles and pistols. Some 23 years later, Rigby's facility was raided by Town-Major Henry Sirr and police force. Virtually every firearm in his place was seized and kept for a lengthy time. By the time they were returned, the firearms were virtually worthless, most having been disassembled and cannibalized for parts.
In 1816, Rigby, now 58 years old, brought his son, William, in as a partner. Two years later, John Rigby died, and William brought in his brother, John Jason Rigby, into the business. The brothers ran it—now called W&J Rigby—until 1887 when John Jason was appointed superintendent of the Royal Small Arms Factory at Enfield Lock. The Rigby name was always identified with the finest quality in firearms, and as the 19th century came to a close, firearm technology was skyrocketing.
Cordite—a double-based smokeless propellant that looks similar to spaghetti—was patented in Britain in 1889. The burn rate of Cordite was modified by the surface area early on. Thin strands burned at a faster rate, while thicker strands had a slower rate of deflagration. Big-game hunting was still popular among the privileged class, but those gorgeous examples of the gunmaker's art—double rifles—were terribly expensive.
Too, the idea caught on among some that a magazine rifle could hold more cartridges and therefore be rather valuable when things went sideways with an animal that can bite, claw or stomp a hunter, as well as his entourage, in the event of a poorly placed shot. However, magazine rifles can be problematic in feeding the rimmed cartridges used in double rifles. W.J. Jeffery & Co. and Westley Richards each came out with proprietary heavy-game cartridges in 1905 and 1909, respectively.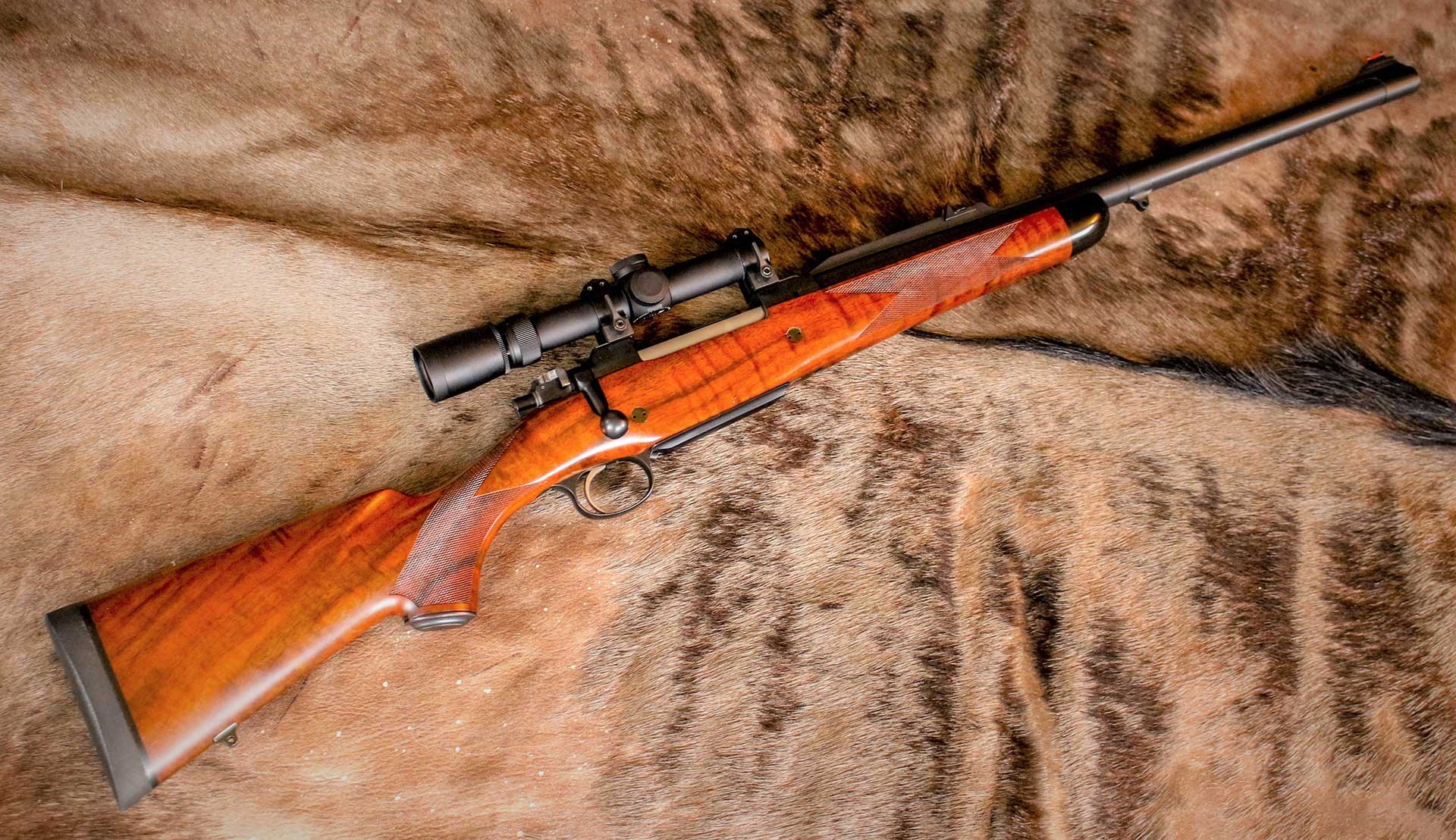 The .404 Jeffery was initially loaded with either a 300-grain bullet at 2,600 f.p.s. with 4,500 ft.-lbs. of energy or a 400-grain bullet at 2,150 f.p.s. and 4,100 ft.-lbs. of energy. Westley Richards developed a .425 Westley Richards launching a 410-grain bullet at 2,350 f.p.s. with 5,010 ft.-lbs. of thump. Each of these cartridges easily outshined the .450 Black Powder Express cartridge that they replaced. The .425 Westley Richards features a rebated rim , allowing it to be built on a standard .30-'06 Sprg. length Mauser 98 action.
The .404 Jeffery needed a Magnum Mauser action to accommodate its overall length. John Rigby wasn't sitting on the sidelines. In 1897, he negotiated an agreement with Mauser-Oberndorf to be the exclusive source for all Mauser-made rifles, barreled actions and parts in Great Britain; an arrangement that extended into the first 40 years of the 20th century. Rigby then set about designing a cartridge that worked well in a bolt-action magazine rifle and perform as well or better than the Jeffery and Westley Richards cartridges.

He started from scratch—no parent case and no existing bullet—a rather expensive way to develop a new cartridge. Rigby's cartridge turned out to be slightly rebated-rim case, 2.900″ long, .589″ in diameter at its base tapering to .540″ at the shoulder with a bullet diameter of .416″. Such a huge case could only be contained in a Magnum Mauser No. 5 receiver. Rigby's magnum magazine rifle was an instant success, though the raw numbers made it seem paltry. This was a custom rifle for those who traveled the world in search of big game, so rifle and cartridge were proprietary.
Too, while the magazine rifle was popular because of its cost—about half that of a double rifle at that time—and lighter weight, Rigby still continued to crank out double rifles for those who wanted the best and could afford it. From 1912 until World War II, Rigby turned out just 169 rifles on the Magnum Mauser receiver. Over the following 59 years, just 364 copies were built. A resurgence of interest in the .416 Rigby rifle and cartridge came from Jack O'Connor in the 1960s.
The .416 Rigby, left, is shown next to a .375 Holland & Holland cartridge.
O'Connor had a .416 made up on a Brevex Mauser receiver and took it to Africa. He found it a very effective cartridge for heavier game, with less recoil than the .450 Watts O'Connor used on previous hunts on the Dark Continent. In his The Rifle Book—a must-have tome for any serious student of the hunting rifle—O'Connor said, "[The .416] is an outstanding cartridge…drives a 410-grain bullet, according to claims, at a velocity of 2,371 and turns up 5,100 ft.-lbs. of energy." O'Connor was a gifted wordsmith and shared compelling stories of adventure with his rifles around the world.
It was these tales that fueled new interest in both the rifle and .416 Rigby cartridge. While the interest was strong because of more people heading into big game country, ammo was still a sticking point. Kynoch had been the sole supplier of .416 Rigby ammunition until the 1970s, and the company was twisting in the wind by that time. It would later rise again as a British company with a separate U.S. base. Ruger introduced the .416 Rigby in 1991 in its Model 77 RSM Magnum Mk II rifle. Now nearly anybody could have a solid .416 Rigby rifle, and ammunition manufacturers took note.
Federal, Hornady and Norma tooled up and began producing .416 Rigby ammunition. Later, Nosler and Winchester began loading the .416 Rigby. The British firm of Eley licensed rights for the Kynoch name to Kynamco, a British firm, in Suffolk, England, and rekindled .416 Rigby ammo under its original name. Today's loads in .416 Rigby feature 400- to 410-grain soft-nose or FMJ bullets at 2,300 to 2,400 f.p.s. and churning up some 4,700 to 5,100 ft.-lbs. of energy and have a maximum-point-blank range of 198 yards.
Compare that to the .458 Winchester Magnum with a 500-grain bullet at 2,050 f.p.s. and 4,665 ft.-lbs. of energy. The .416 Rigby may have started from scratch, but it has spawned several notable progenies. Such uber-mags like the .300 and .338 Lapua cartridges are based on the .416 Rigby case, as are the .450 Dakota, .450 Rigby and .500 Whisper. Weatherby's .30-378, .338-378, .378, .416 and the .460 Weatherby Magnums may have a belt—almost a trademark of Weatherby cartridges—but dimensionally each can be traced back the Rigby's original case.
As a sporting cartridge, the .416 Rigby may not be as popular as the .30-'06 Sprg. or .375 H&H, but that's normal. Not every hunt is for huge animals that can and will stomp you back if you mess up a shot. Too, it's not something any sane person would want to shoot 200 rounds of it in a day of shooting. Besides the recoil, cartridges are more than $5 per round. But for serious work on dangerous game, the .416 Rigby remains in a class by itself.