Jeanne Assam had a gut feeling that something terrible was about to happen as she watched parishioners leave a Sunday worship service at a Colorado megachurch one snow-covered December day.
That morning, a gunman had escaped after killing two people at a missionary training center about 70 miles away. Assam had a premonition that the gunman would next target the Colorado Springs church where she volunteered as an unpaid security officer. Her feeling was so strong that she volunteered to work that day, even though she had planned to stay home.
At 12:55 pm., Assam heard someone in the church lobby say that something weird was going on in the parking lot. Someone had lit a smoke bomb. A rifle shot then rang out in the parking lot. Assam heard a panicky voice shout from the packed crowd in the church lobby, "Get down! He's got a gun!"
"I could tell it was the crack of a high-powered rifle," Assam said. "It [the gunfire] was just thundering out really loud, just booming. People were screaming and running."
As people fled, Assam reached for a Beretta 92FS 9mm semi-automatic pistol tucked in her jeans and sprinted toward the gunshots. She found a hiding spot near the church church's main hallway.
She peeked out from her hiding spot and spotted the source of the rifle shots. A man was carrying an assault rifle in his left hand and had a thick black glove on his right hand. He was wearing a bulletproof vest and a backpack, and was cursing aloud as he moved, firing his rifle.
Assam gripped her Beretta and said a silent prayer: "God be with me."
She then stepped from her hiding spot and faced the gunman.
What happened next at the New Life Church in December 2007 would change the way many churches approached security. It would also foreshadow a disturbing trend that has only worsened in subsequent years: 11 o'clock on Sunday morning is now one of the most dangerous hours of the week in America, pastors and church security officials say.
And for religious leaders, this poses a dilemma.
The church has become a frontline for the nation's social ills
The New Life shooting was a transformative event that convinced many churches to add armed security to their Sunday morning worship services. But the security issues facing houses of worship have worsened since then, religious leaders and security officials say.
Church leaders say they are concerned about another array of threats that have become more common in a post-pandemic America where many people are on edge. Many of the contemporary issues afflicting the country — too many people carrying concealed weapons, domestic disputes that turn violent, people struggling with mental illnesses — are now spilling into Sunday morning worship services, pastors and security officials say.
Churches have long been concerned about losing members as church attendance plummets across denominations. Now they have a new worry: protecting those members that remain.
"Everything that is happening in the culture spills over into the church," says the Rev. Brady Boyd, senior pastor of New Life Church, the same church where Assam confronted a gunman 16 years ago.  Boyd says it's rare but not uncommon for uniformed officers to handcuff someone creating a disturbance – usually related to a domestic dispute – in his church.
"That's actually why the church exists," he says. "The church should be a place where we see cultural problems manifest. It shouldn't surprise us that we're seeing broken families show up in our building, we're seeing mental health issues and people wrestling with post-Covid anxiety."
A house of worship, though, is traditionally the last place someone would expect to see lethal violence. Churches are called sanctuaries for a reason. A sanctuary is defined as a place of refuge and safety "set apart from the profane, ordinary world."
But church and security officials say houses of worship are placed in a uniquely dangerous position every Sunday morning. Congregations are traditionally unprotected and are expected to welcome "the stranger" no matter how dangerous they may look. Houses of faith are one of the few public communal spaces in the country that were created to embrace all comers, including broken or disturbed people on the fringes of society.
The New Life shooting in Colorado ushered in an era of mass shootings where even churches are no longer safe.
In 2015, a White supremacist gunman killed nine worshippers at a historic Black church in Charleston, South Carolina.  Two years later, a gunman killed 26 worshippers at a church in Sutherland Springs, Texas.  In 2019, a gunman killed two people inside a Texas Church of Christ—including an armed parishioner working security—before he was shot to death by another member of the church's security team. The entire shooting incident, from the time the gunman pulled a weapon to the time he was shot, lasted six seconds.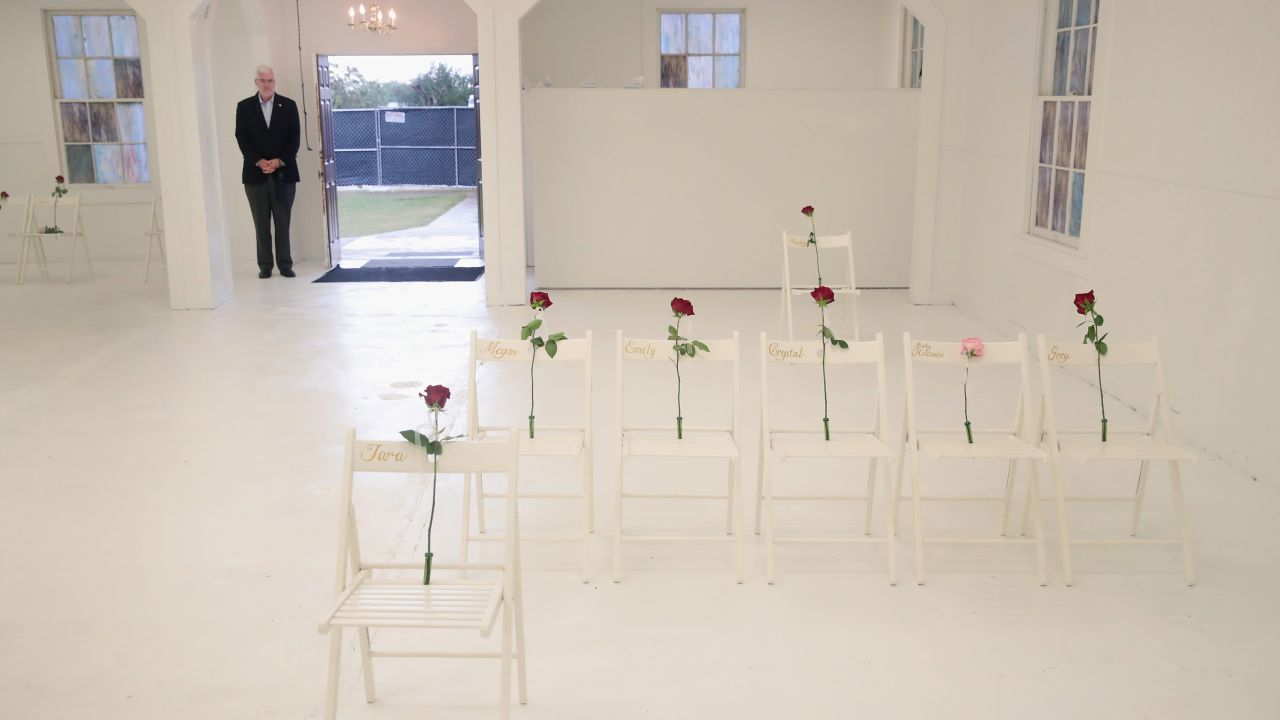 And in May 2022 a gunman killed one person and wounded five others at a Presbyterian church in Orange County, California.
And then there are the less lethal acts of violence that don't make the news. Those are hard to quantify, but a church security firm released a report in 2019 that estimated some 480 incidents of serious violence take place at communities of worship in the US each year. The report also said that two-thirds of the assailants had no affiliation with the congregation.
Mosques and synagogues have become targets too
These mass shootings, though, are not confined to churches. Every house of worship is now considered a soft target. In 2012 a man gunned down six people at a Sikh temple in Oak Creek, Wisconsin. And in 2018, a gunman killed 11 worshippers at the Tree of Life synagogue in Pittsburgh. A 50-year-old man faces federal hate crime charges and the death penalty at his trial, which began in Pittsburgh last week.
Rabbi Hillel Norry of the Temple Beth David in Georgia says synagogues have recently started using more advanced protective technology, such as security apps and surveillance cameras with remote live feeds.
Most houses of worship are trying to find the balance between being too open or too vigilant, Norry says.
"There's two things that I know are wrong: being wide open and the other is being closed up and shuttered where everything is locked up and only members can get in if they have the code," says Norry, a black belt in Tae Kwon Do who advocates for armed self-defense in synagogues where it's permitted.
"That's why congregations are there – to greet people who we don't know yet," Norry says. "If not, close your doors and get into another line of work. If you're only there for the people who are already there, that's not church. That's a club."
Mosques also face increased fears about security. A gunman who killed 51 people during an attack on two mosques in New Zealand in 2019 demonstrated the potential risks of anti-Muslim sentiment in the US.
The CEO of a company that offers security training says mosques are struggling to pay for added security while now contending with a new threat.
"One of the biggest challenges facing mosques are cyberattacks," says Shaukat Warraich of Mosque Security. "Aggressive and hateful emails and social media posts against [Islamic] centers have become more and more abusive."
'Hope is not a strategy,' one security consultant says
These threats have led more churches to not only add and train armed security but to hire security consultants like Full Armor Church. Full Armor, like similar businesses, helps churches organize, train and operate security ministries. Dwayne Harris, Full Armor's president, says the typical house of worship has about five minutes before a first responder answers an emergency, such as an active shooter, a member suffering a medical emergency or a fire.
Some churches' security plans amount to this: Hope nothing bad happens, he says. Harris says he launched Full Armor in 2016 to accommodate a growing number of churches searching for ways to boost their security.
"Hope is not a strategy," says Harris, an ordained bishop who says on his website that he "actively serves in full time law enforcement" and has experience with SWAT teams, and de-escalation training programs.
"You have to have some training, walk through and talk-through plans on how you're going to confront a crisis," Harris says.
Full Armor and other church security firms offer similar advice: Install video surveillance, train armed security staff, create a single entrance for the church and identify members with military, law enforcement and medical training.
One of the most effective weapons a church can deploy to protect itself is something else: friendliness, Harris says.
The more people can greet visitors to the church the more chance they can access potential risks. He cites the multiple checkpoints, or "touchpoints" that greet airline travelers. Each layer of interaction boosts security.
"Hospitality is the number one tool for church safety," Harris says. "The more touchpoints you have for individuals, the easier it is to identify risks. Having touchpoints—greeting people at the door, interacting with them, and discovering their needs, their family dynamics—you may be able to identify someone who is agitated or has a grievance."
Some of the biggest threats are internal
Despite the specter of mass shootings, some pastors say their greatest security challenges are internal. They cite other risks, such as mentally unstable members of the congregation or pedophiles who try to join church ministries that put them into contact with children.
Others also cited the threats of domestic violence or family disputes erupting in a congregation. An enraged man whose wife and children left him often knows where they will be on a Sunday morning.
"What causes some people to go south is they lost hope," says the Rev. Tim Russell of the Light House Church in Missouri, which has an armed security staff.
"A man may have received a phone call. Their wife said, 'I'm leaving after 30 years,' and they lost their job. And they think they have nothing to live for, so they just go south."
Sometimes a pastor's sermon also can go south if they anger the wrong person. Pastors said they are seeing more people rushing the pulpit during services out of anger or a misguided attempt to share a message with the pastor.
Boyd, of New Life church, says he was preaching a holiday sermon two years ago about the violence in the Christmas story (Israel's ruler ordered the execution of infants after hearing about Jesus' impending birth) when a large young man rushed the pulpit, and started yelling and cursing at him.
At first, Boyd's security team did nothing. They thought the pulpit intruder was a dramatic prop Boyd had arranged beforehand to deploy during his sermon.
Then they rushed the stage and subdued the man.
Boyd says the emotional demands on church leaders is almost nonstop.
"We have more counseling appointments for anxiety, fear, depression suicide than ever before in the history of our church right now," he says.
Another concern, some pastors say, is the rise of churchgoers bringing concealed weapons into the pews. Many churches in the Bible Belt are located in open-carry states where worshippers often carry guns into services, pastors say.
Boyd says New Life typically has about 20 armed security officers in its sprawling church complex, which draws an estimated 14,000 members. But his church security does not have a monopoly on Sunday morning firepower. Colorado Springs is home to both an army and air force base. Many military veterans, aware of the church's prior mass shooting, come to the service armed and ready, he says.
"Because we live in Colorado, where the gun laws are pretty liberal—if you can make fog on a mirror here you can get a gun—I bet we have 200 or 300 other people in our services that are carrying, men and women," Boyd says.
He adds that having more guns in church does not make him feel safer.
"We would prefer people leave their weapons in their vehicle," he says. "If a shooting were to happen and everyone pulled their weapons, it would be difficult to determine the good guys vs. the bad guys."
Can churches go too far with security?
Adding too much security, though, could detract from the historic mission of houses of worship, some religious leaders and security officials say.
Churches are supposed to welcome the stranger, not frisk them, they say.
Churches are directed to minister to the "least of these" on the fringes of society. In many cases, the least of these include people who not dressed well, may be off the streets, may not smell well or act in unusual ways. If churches get too preoccupied with security, they could turn away the very people Jesus gravitated to, says the Rev. Tommy Mason of the Marion County Baptist Association in Alabama.
"You don't want to turn people away just because they look a little different or because they don't have the best clothes on," says Mason, who received training from Full Armor to beef up his church's security.
"And you don't to be a place that looks like a prison or where you have a bunch of bouncers standing at the door. You have to welcome and assist them because they're broken, and they want to hear the Word of God."
How Assam stopped a gunman
Some broken people, though, may not want help. They may want to inflict pain.
That was the situation Assam, the New Life church volunteer, faced on that bitterly cold Sunday morning when she confronted a gunman in the megachurch"s main hallway.
"Police officer! Drop your weapon!" she shouted at the man as she leveled her Beretta handgun at him.
The man turned to her and leveled his weapon. He said nothing to her, Assam says.  She fired.
"He just goes flying backwards, like had been pushed," Assam says.
The gunman was down but still dangerous. He sat up and start firing at her again as she closed the distance, Assam says. She fired again, hitting him in his carotid artery. His blood splattered on her face, jeans and boots, Assam says.
By this time, the gunman had killed two teenaged sisters and wounded three others.
"It was awful to have to kill somebody," Assam says. "I had to. He gave me no choice."
Assam was widely lauded for her actions. President George W. Bush posed for pictures with her. News reports focused on her calm and faith. Assam credits her poise to her experience as a police officer. Before moving to Colorado Springs, she spent five years as an officer with the Minneapolis Police Department.
Assam says she supports churches elevating their security but that hiring armed staff with no experience in law enforcement or the military may not be enough. A shooting range doesn't replicate the actual experience of facing a yelling, cursing human being charging at you with a weapon, she says.
"You're going to be shooting at a human being who is probably enraged and not in the right mindset, and you cannot hesitate, or you will die."
And yet armed church security cannot be too eager to use violence, she says.
"Not everybody who dresses weird is going to be an active shooter," she says. "They need to be vigilant, but they also need to be compassionate and respectful of people who don't look or smell like they do. Churches are like hospitals for the hurting."
Houses of worship must strike a balance between openness and safety
Church leaders want their congregations to feel safe.
But striking a balance between protecting their flock and serving the broken stranger will be one of the most difficult challenges they face in the years ahead.
If they get the balance wrong, they can unintentionally accelerate the already alarming decline in church membership. And what may seem like vigilance could seem instead like hypocrisy.
Consider this sobering Sunday morning scenario:
A spiritual seeker visits a church and finds it filled with metal detectors and armed security guards carrying walkie-talkies. As he or she looks around, they may ask themselves, how can a church sing "A mighty fortress is our God" when they have security teams flanking the pastor and people deemed suspicious being ejected from the service?
This is the tension many places of worship must navigate today as they mobilize to protect their flock from spiritual and lethal threats.
They must somehow find a way to be both a sanctuary, and — when need be — a fortress.