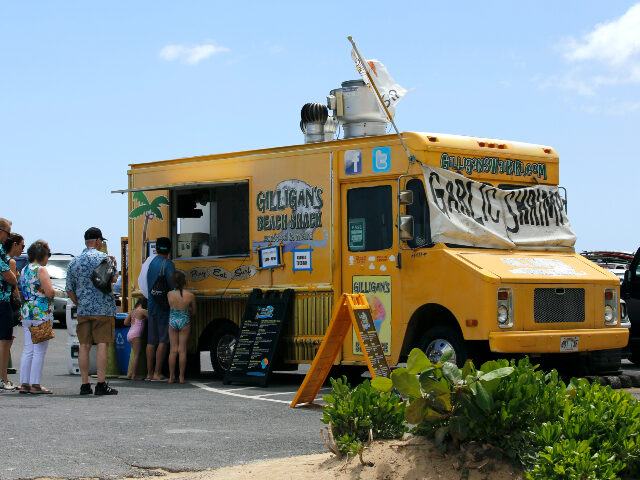 People line up at a food truck parked near Waikiki Beach in Honolulu, Monday, May 23, 2022. A COVID surge is under way that is starting to cause disruptions as schools wrap up for the year and Americans prepare for summer vacations. Case counts are as high as they've been …AP Photo/Caleb Jones
AWR HAWKINS29 Mar 2023903
1:42
A Houston, Texas, mother, who is a part-owner of a food truck, shot and killed an alleged robber who targeted her truck around 1 p.m. Tuesday.
ABC 13 reported that Derick Howard and his mother own the food truck, Elite Eats and Cold Treats, together. He went to the food truck around lunchtime Tuesday, only to arrive and learn about the allegedly robbery attempt and consequent gun shots.
The robbery suspect allegedly drove up to the truck, exited his vehicle, then pointed a gun inside the food truck, demanding money.
Derick's mother and uncle were inside the food truck working.
The suspect allegedly tried to fire his gun but it jammed.
Derick's mother then pulled her own gun and shot the suspect numerous times.
The suspect tried to run away, but collapsed in the parking lot and died.
AWR Hawkins is an award-winning Second Amendment columnist for Breitbart News and the writer/curator of Down Range with AWR Hawkins, a weekly newsletter focused on all things Second Amendment, also for Breitbart News. He is the political analyst for Armed American Radio and a Turning Point USA Ambassador. AWR Hawkins holds a Ph.D. in Military History, with a focus on the Vietnam War (brown water navy), U.S. Navy since Inception, the Civil War, and Early Modern Europe. Follow him on Instagram: @awr_hawkins. You can sign up to get Down Range at breitbart.com/downrange. Reach him directly at awrhawkins@breitbart.com.