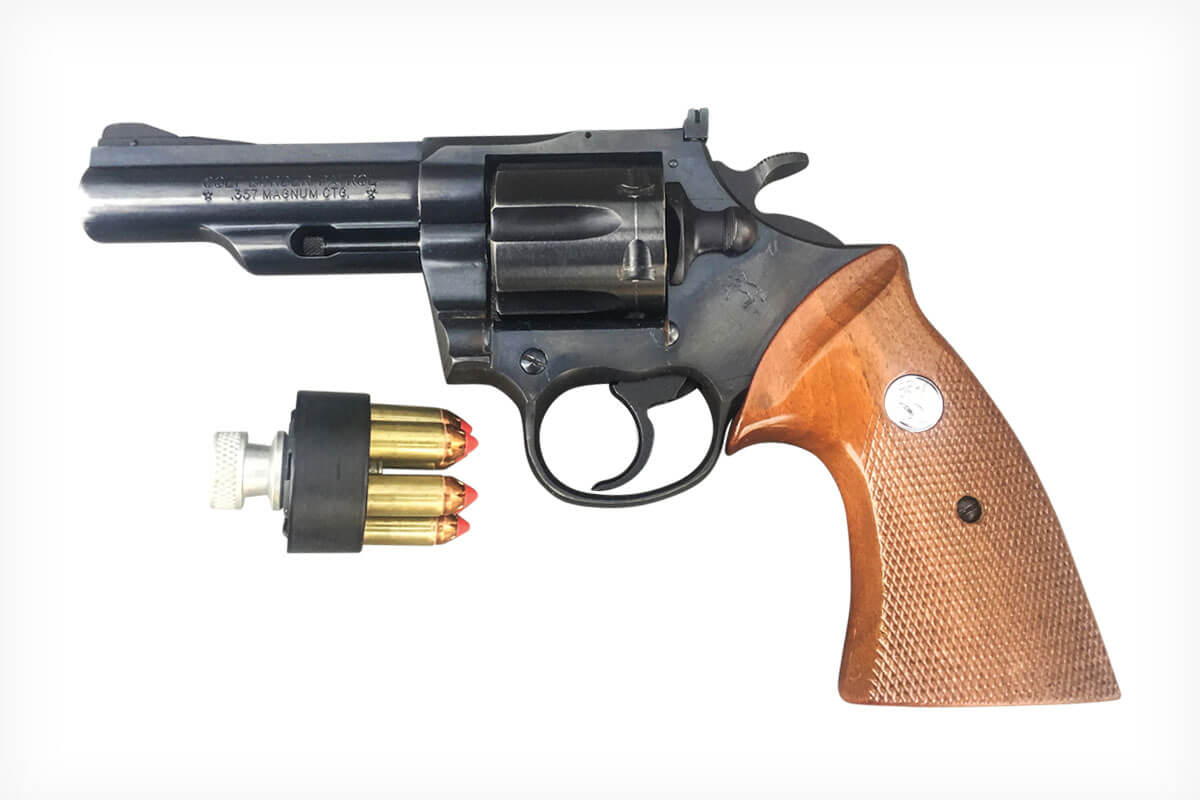 Resurrecting and reissuing a classic handgun is not a new thing. But what Colt did with the Border Patrol double-action revolver was a bit different. Essentially, both the original and the reissue were based on two different models.
The original, or First Issue, was a modified Colt Official Police made for the Border Patrol in 1952. It had a short production life of only 400 to 500 guns, and originals are extremely pricey. A minty 99 percent First Issue—accompanied by the Colt factory letter and original carton—went for $18,400 at a 2013 Rock Island Auction. Essentially, it was a heavy-barreled four-inch .38 Special featuring checkered brown plastic grip panels and stamped "Colt Border Patrol .38 Spec. Heavy Duty."
The Second Issue was produced from 1970 to 1975 and was slated for both the U.S. Border Patrol and for the general public. Produced in considerably greater numbers than the First Issue (5,356 blued, 1,152 nickel), it was a Colt Trooper Mark III .357—also with a four-inch ribbed barrel. The differences between the Second Issue Border Patrol and the Trooper were minor—primarily a more utilitarian finish and the "Border Patrol" stamp on the barrel.
The similarities were surprisingly analogous to Smith & Wesson's premium Model 27 and its more service-oriented Model 28 Highway Patrolman. This is not surprising. In those days, competition between our preeminent revolver giants was nothing if not hot and heavy.
Interestingly enough, the Second Issue Border Patrol was built on what Colt referred to as its "J frame"—definitely not to be confused with Smith & Wesson's snubnose J frame.
Although sufficiently rare enough to command serious money on today's Colt collector market, this magnum-ized version of the first Border Patrol certainly never replicated the prices an original commands. My test gun, a very clean specimen, comes from my shooting buddy Doug Fee, who fairly recently obtained it at auction for a cool $825.
I shot the Border Patrol from a sandbag rest at 25 yards with three loads—two .38 Special and one .357 Magnum. All were excellent performers. First off, I went to what would have been a state-of-the-art duty load in the early 1970s, which was Remington's take on the .38 Special FBI load: a 158-grain +P lead semi-wadcutter hollowpoint. It clocked 928 fps on average, and five-shot groups averaged 2.25 inches.
The second .38 load was a Winchester 130-grain FMJ Train and Defend, which averaged 893 fps. This one grouped two inches even.
The lone .357 Magnum entry was a hot one: Hornady's 140-grain FTX LeverEvolution, which averaged 1,385 fps. Despite the fact that it was a handful, even from the 36-ounce Colt, it grouped just a hair over 1.75 inches