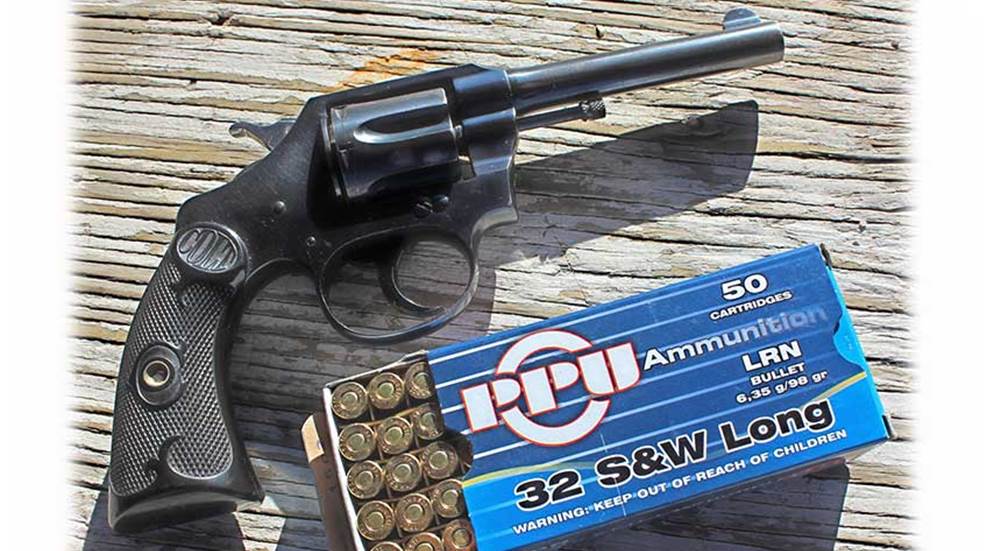 In 1968, Marvin Gaye and Tammi Terrell grooved their way across the American airwaves with the lyrics, "Ain't nothing like the real thing, baby!" And when it comes to the guns serious collectors will pay real money for, they couldn't have been more correct. Clones, near copies and models that borrow the features of popular guns sell well enough. But for some folks, only the genuine article will do.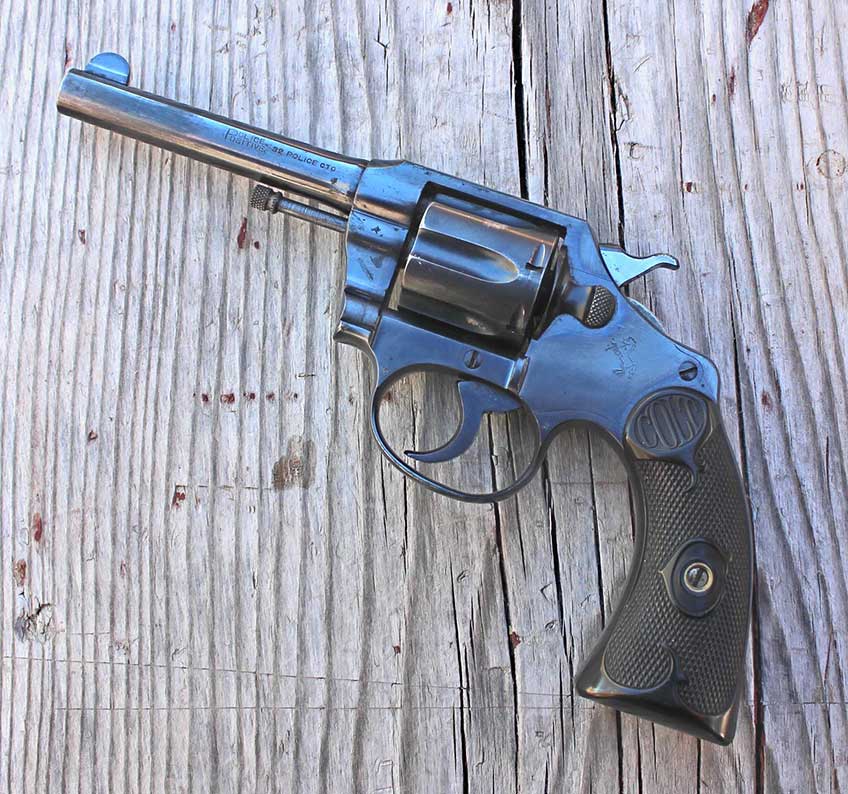 Just look at all of the enthusiasm surrounding the re-release of the Colt Python. Like many others, I spent years pining for an authentic Python to join my personal collection. But the two times I came across them in the wild, the price tags were far out of my reach. So I struggled on without a Colt to call my own until about a decade ago. That was when I found a Colt revolver that nobody really wants.
The revolver in question is a Police Positive, one of Colt's small-frame double-action revolvers manufactured from 1907 to 1947. "Now hold up there, Gil!" you might say. "The Police Positive is a highly desirable collector's item, with some models selling for as much as $1,200 these days. How can you say nobody wants it?"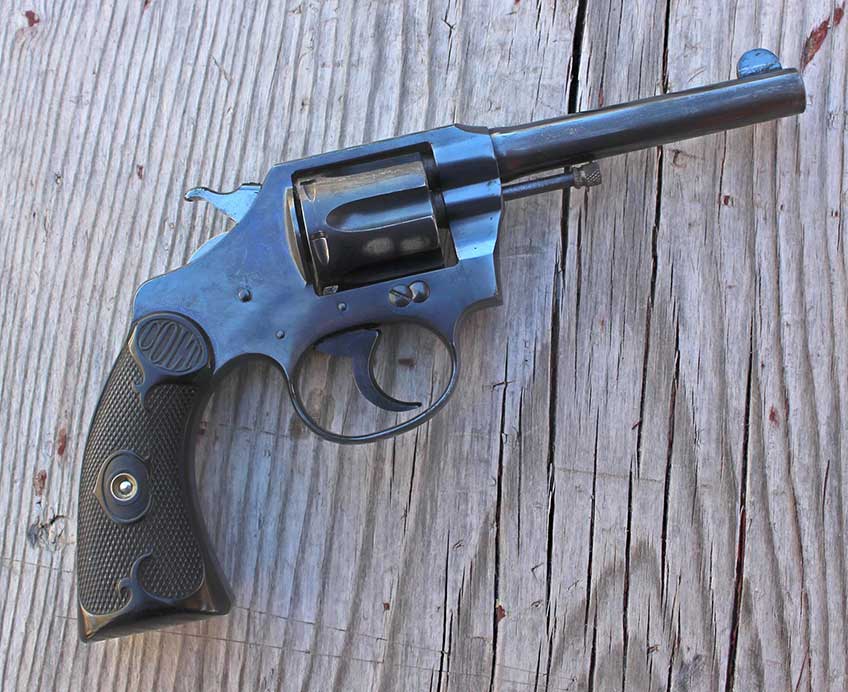 Well, not all of them command a high price from collectors. With a 40-year production history under its belt, the Police Positive was made in several variants. They were made with barrel lengths ranging from 2.5″ to 6″, with a polished blued or nickel finish along with wood or hard rubber grips. Caliber options included .22 LR, .32 Long Colt, .32-20 Winchester and .38 Special.
There are two additional caliber options you may bump into that are a bit confusing if you don't know the history of these guns. Namely, the .32 Colt New Police and the .38 Colt New Police. The truth is they don't exist. Colt executives didn't want to provide any advertising for one of their top competitors. So they invented new names for the .32 S&W Long and .38 S&W cartridges so as to avoid stamping the Smith & Wesson logo on the barrels of their guns.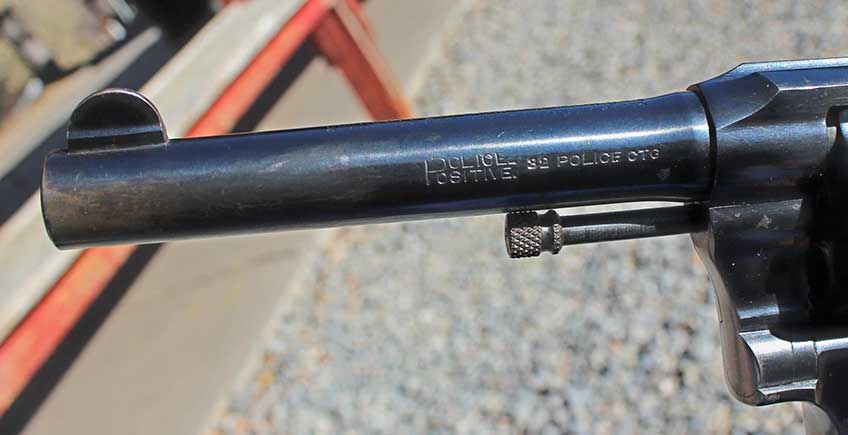 When I found the Police Positive you see here, it was one of two 4″ barrel blued models with rubber grips laying side-by-side in a pawn shop display case. It's interesting just how much the caliber a vintage firearm is chambered in can be a determining factor in its value. The other one was chambered in .38 Special, it was in fair condition, and it had a price tag of $600, despite some pitting on the cylinder.
This one was in very good condition. It exhibited a buttery smooth, hand-tuned action that revolver enthusiasts long for. The grips were in great shape, the bore and chambers were clean and most of the bluing was intact with some visible holster wear at the muzzle and along the sides of the cylinder. The price tag was a whopping $129. Why? Because the barrel is stamped .32 Colt New Police, meaning that it shoots the now-obsolete .32 S&W Long.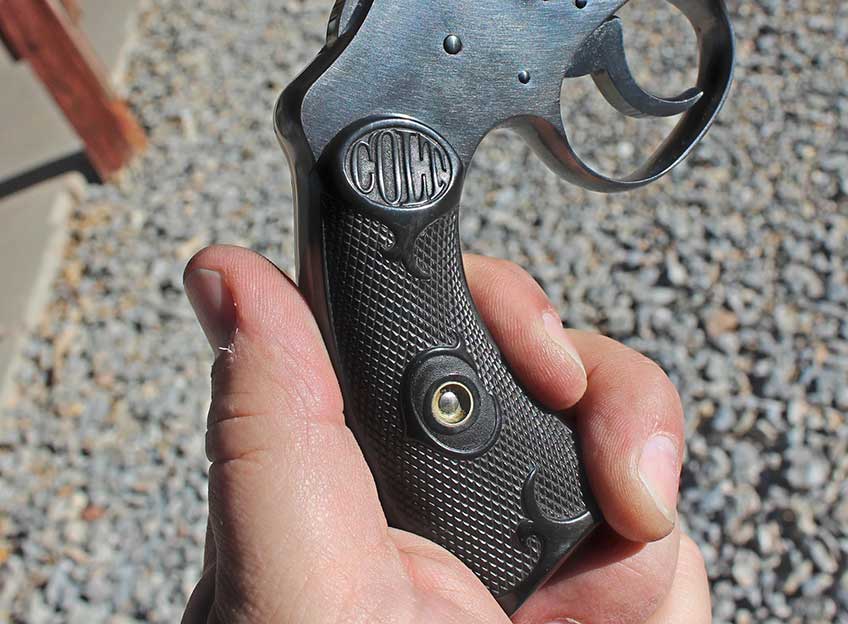 I fell in love with it on the spot. What was not to love? Here was a piece of shooting history that I could take home for less than a used .22-cal. rifle. It has such sleek, clean, classic lines and such intriguing little details like the checkering on the pull-back cylinder release, the small pony logo stamped on the left side of the receiver and all of the detail worked into the rubber of the grip. This particular model weighs in at 18.1 ozs. unloaded, making it feel feathery-light when pointed down.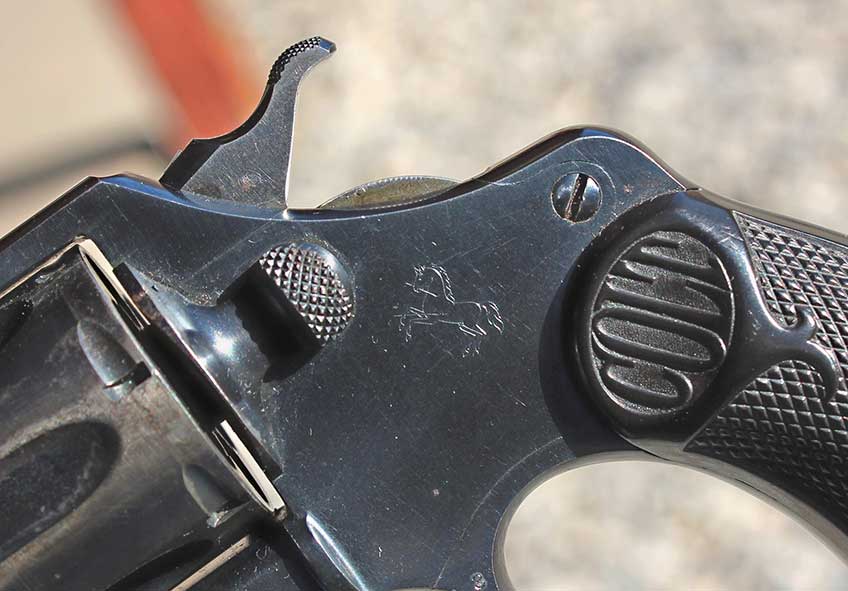 I was perfectly happy to contact Colt's archives and pay the fee for a letter of authenticity. I learned that this particular wheel gun was made in 1924 as part of the first issue of the series, introduced in 1907, that ran until 1927. I carefully stripped down the revolver and found it to be mechanically sound inside and out.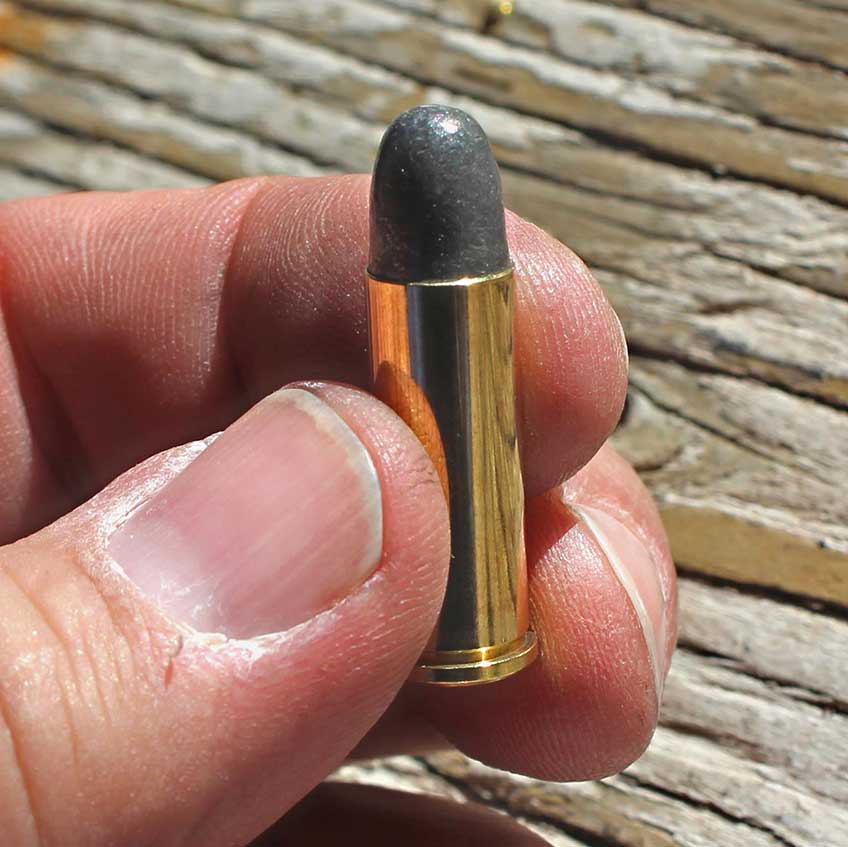 There was a good deal of dusty, greasy build-up and oxidation under the grip panels, which may not have ever been removed since they were installed at the factory (remember, folks, to clean under your grips once in a while). I took it to a local gunsmith who knows his way around vintage firearms, and he also gave it the once-over and declared it safe to shoot.
I rooted around a few different shops until I found a single box of .32 S&W Long cartridges that had to be rescued from a nest of dusty bunnies. I shot this for the first time with my dad at one of our family's annual Thanksgiving morning shooting sessions out behind my brother's property. Its vintage looks, slim grip and mild recoil brought a smile to our faces. It was one of those wonderful days together that I'll always treasure.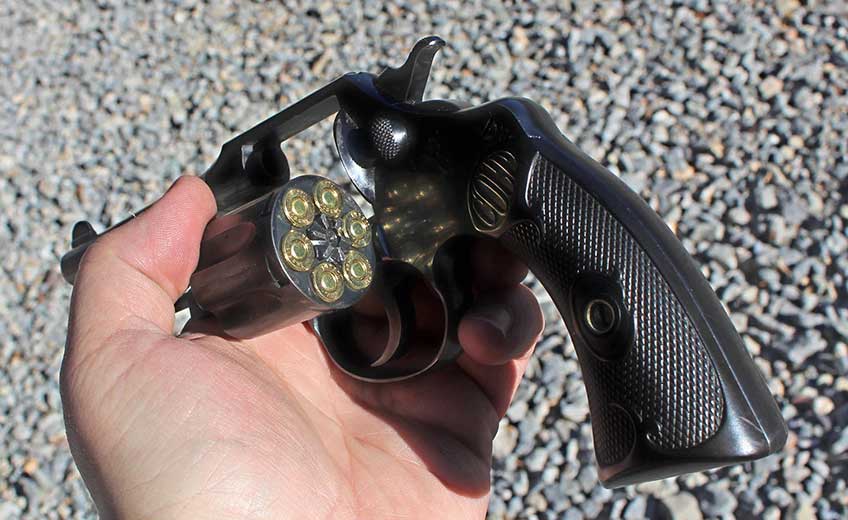 Finding .32 S&W Long ammunition is not any easier than it used to be. But I was able to wrangle up a couple of boxes of PPU (Prvi Partizan) Ammunition's 98-gr. lead round nose loads from a local Cabela's ahead of the latest nationwide ammunition shortage.
So what kind of performance can one expect from a .32-cal. Colt? The Police Positive was able to tap out a best group of 2.39″ with a five-group average of 2.77″ at 15 yards from a benchrest. According to a LabRadar chronograph, the average velocity for 10 rounds of the soft lead slugs was 683 f.p.s. for 102-ft-lbs. of energy at the muzzle.

The day I was at the range with this gun, I had a few Clear Ballistics gel blocks on hand for some shotgun testing. I had an undamaged section in one block that had been used for a shotshell test and figured I should go ahead and see what this little gun could do. The round-nose bullet penetrated 14.75″ when fired from 10′ into the bare gelatin. It stopped facing backwards with no noticeable deformation. So is this gun and ammunition combination a defensive power house? Not exactly, especially when compared to today's handgun standards. But it performed better than I expected it to.
I have to admit that I'm a bit in awe of this little Colt Police Positive revolver. Not because of what it can do, or the brand stamped on the grip, though I still take pride in owning an authentic vintage Colt. No, my respect for this piece is based on what it represents. When I look it over, I feel like I'm holding a little piece of history.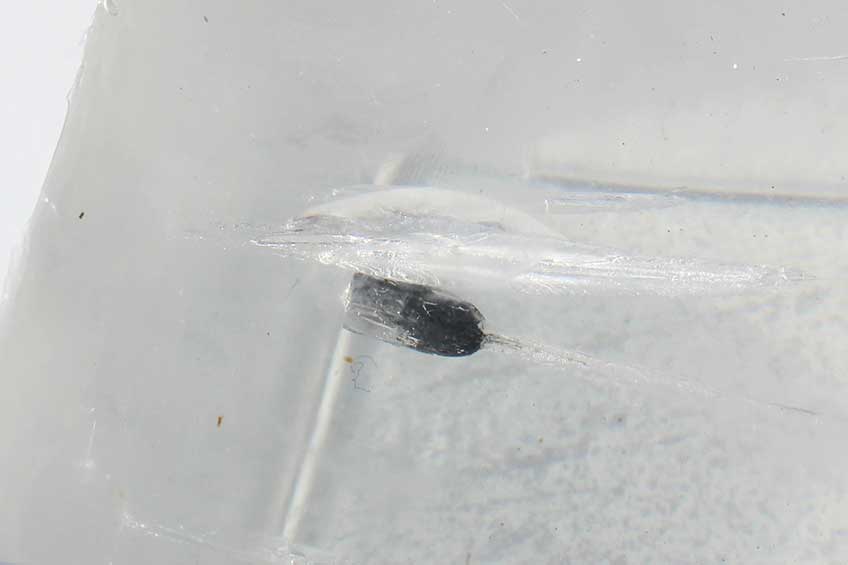 It was made without the aid of CNC machines, long before industrial computers aided drafting and without many of the manufacturing systems gun makers rely on today. This gun was built by skilled hands dedicated to hard work in factory conditions that would at the least be considered uncomfortable by today's standards.
With its 100th birthday just around the corner, this Colt revolver not only still works, it has a smoother action than several of the modern guns I've shot. I'll never know the story of this revolver's history before it became a part of my collection.
Was it carried by a beat cop on his rounds, or was it kept close at hand for home defense? Did it help to preserve someone's life, or did it just come out of the safe once in a while for a few pot shots at some tin cans? What I do know is that it's now a part of my family's history, and it didn't cost a small fortune to enjoy it.
Specifications:
Manufacturer: Colt's Manufacturing Co, LLC
Model: Police Positive
Action: Double-Action Revolver
Date of Manufacture: 1924
Chambering Stamp: .32 Police CTG.
Chambering: .32 S&W
Finish: Blued Carbon Steel
Grips: Checkered Hard Rubber
Sights: Fixed
Single–Action Trigger Pull: 5-lbs. 7-oz.
Barrel Length: 4″
Overall Length: 8″
Cylinder Width: 1.25″
Weight: 18.1-oz.
Capacity: 6 Rounds
Twist: 1:16 RH
Rifle Grooves: 6