Forget neckties and coffee mugs this Father's Day and find your dad something he can really get excited about—a new gun for his collection. And with Rock Island Auction Company offering a jam-packed slate of quality gun auctions, there are lots of guns and cool gun accessories to choose from to truly make his day.
Guns and gun related Fathers Day gifts are perfect options for the dad who'd rather spend his weekend wing shooting or plinking at the range than hitting golf balls. Some fathers can be notoriously hard to shop for, but if your dad is a passionate gun enthusiast, any of these gun gift ideas are sure to hit the mark.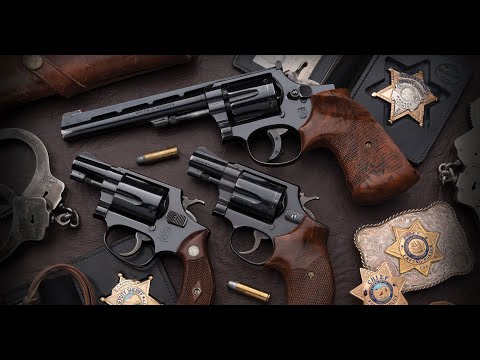 Gun Collection Must Haves
Buying a gun for your dad or granddad is also a great option for birthdays, Christmas, or any celebratory occasion. If your dad is an avid gun owner, ask yourself which classic firearms would take his collection to the next level. One of the most popular genres in recent years is the M1911 pistol, an absolute necessity for any fan of U.S. military arms.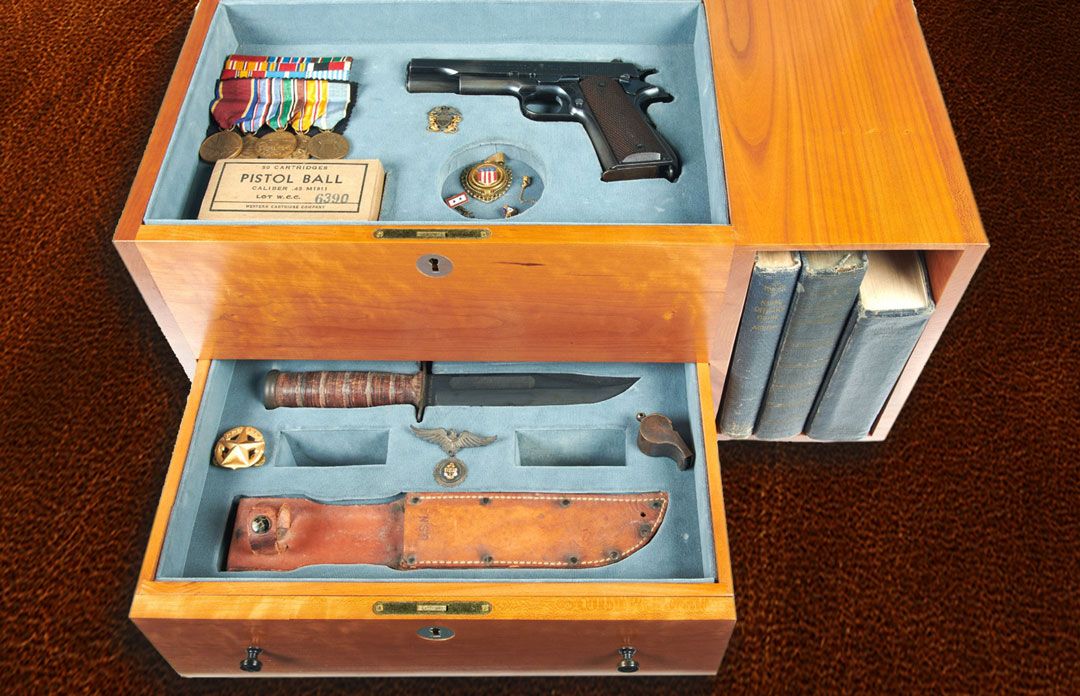 One of the most famous guns created by one of the most famous gun inventors. A 1939 production U.S. Navy shipped Colt Model 1911 with a display case, accessories, and a Camillus U.S.N. Mark 2 fighting knife make for another great gun aesthetic.
Another genre of gun collection must haves would undoubtedly be Old West lever action rifles, specifically Winchesters and their predecessor, the legendary Henry rifle from the New Haven Arms Company. Perhaps the most recognizable Civil War repeating rifle, the Henry lever action was a revolution in firearms technology whose successors went on to win the west.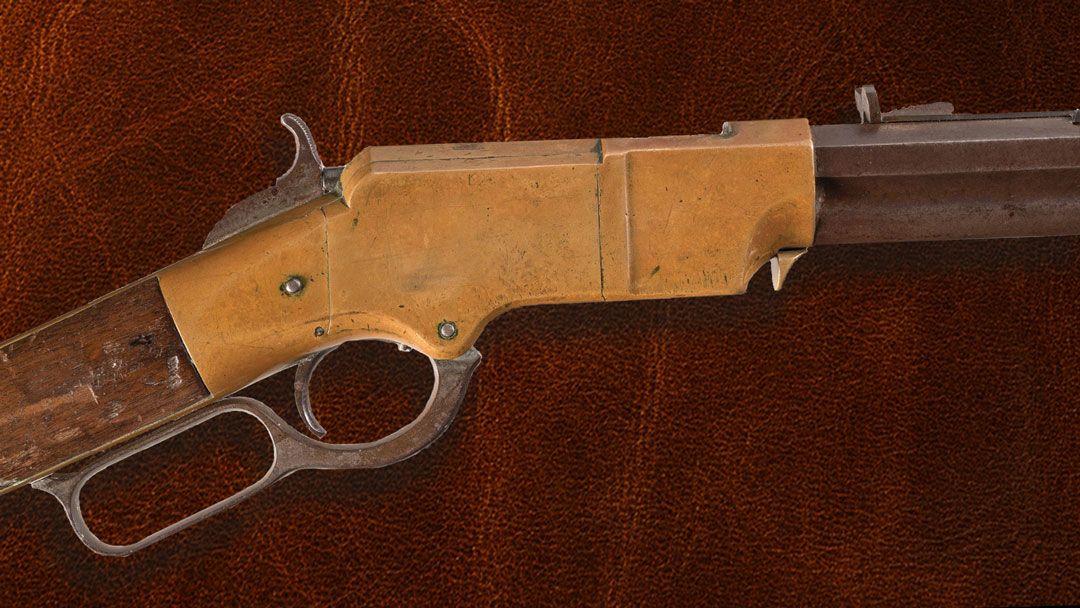 An 1863 manufactured, Civil War era New Haven Arms Co. Henry rifle.
The Single Action Army revolver and the Old West go hand-in-hand, and real-life cowboy guns are the perfect gift for a gun collector or history buff. Though a wildly popular gun genre, affordable Single Action Army's within reach of the average budget can be found in Rock Island Auction Company's Sporting and Collector's auctions.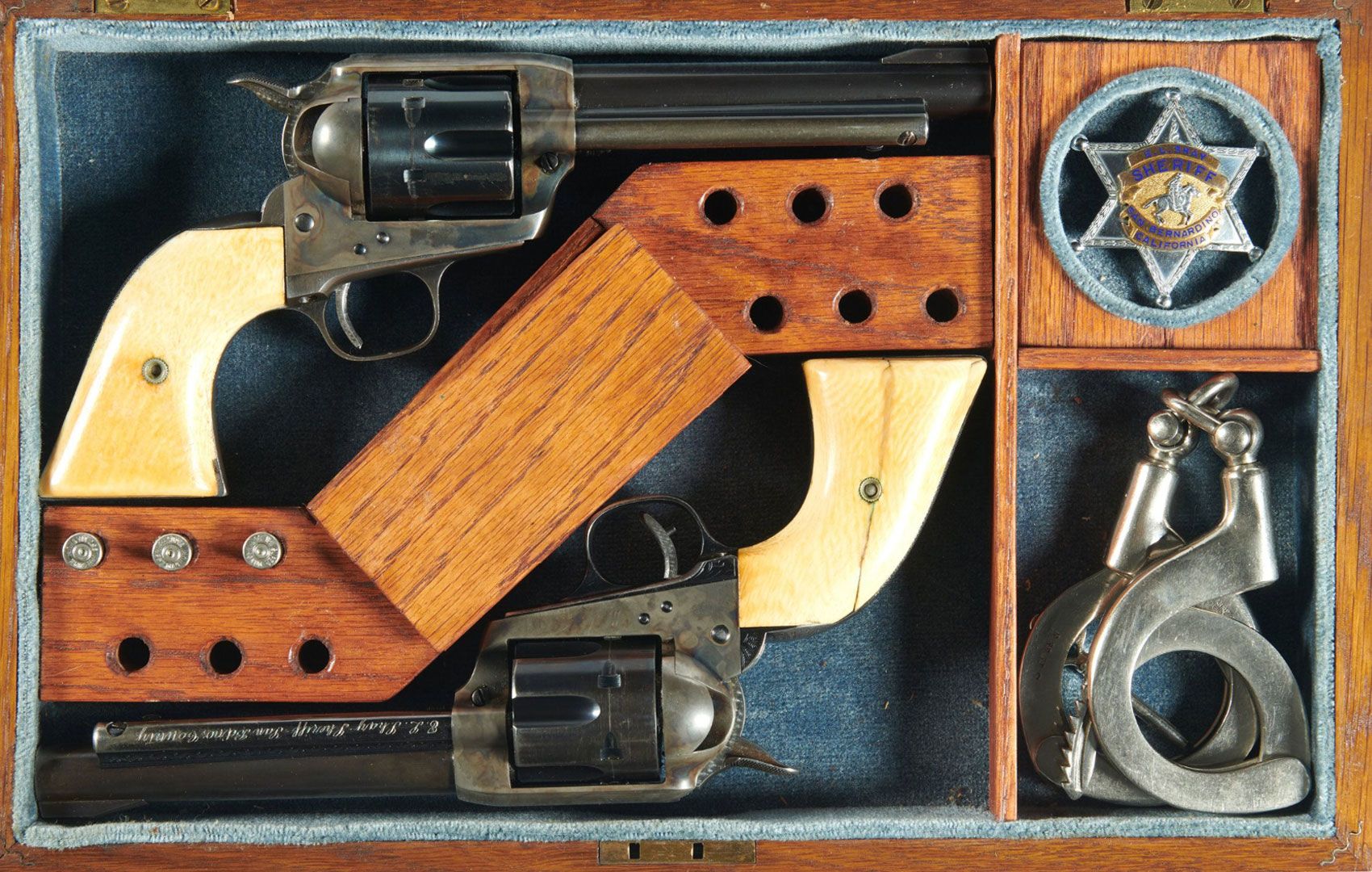 A cased pair of Enewold Upgraded Colt SAA revolvers attributed to San Bernardino County Sheriff Emmett L. Shay, including the gunbelt, holsters, badge, spurs, and handcuffs. Two fathers day guns he will love.
Another no-brainer when it comes to great gun gifts for dad is a classic WW2 rifle. The M1 Garand is one of the most American guns around and has become a cultural icon thanks to its frequent portrayal in media. When it comes to WW2 collecting, Garand's venerable M1 is absolutely essential, and they're a blast to fire as well!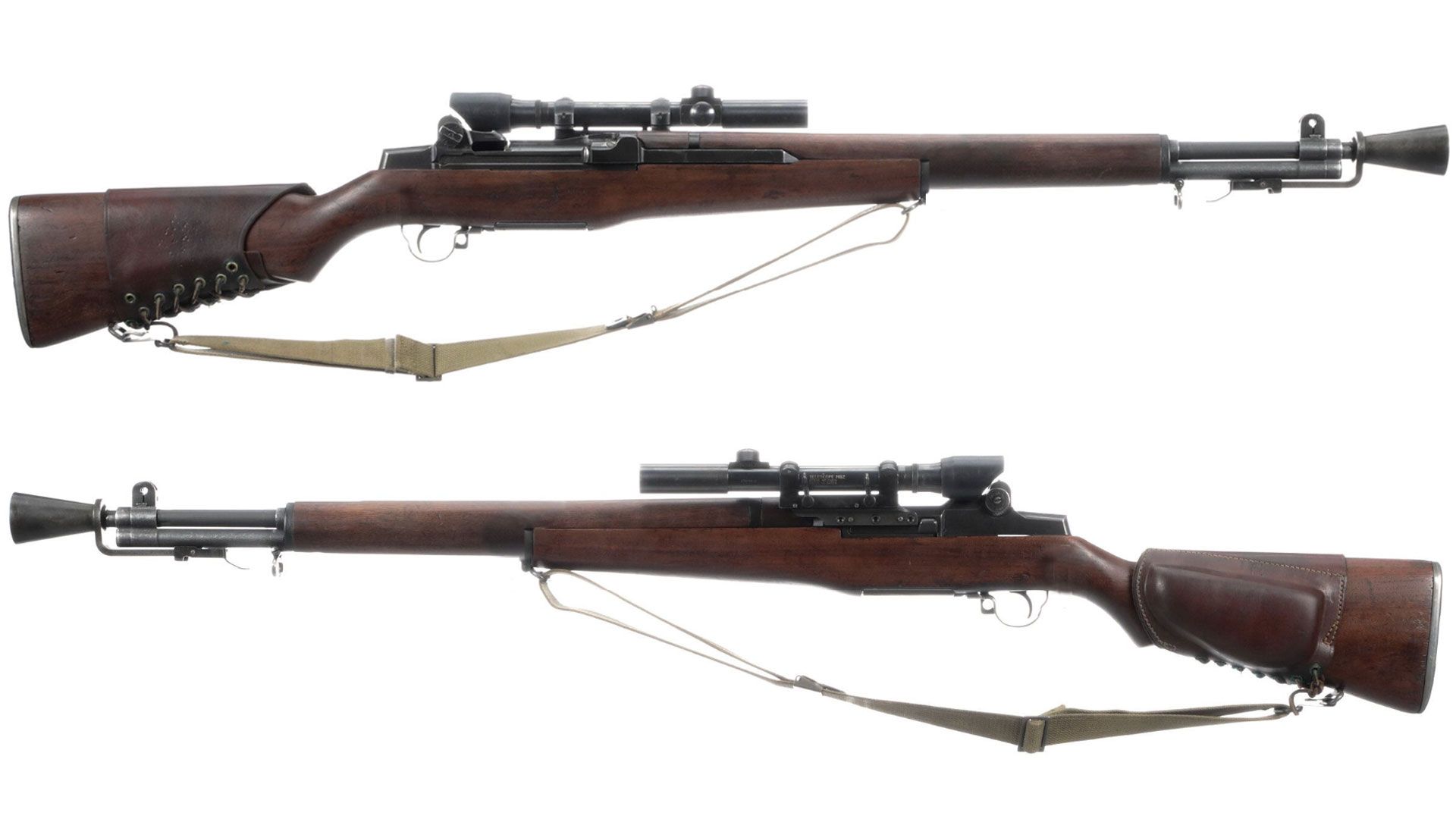 A U.S. Springfield Armory M1C Garand semi-automatic sniper rifle with an M82 scope.
Hunting Fathers Day Gifts
Shotguns, rifles, and hunting handguns are a fantastic Father's Day gun idea for the sportsmen in your life who love exploring the outdoors and putting food on the table by their own hand. As the oldest human tradition, hunting is meant to be a shared experience between fathers and their children, and nothing embodies that heritage more handsomely than a classic double gun.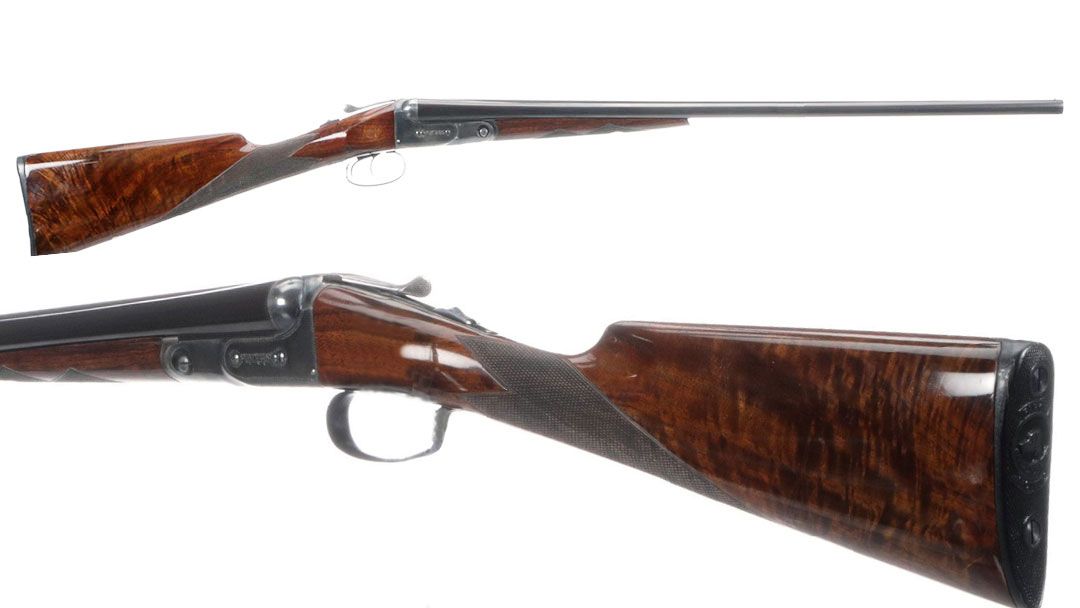 A scarce factory engraved Parker Brothers 28 gauge VH Grade double barrel shotgun.
Planning a father son hunting trip is a wonderful way to make memories that can be treasured for a lifetime, and Rock Island Auction's Sporting & Collector's Auctions feature some incredible lots that include two or more rifles. From vintage classics to more recent genres for the modern sportsman, you're sure to find some ideal Fathers Day hunting gifts this June.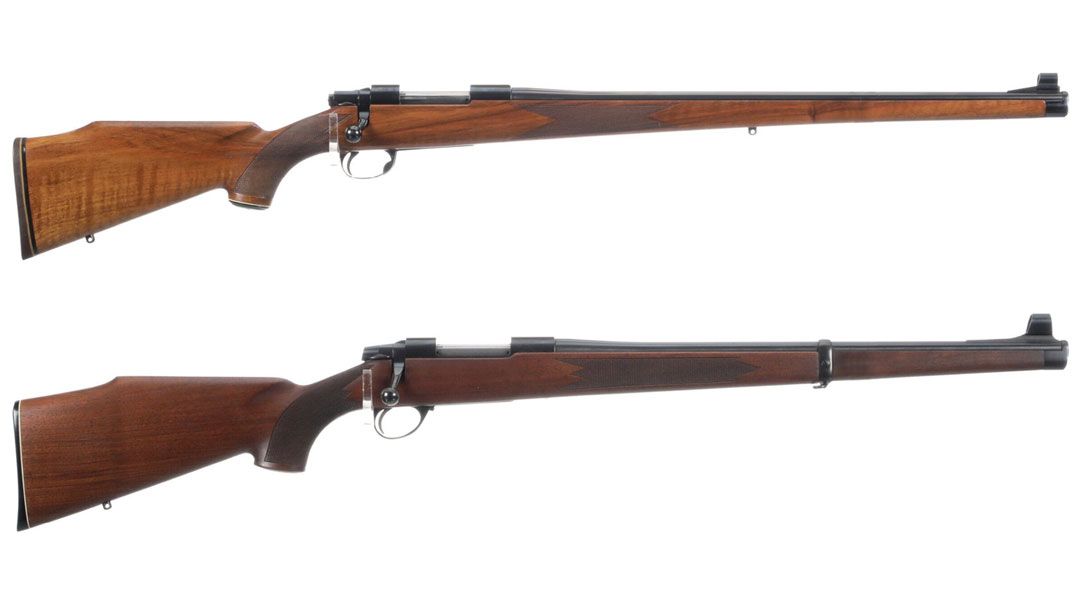 Two Mannlicher style Sako bolt action rifles, a pair of aesthetic guns for father and son.
Dad doesn't want a plinker for handgun hunting, he wants to pack enough gun to get the job done. The .44 Magnum more than lives up to the hype. Relying on patience and marksmanship, handgun hunting is an exciting and unique challenge for even the most seasoned sportsmen.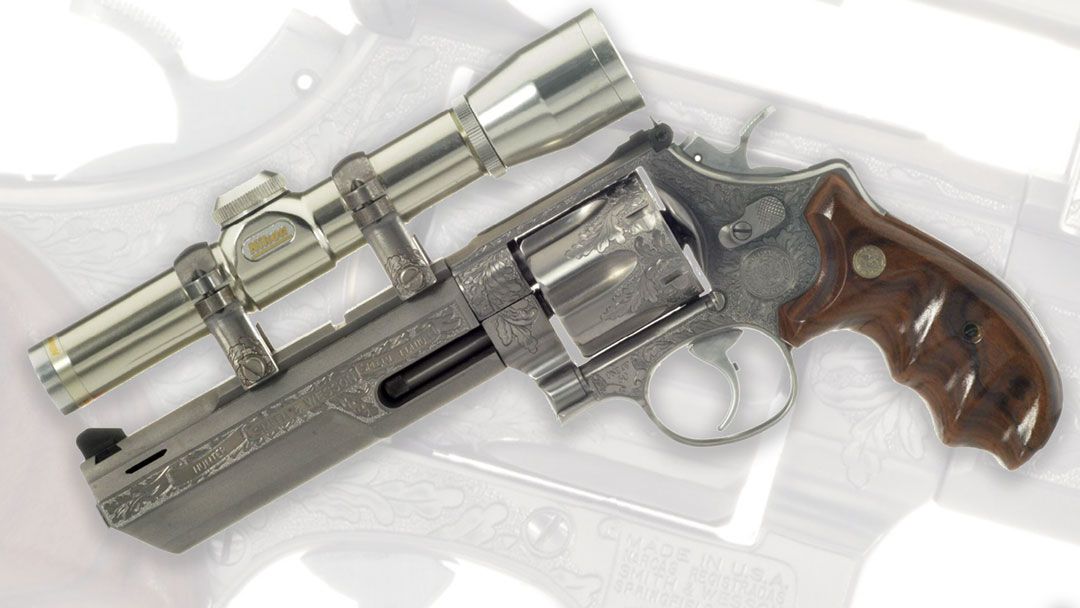 Engraved American Historical Foundation Smith & Wesson Performance Center Model 629-3 Classic Hunter I Special Edition DA revolver with scope.
Shooting Gifts for Dad
The summer months are an ideal time to get out of the house and head back to the range. If dad loves to shoot, a vintage rifle will definitely hit the mark, and a pre-WW2 Winchester Model 70 is a fine option when it comes to Father's Day competition shooting gifts.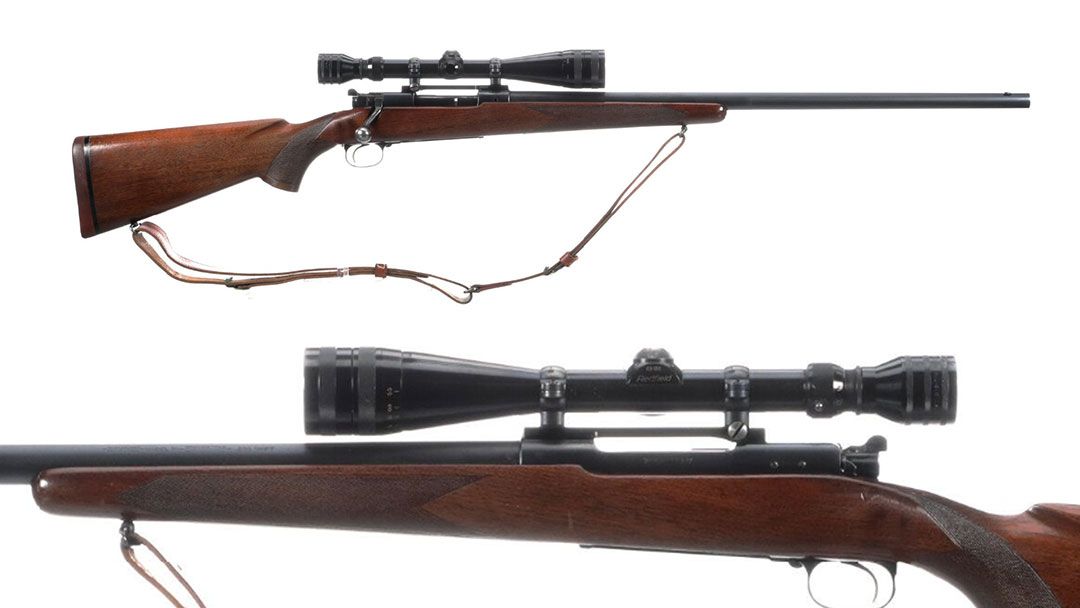 Scarce Pre-World War II Winchester Model 70 bolt action Type I target rifle in .220 Swift with scope.
If you're looking for more tactical gifts for dad to use on the range, a fun and comfortable option is a pistol with a stabilizing brace. Throw in some extra ammo for good measure and watch dad smile as he breaks in his new hardware.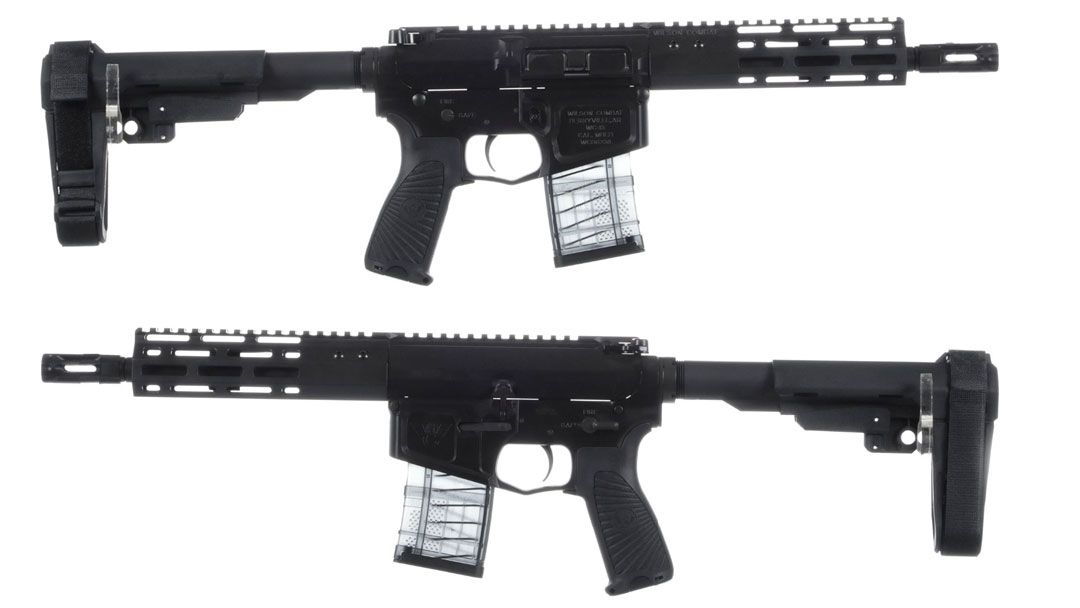 Guns for Father's Day are a no brainer, especially firearms like the Wilson Combat WC-15 ARP Tactical semi automatic pistol with case.
For a dedicated handgun shooter, nothing beats the gift of a quality target pistol. Your dad will appreciate a top-notch target gun like the Smith & Wesson Model 41 that's built for comfort, accuracy, and has earned a reputation in national level shooting competitions.
A factory engraved and gold inlaid Smith & Wesson Model 41 50th anniversary commemorative semi-automatic target pistol, a Happy Fathers Day gun he will love.
Even if your dad isn't well versed in firearms, it's hard not to love a Smith & Wesson revolver. Classic wheelguns make ideal gifts for shooters, and as only one of 5,500 manufactured between 1935 through 1939, the vaunted Smith & Wesson Registered Magnum is a true big iron gun that's as collectible as it is fun to fire.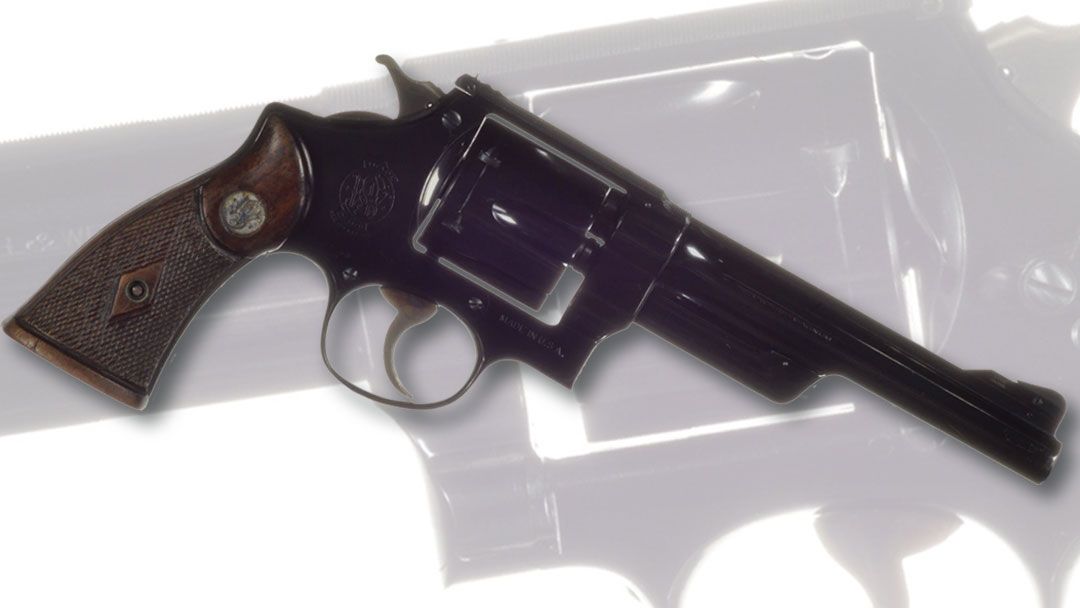 S&W Registered Magnum DA revolver, a fantastic gun gift for dad.
If you're looking for trap shooting gifts, consider treating dad to a quality 12 gauge over/under scattergun. Preferred for their dependability, responsive handling, crisp trigger, and well-balanced fit, the SKB 85TSS unsingle is a comfortable and accurate clay buster for any level of skill.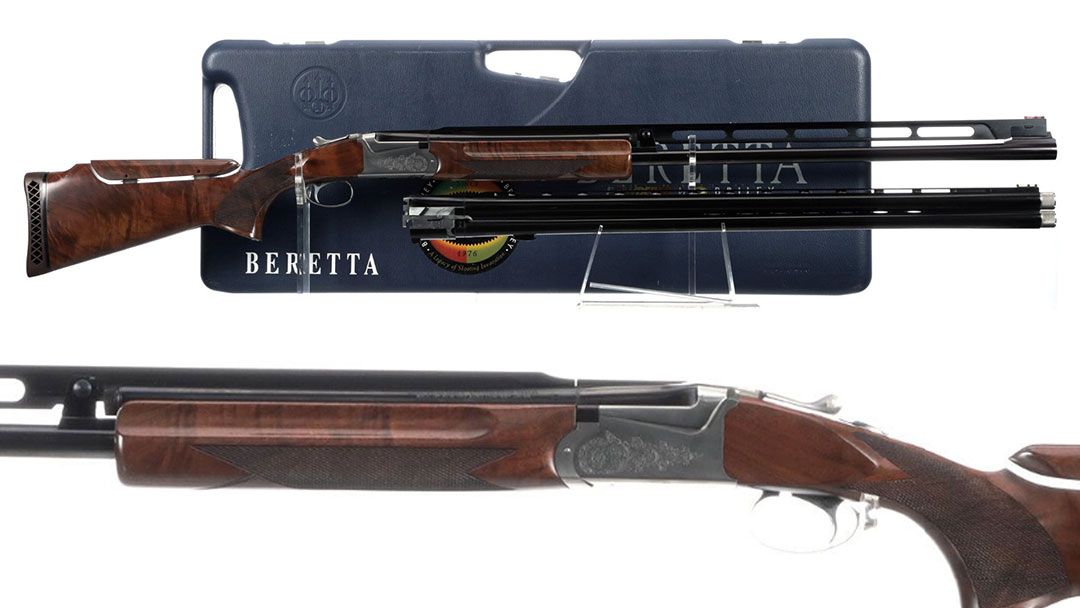 An SKB Model 85TSS unsingle trap shotgun two barrel set with case. A top-notch Father's Day gun gift.
Gold Guns
We have a simple saying here at Rock Island Auction: Gold is good. When you put gold and guns together, you get a gift that speaks to confidence and success just as surely as a Rolex. Rock Island Auction offers numerous gold guns for sale that fall within an attainable price range.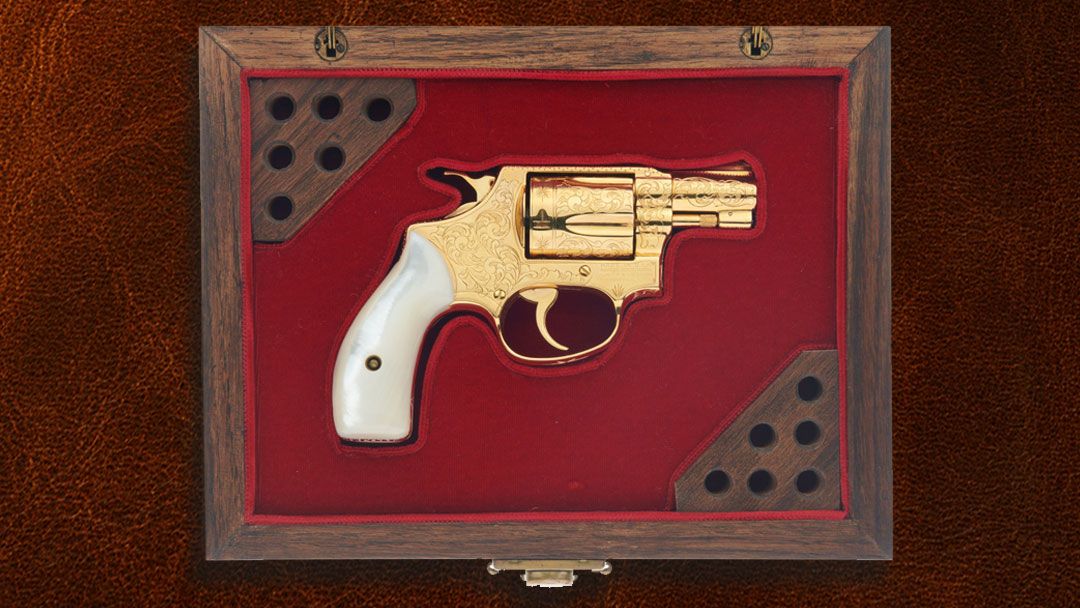 Jeff Flannery signed and engraved gold plated Smith & Wesson Model 36 DA revolver with pearl grips, a golden hand gun dripping with style.
Guns and gold just go together, and what better way to express your gratitude for dad and everything he's done to help you become the person you are today than surprising him with one of his favorite pistols plated in gold.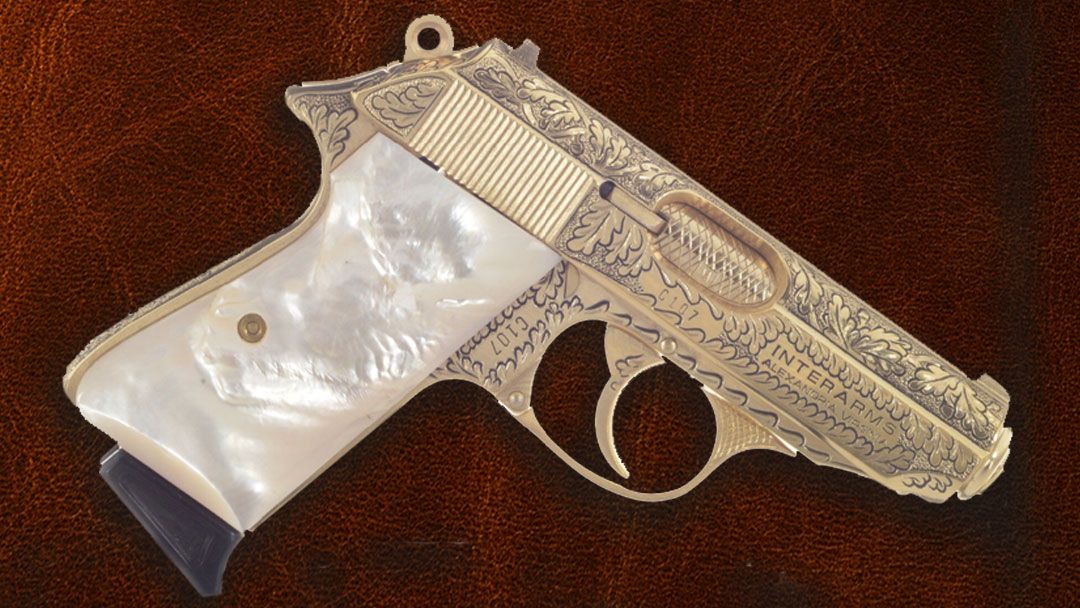 A cased engraved Walther PPK/S, a gold 9mm gun perfect for dad's weapon collection.
Gun Room Ideas
Gun related decorations and cool gun accessories for dad are also ideal options, especially if he has a gun room to store his valued arms. Vintage gun advertisements are the perfect wall art for a gun enthusiast's man cave and can go with a variety of design styles, including the classic trophy-room theme.
An enameled Winchester metal advertising sign, one of many great gun related gifts for dad this June.
Whether your dad prefers a more modern design, a classic aesthetic, or a hunting lodge type of theme complete with game head mounts, a pair of antique Colt showroom decorations will complement his tastes. Gun room gift ideas are a creative way to contribute to your father's firearm hobby and help spruce up his favorite space.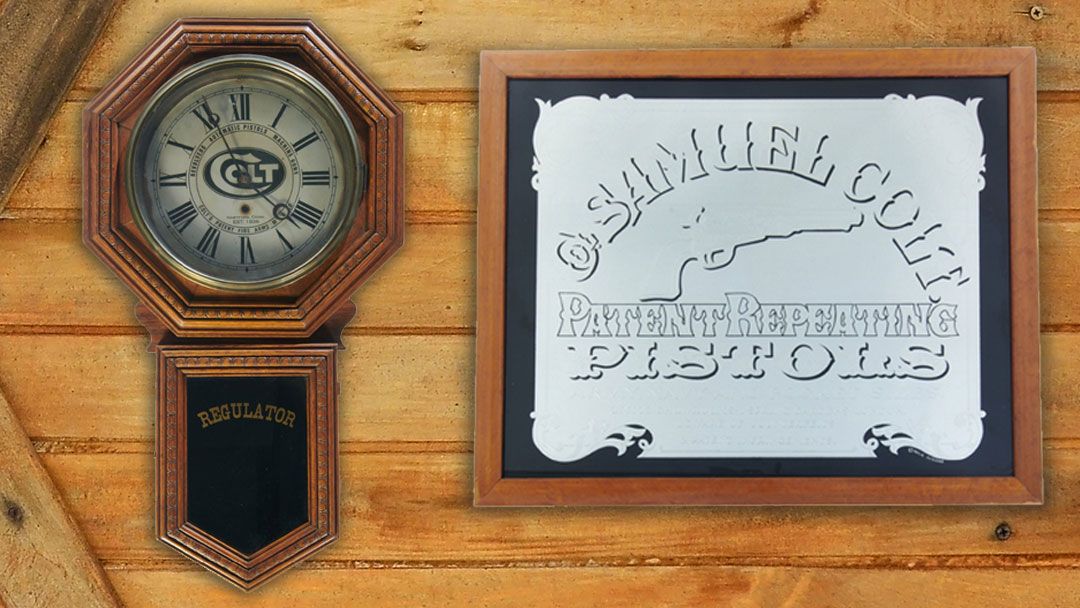 An antique Colt advertising wall clock and a framed Samuel Colt pistols painted mirror. Manufactured by the Gilbert Clock Co, this late 19th C. clock is in good working condition, with the original key and pendulum. Two great gifts for gun owners.
Ammo Gifts
Even if you also pick out one or more gun gifts for dad, up the ante with some ammo so he can really celebrate his new shooting iron. Ammunition is perhaps the most go-to gift for gun lovers because they can never have too much of it, and Rock Island Auction offers a wide selection of modern ammo to choose from, as well as vintage ammunition for collecting and displaying.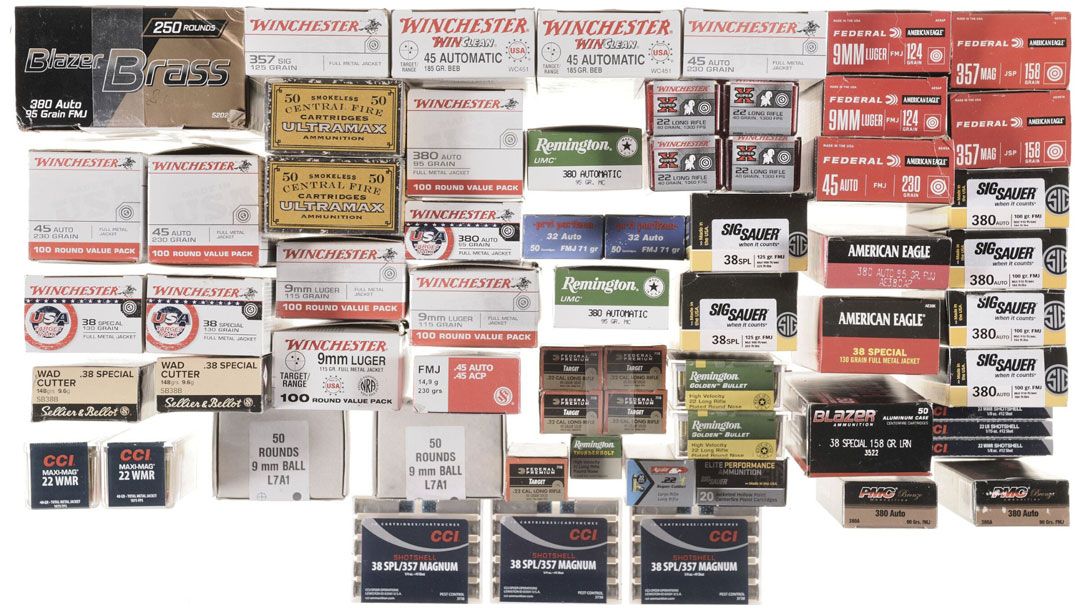 A group of assorted boxed ammunition. Calibers include .357 Magnum, .45 Auto, .22 Long Rifle, and .380 Auto, with approximately 3,700 rounds in total.
Ammunition box gift ideas are a creative change of pace from the typical golf socks and cheap cologne he's expecting. You'll know it's going to get used, and with today's ammo prices dad will be especially grateful for the gesture. To really make his day, set aside the entire afternoon, take him to the range, and make some memories.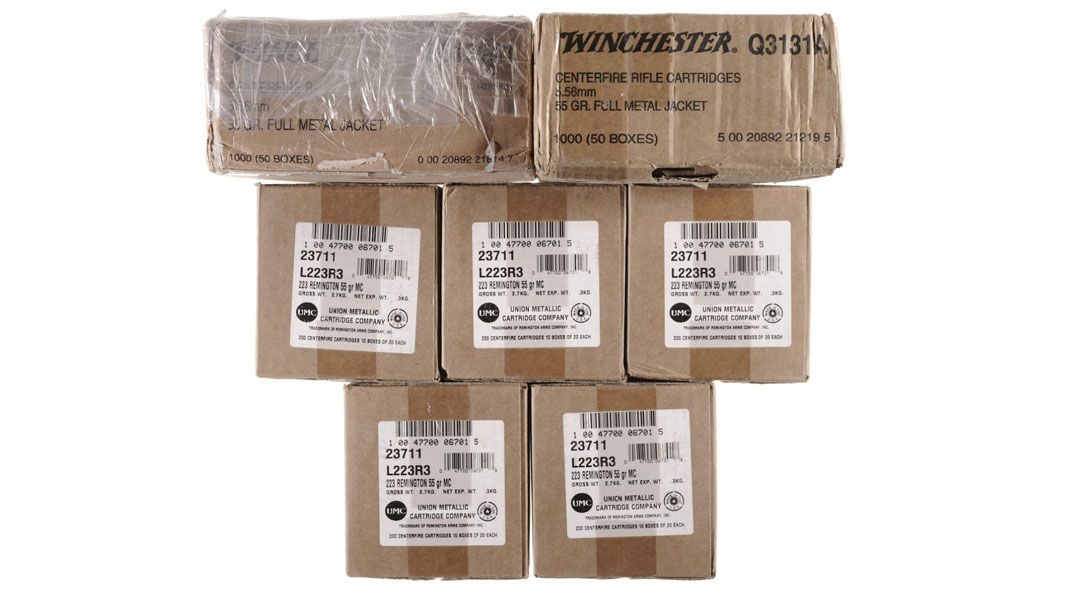 Includes two partial cases of Winchester 5.56mm ammunition and five cases of Remington UMC .223 Remington ammunition. Approximately 3,000 rounds in total.
Father's Day Gun Sales
Any man can be a father, but it takes someone special to be a dad. This year, repay the man who's gone above and beyond for you by treating him to a unique gun or gun accessory gift from Rock Island Auction. Whether you're thinking of Colts, Winchesters, swords, or antique guns, the upcoming gun auctions offer something for every style and collecting aspiration.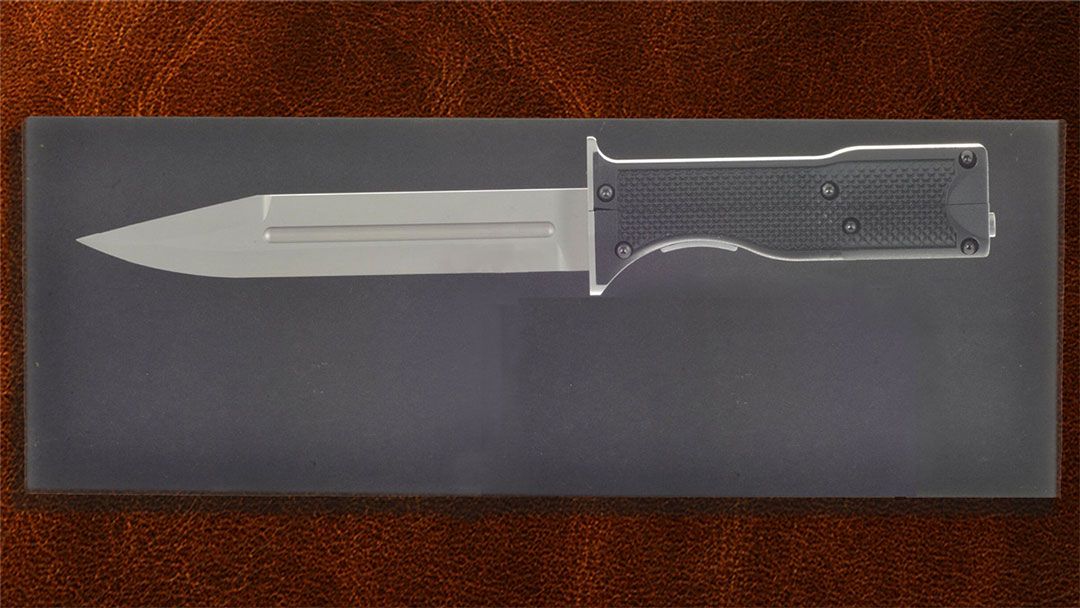 Manufactured by G.R.A.D. of Las Vegas, the RS-1 combines a bowie-style fighting knife and a six-shot revolver chambered in .22 LR built into the handle – a fine choice for the gadget loving dad.
Guns are great, but spending quality time with dad is truly priceless. If you're uncertain what he'd like or just want a good excuse to spend the day talking guns, why not browse Rock Island Auction's online gun catalogs together and let him pick out a few gun gift ideas of his own. Bidding can be half the fun, and the thrill of a winning bid on his dream gun might be the most memorable Father's Day gift you can share.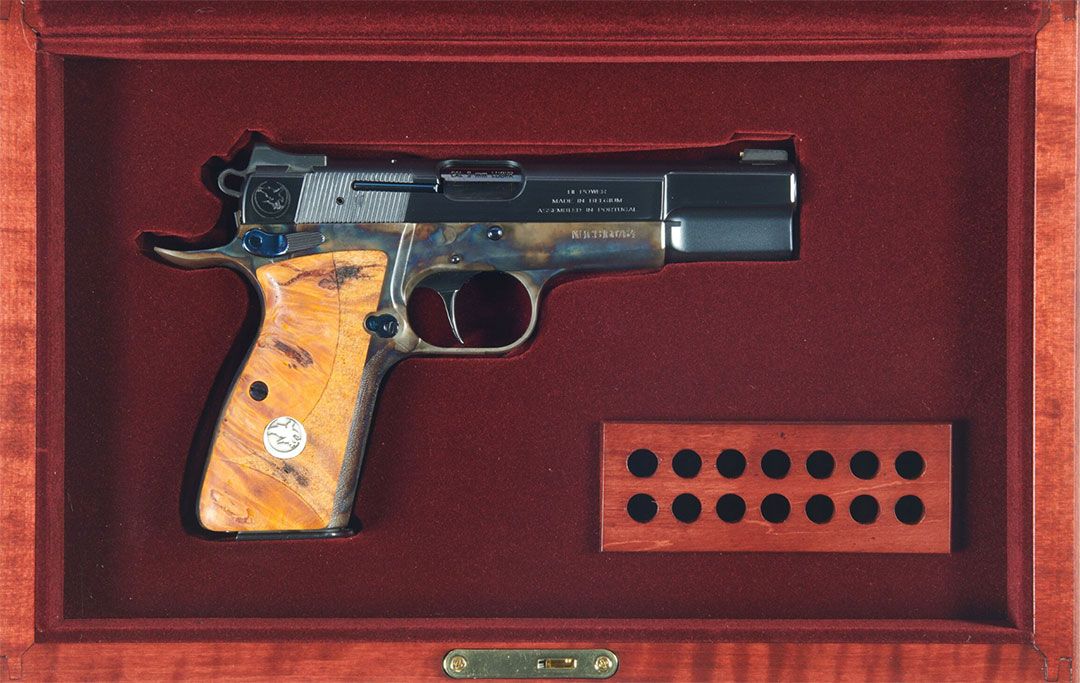 One of 50 professionally upgraded Browning Hi-Power VIPII pistols by Turnbull and Nighthawk. The perfect Father's Day gift for gun lover. Includes both a Nighthawk Custom hardwood case and soft case, and an extra magazine.