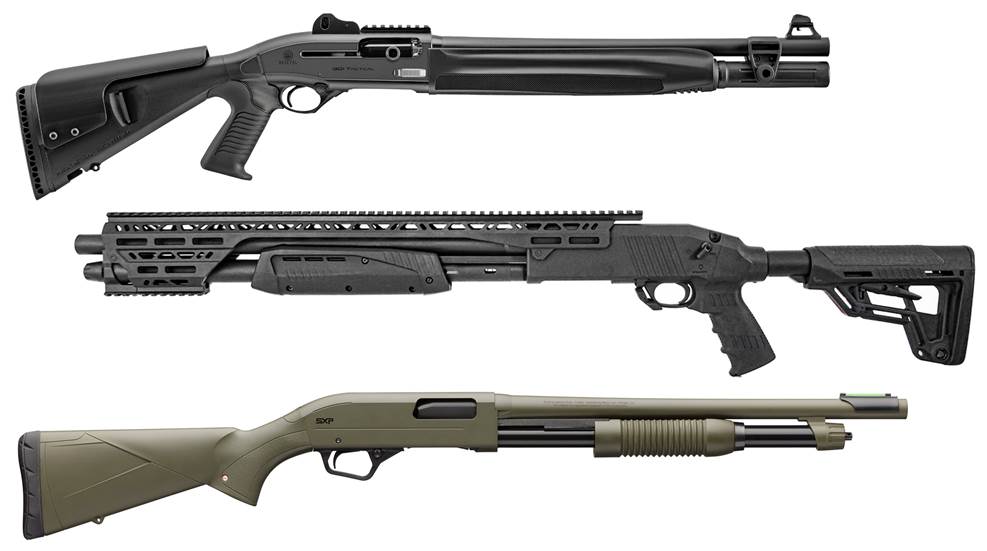 Although I tend to believe being well trained with any shotgun is better than being untrained with the best one, why not be well trained with a great gun? To that end, here are a few defensive shotguns for all tastes, and all-new for 2022.


Beretta 1301 Tactical Enhanced
While Beretta is better known for its first-class over/unders and semi-automatics for the field and clay range, its 1301 Tactical is a cult-favorite among operators in the know. Over the years, Beretta's BLINK gas-action system has proven to be as reliable as gas-action semis come, and it also lends the benefit of substantial recoil mitigation. Indeed, of all the guns listed here, the 1301 is likely the lightest recoiler. It's more than that: The Tactical Enhanced version comes with everything to give home defenders an advantage when some lowlife kicks in the door. Key features include an 18.5-inch barrel, giant controls and a small accessory rail for mounting a flashlight. I don't prefer the tall ghost ring sights that come on it, but they are not hard to replace. In sum, you can't go wrong with this best-quality shotgun. MSRP: $1,499.


Citadel Boss 25
If you are used to shooting ARs and love them for their detachable magazines and modular, machined-aluminum feel, Citadel's Boss 25 might be for you. This six-round, 8-pound semi-auto from Legacy International has all the features of an AR-15—including a collapsible stock, Picatinny rail with flip-up sights and AR-15-style controls—except that it shoots 12-gauge shells. Rounding out the Boss 25's features are a chrome-lined barrel, textured fore-end and adjustable cheek rest. MSRP: $599.


Henry Brass Axe .410
Perhaps the most unique item here is Henry's new lever-action "firearm" that fires .410-bore shotshells, thereby qualifying it for this list. While some (this author included) question its viability as a home defender, I'd think this 26-inch, five-round novelty would be at home in a motorcycle saddlebag, strapped to a horse, mounted on an ATV or stashed away in a truck box for emergencies. What I know for sure is that it's a hell of a lot of fun to shoot. MSRP: $1,132.


Mossberg 590S
No doubt you're aware of Mossberg's workhorse 590 pump. It's one of the best-selling shotguns of all time, because it's inexpensive and because it goes bang every time. But lately, the trend in defensive shotguns is in recoil reduction, and the most effective way to do this without adding pounds to the gun is to lower the power of the shell. A few years back, Aguila introduced its 13/4-inch Minishell, but unfortunately, few if any repeating shotguns could reliably feed them. So, Mossberg responded with its 590S model that can. While we can debate the merits of the 1,200 fps, 5/8-ounce load all day long, what I know for certain is that if recoil is your biggest concern, the 590S so loaded with 14 mini-shells will address it. But, that doesn't mean you must shoot these midget shells. Both the full-length-stocked 590S and the birdshead-grip Shockwave S will also handle regular 23/4- and 3-inch shells, in any order. MSRP: $731.


Mossberg 940 Pro Tactical
Mossberg's welcome update to its semi-automatic 930 was first released in the form of its top-end competition shotgun promoted by Jerry Miculek, the 940 JM Pro. After testing this shotgun extensively, I really believe Mossberg hit a home run with it, what with its features that make it easy to shoot under pressure—like oversize controls and great recoil mitigation. But, the real advancement was more than cosmetic: Mossberg redesigned the gas system to handle many more shells (around 1,500) before cleaning, something the 930 certainly couldn't boast. After releasing waterfowl and hunting models, for 2022 the privately owned American gun-making juggernaut released its 940 Tactical, and I'm really stoked about it. That's because this thing holds eight rounds with its extended magazine, features a handy 18.5-inch barrel, Mossberg's iconic tang safety, oversize controls, a flashlight mount and a front-bead sight along with an optics-ready top. MSRP: $1,120.


Standard Manufacturing SP12
Standard's SP12 looks like a shotgun from a bad zombie movie—and truth be told I haven't tested it yet and so I can't comment on its reliability—but no doubt its tactical look and myriad features will appeal to some, so it's worth mentioning here. This 7-pound, seven-round shotgun's claim to fame is that with its bottom loading/ejecting mechanism and dual-sided controls, it's truly ambidextrous. Its huge top-mounted Picatinny rail requires the mounting of sights or optics, and I doubt that its collapsible AR-15-style stock does much in the way of recoil reduction. But hey, who am I to judge? MSRP: $799.


Winchester SXP Defender
Like the 590, the SXP needs no introduction. Its spring-assisted, rotary-bolt design helped make this Winchester become known as the "speed pump," because it actually self-initiates the pumping action. The gun holds six rounds total and is no frills, while also quite affordable. New models come with the company's Perma-Coat Cerakote-like finish so you can leave the SXP in a closet and forget about it for long spells. If you're a Winchester Model 12 guy, the SXP will feel very familiar, and familiarity is a huge asset when things go bump in the middle of the night. MSRP: $390.