Don Draper Judo: Unarmed Self-Defense from the Mad Men Era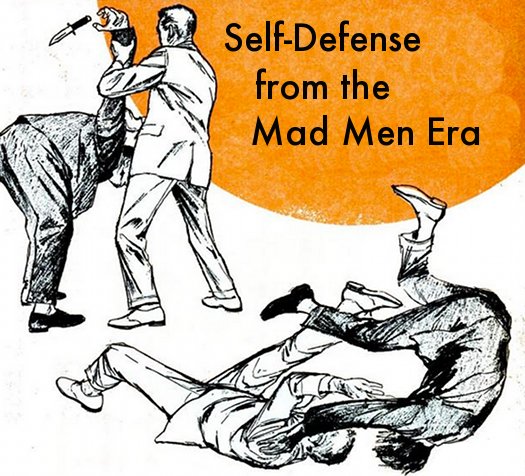 As I was browsing through some old magazines the other day, I came across a fantastic issue of Popular Science from 1962 that contained a feature on unarmed self-defense. The article was adapted from a book entitled Modern Judo and Self-Defense by Harry Ewen, a "police judo" expert. The best part of the multi-page article are the fantastic mid-century illustrations by Dana Rasmussen, featuring a well-dressed judo expert who looks like he might work with Don Draper when he isn't throwing ruffians over his shoulder. Even the "thug" in the article is pretty dapper, proving once again that everything was just swankier back in the day — even the bad guys.
Below you'll find step-by-step illustrated instructions on how to defend yourself from chokes, bear hugs, kicks, and knife attacks when you're unarmed, all while still looking incredibly handsome. Enjoy.
Three Ways to Defend Yourself from Chokes from the Front
Finger Lock
Nose Break
Basic Arm Lock
How to Break a Grip from the Front That Pins Your Arms
How to Break a Bear Hug from the Rear
Defense Against Kick Aimed at Face or Stomach
Three Ways to Subdue a Thug Who Tries to Choke You From Behind
Arm Lock
Shoulder Throw
Shoulder Drop
Dislodging a One-Hand Hair Grab
Two Defenses Against a Boxer
How to Protect Yourself from a Knife Wielder